Why We Like to Share Our Inbound Marketing Process
In my last blog, Why We Like to Lift Up Our Inbound Marketing Software Skirt, I talked about why it's important for an Inbound marketing agency to be able to prove that they know how to market and show their inbound marketing process.
We regularly show prospects our own HubSpot Dashboard, so they can see key metrics that we track and how effective our own marketing is.
In short, any agency that wants to market for their client must be able to show that they are taking their own advice and marketing effectively for their own company. Otherwise, how can potential clients be sure that they are really getting what they want?
In the interest of showing that we really do know what we're doing, we've decided to lift our skirt a little and explain our four step proven inbound marketing process. Are you ready? Let's get started.
Inbound Marketing Process Step 1: The Sales Stage
It all starts at the sales stage. All too often, this stage is purely focused on getting ink on paper and closing the customer. However, placing too much focus on the short-term win (getting the customer) can often become a bigger loss over time.
To ensure mutual success, we begin by completing a full health check. We then ensure that wider company goals, plans, timelines, and challenges are aligned and understood by both companies.
How do you know where to go if you don't know where you are? During this stage, we set out a clear path. We focus on building the right foundation for growth and setting out a continuous improvement plan aligned to growth goals. In the beginning, we don't talk about tactics like SEO, blogging, and emailing – that's the easy part.
If a clear path to success is agreed upon, everything else will fall into place. However, if our approach does not fit the client's, we'll be happy to share some best practice and point the client in the right direction.
Often, we find that what a client thinks they need at the start of the engagement is very different from what they need at the end. Our sales process is consultative; it usually triggers further internal discussions. While this can slow down the sales process and feel frustrating, it will ultimately pay dividends for all.
Step 2: Onboarding – Strategy – Plan
Onboarding
This is an internal stage. The client does not see this process, but we think it's useful to highlight it, because it's the most critical part of ensuring client success.
When an agency talks to a prospective client, it's their job to describe all of the wonderful things they will do for the client. But is anybody taking the time to ask how? An agency's biggest asset is their people; client success depends on agency talent.
But agencies operate on a model of billable hours, meaning that their people are often loaded with existing work. Unfortunately, we simply don't have account managers and developers lazing around waiting to jump into action when a client signs. So how can the client be sure that we actually have the right people with the right skills, knowledge, and capacity to deliver for our clients?
We take our own medicine. We have a robust Marketing and Sales infrastructure and process, so we are able to accurately forecast revenue and align resources appropriately. For example, we set our year's growth target based on a variety of factors.
One of the most important factors was figuring out how many clients we can realistically onboard based on our previous performance. Currently, our goal is 40% growth. About half of this growth comes from our existing clients. We wouldn't want to set this number much higher because we want to maintain quality.
Then, we look at our previous year's marketing funnel and results. We use visits, conversions, and lead to customer conversion ratios to reverse engineer a new funnel. Our new target is entered at the bottom, which will tell us how many customers, leads, and visits we will need to get there. From here, we can start aligning our marketing tactics to achieve our growth goals.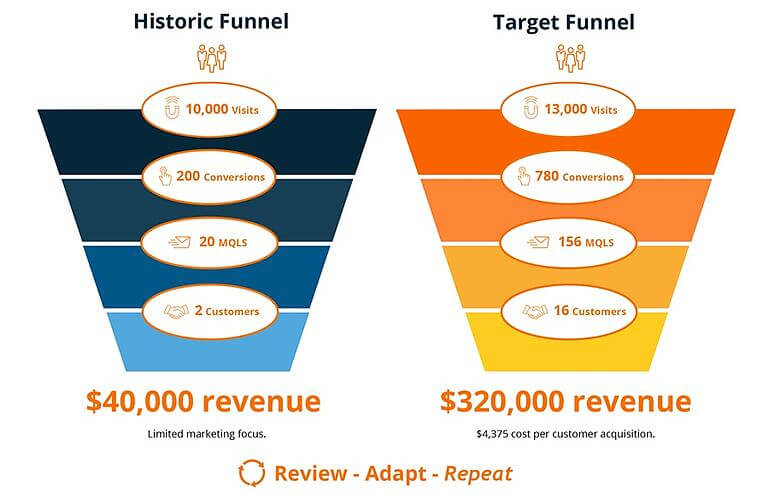 We monitor our billable time through a tool called Jira from Atlassian. Jira is a project management tool that allows us to track the available capacity of our team at all times. This allows us to recruit crucial team members who have plenty of time to train and ramp up (this can take 6 months for an experienced account manager!)
By tracking our performance against forecast with team capacity we can make sure our clients are set up for success from day 1.
Strategy
Strategy is key; we don't want to just throw a handful of mud at a wall and see what sticks, we want to throw a dart and get the best possible return. We need to figure out a direction and a clear path to get there. To do this, we complete an in depth review of the following areas:
Company Deep Dive
Industry Orientation
Sales, marketing, and website audit
Sales Exploratory Session
Technology Review
Wishlist
We often find that having an independent strategist run this workshop provokes some valuable discussions, particularly around company positioning, focus, and target customers.
Planning
During this next stage, we collate the information from the strategy exploratory stage and present it in order to create a plan that client and agency can agree on. The main deliverables include:
Marketing strategy review notes and recommendations
1 page marketing plan
Personal fundamental assumptions and buyer's journey documents
Inbound launch pad goals, plan, and timelines
Client/agency working guidance
Defining your company's positioning is one of the most important components of a successful Inbound marketing process. Positioning provides a focus: who does the client work with, what services do they provide, and how do they do it? Without this focus, it is impossible to create marketing that resonates with the intended audience.
Personas are also vital to this stage. These are fictional, generalized representations of your ideal customers. All marketing activity needs to be aligned to reach these personas.
We often find the key ingredients for success are based on the client/agency relationship. This stage clearly addresses how to leverage the relationship to maximize success. For further information, keep an eye out for our up and coming blog – The Ultimate Guide for Getting a Client/Agency Partnership Off to the Perfect Start.
Step 3 – Setup and Launch
If we are building a new website, this stage will include the website launch pad. Want to know more about our growth-driven design process? You can learn all about growth-driven design process here.
The planning stage identifies activities that may need to be completed which fall outside of the client's ongoing Inbound Marketing Retainer. These activities may be more project based and/or swallow up the client's monthly Inbound budget, which significantly impacts the overarching goals.
However, many of these activities could supercharge Inbound activities and accelerate growth. They are usually priced separately, after the initial strategy and planning stage, as they are specifically tailored to each client. They may include:
Technical debt cleanup
Local listings setup
Marketing and sales platform setup
Sales Enablement (training, sequences, instant notifications, book me)
Data clean and migration
Development of brand guidelines
Content quick start (Offers, Worflows, etc.)
Training (Basecamp, EOS meeting format, CRM and Marketing platforms)
Launch Pad Website
Step 4 – Continuous Improvement
We operate on quarterly cycles. Each quarter, we use a data driven health check to start asking questions. What types of blog posts are resonating with the right personas, which social media channel should we spend more time on, and how can we improve conversion rates?
The objective is to use these quarterly cycles to build data sets. These can be analyzed in order to move into the next quarter with some small gains. This helps us determine the right mix of marketing tactics to target a particular persona each quarter, which will increase visits, leads, and customers. Progress is monitored throughout each quarter.
Finally, every year we revisit the initial strategy review and planning stages in order to determine progress and focus on clients' long term growth goals.
Conclusion
We've spent over 15 years developing our secret marketing sauce, and we think it's really good. Come have a free taste. If you like it (we think you will), you can always buy more.