The HubSpot CMS Hub Buyer's Guide + PDF Download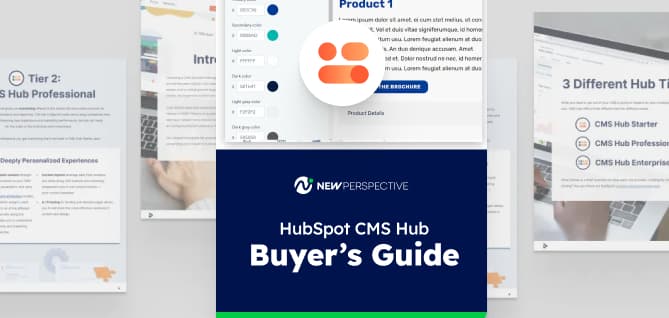 Choosing a CMS (Content Management System) for your website is not a task that should be taken lightly. Your website is one of the most powerful sales and marketing assets, and a critical growth engine for your business. Your CMS is your team's control center. It's important to find one that's the right fit.
Over 90,000 sites and counting have opted to use the HubSpot CMS Hub since its release in 2020. There's no question it's a strong option to consider for your company. We have helped many clients leverage it to crush their personal business goals. And as HubSpot platinum partners, it's no secret that we love working in it.
We created this guide for anyone considering this CMS Hub. It offers an overview of everything you'll need to make your decision.
What is the CMS Hub?
HubSpot CMS Hub is cloud based content management system. It enables your entire team to create and optimize website content with ease. A cloud-based platform, it offers the potential for full integration with your other marketing channels and customer relationship management (CRM) system — giving your team the power to gather powerful performance insights all in one place.
Great Tool for Marketers
CMS Hub is particularly valuable for marketers, enabling them to take ownership of their website. Among its key features are:
the drag and drop editing experience
intuitively built themes
strong SEO capabilities
By leveraging these, marketers can make changes and content updates to their website as they see fit, on their timeline. This allows the team to focus their effort on creating a deeply personal customer experience, instead of getting bogged down by the complexity of content and website management.
3 Different Hub Tiers
What you need to get out of your CMS is going to depend on your company's goals and size. CMS Hub offers three different tiers for different needs:
Starter
Professional
Enterprise
What follows is a brief overview on what each one provides. Looking for full details and pricing? You can check out HubSpot's product and pricing page here.
Tier 1: CMS Hub Starter
CMS Hub Starter is a solid choice for small to midsize businesses looking to launch a small website on a budget. You will be missing a number of more in-depth marketing and testing capabilities, but the Starter tier comes with all of the basic features you need to get a website off the ground quickly and securely.
Speed, Security, and Reliability
With CMS Hub Starter all of your maintenance needs are covered, so you can stay focused on what you do best: creating impeccable customer experiences.
Firewall/VPN and Secure Sockets Layer (SSL) make sure your data is safe and encrypted.
24-hour monitoring and activity logging gives you insights into what users are accessing and making updates to your site.
A global CDN equipped for high-traffic volume ensures 99.9% uptime for websites using the CMS Hub.
A full hosting solution is included with sign-up.
Integrated Marketing & Sales
HubSpot offers a strong marketing platform, as well as a built-in and fully integrated CRM, enabling data tracking and management of the entire sales lifecycle in one place.
A powerful CRM empowers you to track and personalize the experience for each of your website visitors.
Access to all of HubSpot's free tools is yours with sign-up including forms, ad
management, email marketing and more.
A universal shared inbox gives your entire team one central place to manage and respond to all visitor conversations.
Website traffic data gives you key insights including (but not limited to) traffic sources, device type, and visitor location.
Easy to Use Building Experience
HubSpot's interface for page and post building empowers your team to make quick content updates on the fly, without the help of a developer.
A drag-and-drop interface allows you to create website pages quickly and easily.
Free and paid theme options from the HubSpot community make your website build a breeze.
Powerful web page building tools allow for the creation of up to 15 website pages and unlimited landing pages.
An intuitive WYSIWYG blog builder that's fully integrated with marketing tools and features like SEO, embedded forms and calls-to-action (CTAs).
New Perspective's HubSpot Theme
Did you know that we have created our own free HubSpot website theme specifically for B2B companies? You can learn more about our theme, the B2B Engine, in our blog here!
Tier 2: CMS Hub Professional
CMS Hub Professional gives you everything offered in the starter tier plus added features for optimizing website performance and reporting. This tier is ideal for most mid to large companies who want to focus on enhancing user experience and marketing performance, but are not ready for the scale of the Enterprise level investment.
With CMS Hub Professional you get everything that's included in CMS Hub Starter, plus:
Deeply Personalized Experiences
Smart and dynamic content throughout the user experience based on your CRM data, ad source, query parameters, and more.
Five different multi-touch attribution models, meaning functionality which assigns credit for a user's conversion to all of the different "touchpoints" interacted with along the buyer's journey. This helps you to understand the impact of your website and marketing position on your bottom line.
Custom reports leverage data from contacts and deals along with website and marketing engagement data in one central location — your contact database.
A / B testing for landing and website pages allows you to nail down the most effective variations in content and design.
Expanded Content Strategy
Site-wide SEO recommendations help you to identify issues and optimization opportunities to drive more organic traffic.
A Google Search Console integration gives you organic search insights right in HubSpot. This includes average ranking position, related searches, impressions, and click-through rate.
A topic cluster strategy tool helps you identify the best performing core topics (content "pillars"), and supporting content that can be grouped and linked back to it, increasing your potential search ranking.
Content staging allows you to securely build and test an entirely new website without interfering with your existing website presence.
Tier-3: CMS Hub Enterprise
The third and top tier available is CMS Hub Enterprise. Enterprise will give you everything that HubSpot currently has to offer from the CMS. This level is perfect for large to enterprise sized businesses with ambitious revenue goals and are looking to go all in on maximizing their lead generation.
Custom and Scalable Digital Experiences
Custom objects help you store and report on almost all types of data in HubSpot, including but not limited to events, shows, and subscription data.
Multiple domains within the same account allow you to build, host and report on multiple sites. This includes your core domain and up to nine root domains (additional domains may be purchased).
Custom web app capabilities open countless creation opportunities for custom calculators, event systems, client portals and more.
Automated A/B tests give your team the advantage of artificial intelligence (AI) and machine learning (ML) to gain efficiency — while improving your conversion rate.
Scalable Team and Brand Management
Organize your team's users on a hierarchy based on qualifying dimensions such as region, unit, brand and more to suit your business' unique needs.
Manage your team's individual permissions for all content (i.e. blog posts, website pages, emails, forms, CTAs, lists workflows) based on their defined role and relevance.
Single sign-on credentials make it easy for your team members to log in with enhanced security and maintain complete control over access permissions.
Custom tracking dashboards can be created from HubSpot's public API. Track user-reported errors, uptime, performance and tracking data, over a defined period.
Not sure which HubSpot tier is right for you?
Reach out to a HubSpot professional like us to help walk you through the next steps. We would be happy to help you work through any current gaps in your process, and see if they could be filled by HubSpot's numerous capabilities.