8 Common Marketing Mistakes to Avoid for Cleantech Companies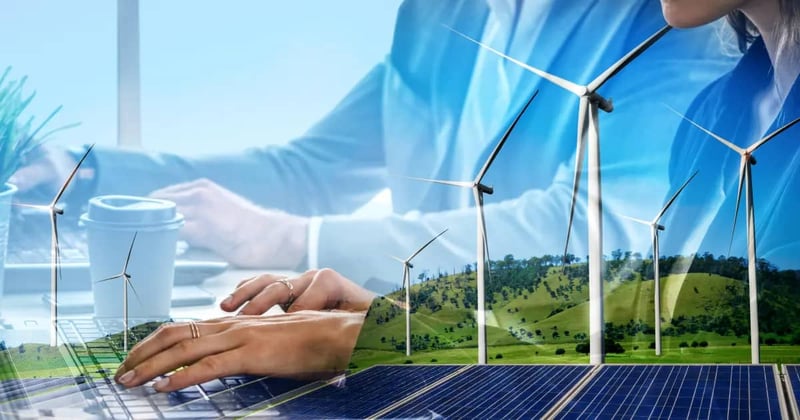 The cleantech industry is a volatile and highly competitive market, so to stand out from your rivals, your company's marketing efforts have to be on point. Google's search traffic saw an immense leap from an average of 3.6 billion daily searches to over 6 billion daily searches after 2020, and it's needless to say this increase in traffic should not be ignored by brands.
With this in mind, let's go over some simple marketing mistakes that cleantech companies often make and how to avoid them.
1. Failing to do market research
Knowing your key demographic by heart is just as significant as having a clear vision of your brand.
To successfully market your products or services, it's paramount to understand who your consumers are, which is best accomplished by keeping close track of your analytics.
Analytics help you precisely determine who is noticing your brand and can later be helpful in your marketing endeavors.
Also, if your cleantech company is active in several different industries, it's always a good idea to utilize market segmentation.
For instance, Carbon Clean (a carbon-capture firm) works in several fields, including cement, refineries, steel, energy from waste, and biogas. Since their work is diverse, their marketing efforts benefit from market segmentation.
Market segmentation allows you to create specific subsets of a market based on a multitude of factors, including demographics, common interests, and priorities.
Dividing the market into segments helps you better understand your target audiences and create composite personas of your customers, which are later valuable for all your marketing strategies.
2. Laser-focused marketing
Once you're aware of who your audience is, this allows you to implement laser-focused marketing. This type of marketing implies that a company focuses all of its marketing efforts on a small number of people, usually referred to as a niche audience.
The main goal of laser-focused marketing is only to create content that will be highly valuable to your niche following. Therefore, whatever format you choose for your content, make sure to be consistent, informative, and entertaining.
3. Not having a blog
A blog's critical value is often neglected when creating a website for your company. A well-written and informative blog will separate you from the competition, and your niche audience will feel that you take their needs and queries seriously.
Another essential feature of frequently posting on your blog is that it increases the overall number of indexed pages on your website, which will help your site to appear organically on Google search results.
It's also quite important to interact with your audience. Make sure to ask sincere questions on your blog posts to get responses from your reader base.
Finally, when creating a blog aimed at people interested in cleantech, it's essential to produce content that perfectly aligns with your target audience.
4. Lack of social media presence
Reaching a significant number of people has been simplified by social media, but there are some areas that many companies struggle with.
Marketing on social media channels is all about engagement with users, understanding your core audience, and paying close attention to your competitors.
Consistent posting on the most popular social outlets will largely improve your reach, and it's also essential to analyze how your niche audience reacts and interacts with your content to ensure that you're heading the right way.
As cleantech is generally regarded as a helpful and benevolent process that reduces our negative environmental impact, engaging with your audience and growing your social media following will be pretty straightforward.
5. Brand differentiation
One of the most effective ways to separate your firm from the competition is to work hard on brand differentiation.
Brand differentiation is a term used to describe all the means through which your brand can be set apart from your business contenders.
Differentiation is usually accomplished by associating the main positive aspects of your brand with a plethora of customer benefits that your service or product provides.
For instance, instead of just using "Solar Panel Company", companies can use original phrases like "Solar Panels for Homeowners Looking to Reduce Their Electricity Consumption" to differentiate themselves.
6. Not obtaining referrals and reviews
While it's important to advertise your products and services as being top-notch, consumers hold the opinions of other customers in high regard.
For this reason, collecting and displaying customer feedback on your website is essential, as this allows potential new customers to know how people feel about your brand.
Companies like Amazon showed the world the persuasive nature of customer reviews, but they also serve an additional function, providing precious insight on how your company can improve.
Displaying positive consumer referrals about your cleantech brand won't go unnoticed by potential new customers.
7. Not paying attention to customer service
Even though marketing has followed a much quicker pace in recent years, taking proper care of your customers should always remain a priority.
Once your marketing efforts have been fruitful (and browsers have turned into buyers), your company should return the favor by valuing and respecting its consumers.
You must respond to all of their correspondence, whether sent to your company's inbox or any other digital channel.
Professional customer service helps convert one-time buyers into loyal and long-standing customers.
8. Forgetting about SEO
Search engine optimization is constantly evolving, and keeping constant track of these changes can be problematic.
While it's a substantial task, staying on top of current SEO practices will work wonders for your digital presence and brand visibility.
Frequently appearing on organic search results will allow your firm to reach new audiences and show your current customers that you're an important figure in the cleantech space.
Have you made any of these cleantech marketing mistakes?
If so, one of the best ways to avoid them is to work with an agency with a lot of experience collaborating with cleantech companies. We have already gone through many of these mistakes, but there's really no reason you have to.
Instead, reach out to us and download our Cleantech+ marketing bundle, which includes ten marketing templates to help you get started with your strategy and planning.