Should You Hire a Marketing Agency or an In-House Marketing Team?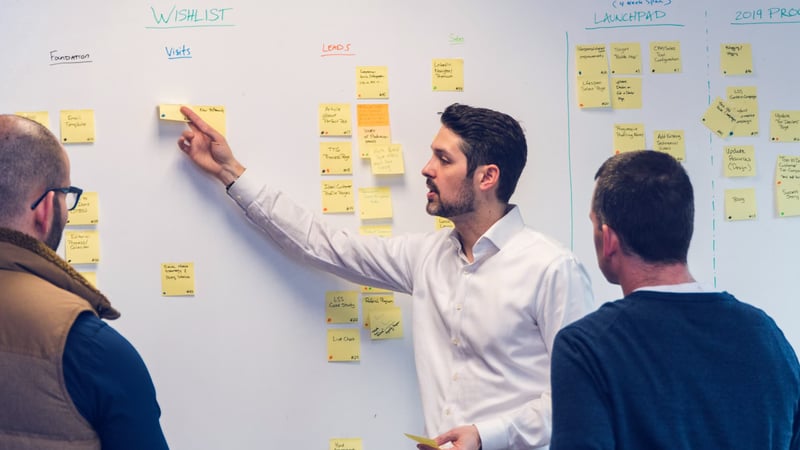 One of the critical questions companies have is whether to hire a marketing agency to handle their digital marketing, or whether they should form an in-house marketing team. Considering your options is entirely valid. This guide will try to cover all crucial aspects that will hopefully help you decide between the two.
Let's first check out some of the main benefits of working with a digital marketing agency to grow your online presence.
Why you should hire a marketing agency
Cooperating with an experienced marketing agency offers a lot of benefits, and the main ones include the following:
Expertise in Your Industry
One of the most significant advantages of working with a marketing agency is that you get to pick a firm that has already had a lot of success with other companies in your business area.
Most top-notch marketing agencies specialize in several industries, which is generally very helpful when deciding between several firms.
For example, at New Perspective, we specialize in cleantech, climate tech, agritech, naturetech, high-tech, and science, but we also frequently collaborate with B2B companies in the manufacturing, agriculture, and cannabis industries.
Depending on your budget, hiring an agency can offer an extreme level of expertise that can hardly be matched by any in-house team. Finally, collaborating with a competent agency is a great way to maximize the ROI from your marketing budget.
Superior Software Tools
When an agency is hired to do your digital marketing for you, this frees you from researching and acquiring various marketing tools.
The agency in question will already have all necessary premium software ready, including programs like Ahrefs for keyword research and more sophisticated tools like HubSpot, which can be used for tracking the progress of all your marketing campaigns, as well as full marketing and sales automation.
Diverse Knowledge
Suppose you have a small/midsize company. In that case, your internal marketing team will hardly be able to match the skills of a veteran digital marketing agency.
Some of these marketing agency capabilities include jumping on the latest beta features in Google Ads that can offer a competitive advantage and implementing novel marketing strategies in which an average in-house team will have little experience.
Opting out for a digital marketing agency typically implies that your company will have access to team members with very diverse specialties.
The main areas include social media marketing, SEO specialists, Email marketing experts, professional copywriters, CRO (conversion rate optimization), and paid advertisement.
While in-house marketers have to be knowledgeable in at least several areas for their marketing efforts to be successful, collaborating with an agency gives you the advantage of working with a team of highly-skilled individuals.
Increased Scalability
One of the most significant benefits of working with an agency is that it's very easy to adequately scale.
A professional agency can quickly respond to any scaling changes, for instance, increasing your social media presence during a busy time of the year, while an in-house team can have difficulties responding to frequent changes in marketing tempo.
Another challenge for internal marketing teams is when a company wants to break from marketing efforts during a slow season.
For a marketing team working in-house, this means they won't have anything to do, but collaborating with an agency relieves you of this potential issue.
Savings on salaries, time, and training
Choosing between a marketing agency or an in-house team frequently comes down to a matter of price, and for most businesses, it's much more cost-effective to hire an agency for their marketing needs.
For instance, hiring a digital agency costs anywhere from $20.000 to $200.000 per year, while an in-house marketing department is likely to exceed the $200.000 mark every year.
Another important feature of working with an agency is that you can fine-tune your needs.
If you're looking to boost your SEO, an established agency typically charges complete SEO services for around $25.000 a year and hiring a skillful in-house SEO specialist averages around $65.000 a year with benefits.
When Should Businesses Call an Agency?
Deciding between an agency and an internal team is never an easy decision. Still, a well-thought-out marketing plan is necessary for your business to have a solid digital presence.
Half of the world's population searches the internet daily, but without a deliberate effort, most of your potential customers will have a tough time finding you online.
Here are the main reasons why businesses should collaborate with an agency:
When nothing is getting done
If you are under the impression that your company is gradually deteriorating and your employees aren't motivated enough, this is the ideal time to start working with a demand generation marketing agency.
Novel ideas and strategies will provide your business with much-needed fresh blood. In addition, they will have a stimulating effect on your company as a whole.
When sales and growth stagnate
The aspiration of any business is to progressively develop and thrive. Still, stagnation is a crippling issue many companies have to deal with.
One of the most efficient methods of increasing growth and sales is investing in digital marketing, which is best accomplished by working with a dedicated agency.
When your ambitions exceed your capability
While a small business that is satisfied with its current position might not require the services of an accomplished agency, companies looking to grow could greatly benefit from professionally-created marketing campaigns.
Increasing your online exposure through digital marketing results in an increase in traffic but also directly boosts the conversions of your company.
The Main Pitfalls of In-House Marketing
At the start of this guide, we covered the main reasons why companies should hire a digital agency. Still, most of these arguments can also be viewed as in-house marketing drawbacks.
So to avoid repeating ourselves, here are the main in-house marketing pitfalls we haven't mentioned.
Recruiting Talent
Building an internal marketing team takes considerable time and effort, even if you're looking for just a single employee.
On average, finding an adequate person for a marketing role takes about 50 days. During this time, your HR department will have its hands full.
A job listing needs to be created to attract interested applicants. Still, the greatest feat will be interviewing and testing all the candidates before choosing the ideal person for the position.
Turnover of Employees
One of the most significant issues of having an in-house team of marketers is employee turnover.
Losing a team member is especially detrimental for moderately small companies, as it can significantly slow down the progress of your marketing endeavors.
When one of your marketing employees moves on to a different company, it can also produce increased stress on your remaining workers since they will have to work harder until a competent substitute is hired.
Partner with an experienced marketing agency that knows your industry
With all this in mind, it's safe to say that opting out for a digital marketing agency is a wise investment, which is why so many fast-growing firms have already decided to take this route.
As we mentioned before, choosing an agency that is knowledgeable about your industry is paramount. Companies operating on the highest levels only collaborate with agencies that are genuine experts in their field of work.
Contact us if you're considering partnering up with an experienced digital marketing agency, and schedule a free consultation today.