What To Expect From B2B Demand Generation Marketing Agency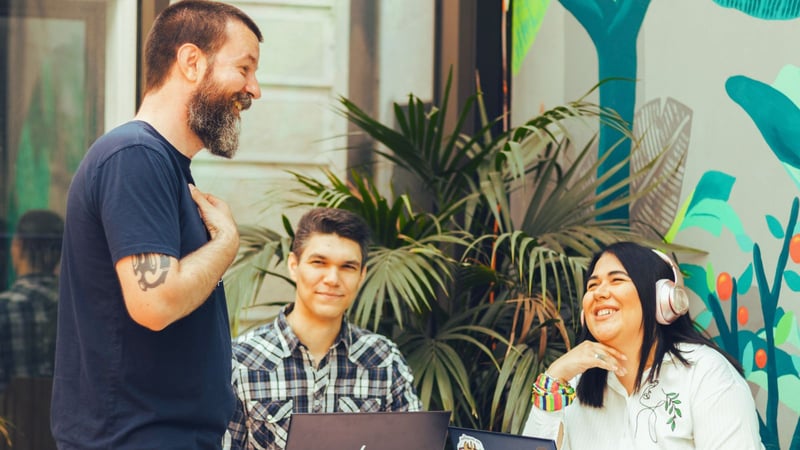 Demand generation — or demand gen — is an education-focused, awareness-building approach to marketing. Any business aiming for sustainable growth is going to want to know more about this strategy. It uses a whole range of marketing activities to build an understanding of your products or services, inviting potential customers to learn how what you offer can solve their needs.
While related to lead generation, demand gen is different: lead gen is about capturing contact information. For instance, in exchange for some great piece of gated content like an ebook or access to a webinar on a common pain point and solution, your audience provides their email, etc.
Demand gen offers with no requirements, building interest without strings as it brings prospects into the funnel. Both are fundamental marketing approaches. But in our experience — and as marketers, we've got tons of that — demand gen is absolutely key to growth:
it strengthens your pipeline
helps quicken your ability to scale and gain a position in your market
and, done right, enables you to close more deals
What we've done with our agency is align around — and create — the best practices and strategies to make ourselves a demand generation powerhouse. These are 8 factors that matter the most when it comes to working with a demand gen marketing firm:
What New Perspective offers as a B2B demand generation agency
1. Experienced marketers
Effective demand gen is best served by working with an experienced demand generation marketing agency who has expertise and confidence. You want a partner who approaches challenges with a positive mindset and a seasoned, enthusiastic team.
Experienced marketers bring an indispensable bag of tricks to the table. They have a knack for quickly identifying and seizing opportunities, are adept when it comes to predicting trends, and know how to tailor the most effective strategies to fit your particular needs and goals.
2. SMART goals
If you don't know the SMART formula for goal-setting, you should: it stands for the Specific, Measurable, Attainable, Relevant and Time-Based goals that support l demand generation marketing.
You want an agency that's a great dance partner when it comes to crafting these objectives. Each plays an important role in the approach, and they all work together as well. Note "attainable" in there — no agency should be selling you an impossible dream..
3. Savvy persona research
Identifying your target audience and understanding their needs, motivations and pain points are related and equally important strategies when it comes to any marketing effort. With demand gen, they're fundamental.
A marketing agency seasoned in demand gen will have its own effective tools for persona research, and a way to create and refine buyer personas. You'll likely have a series of personas to address, and each requires its own approach.
4. Well-crafted buyer's journey
Demand generation is all about the right content, whatever form it takes. Work with an agency to define your target audience and define their buyer's journey (awareness, consideration, and decision).
Then you can tailor the content that speaks to their particular needs and offers compelling solutions at each stage of the journey, and build in critical touch points as part of the overall marketing strategy.
5. Conversion rate optimization (CRO)
Conversion Rate Optimization (CRO) as defined by HubSpot is "increasing the percentage of users or website visitors who complete a specific action to increase the leads you generate."
It's an essential element of demand generation marketing. Lean on an agency to help pinpoint and reduce the friction points in your conversion funnel and execute content enhancements to ensure that more visitors turn into leads, and more leads turn into customers.
Case study: Solar Energy Company Slashes Cost-per-Lead 73.6% with CRO and Landing Page Optimization
6. Creating growth-driven websites
Our firm is all about creating growth-driven websites that work as demand-gen engines, with the right kind of content and messaging that attracts the right prospects. A growth-driven website also has the built in ability to flex and adapt to your visitor's patterns and preferences.
It's built to stay in alignment with the best SEO practices, and offer seamless navigation as well as a superior user experience. Moreover, it's created to scale with your business evolution, so as you grow, your website doesn't hold you back.
7. Strategic content creation
If an agency isn't focusing on content, it can't succeed in terms of improving demand generation for you. Content remains king in the world of digital marketing — and whatever agency you work with on demand generation, it should be able to create and deploy engaging, strategic, unique content that attracts and holds the interest of your audience.
We follow the latest in AI development, have experience in picking the right generative AI tools, are up on the best ways to leverage SEO and AI powered search engines, and can offer you advice on how to use generative AI for your B2B company.
8. Powerful sales enablement assets
From prospecting glitches to missed goals to administrative tedium, sales teams need the right tools, resources, and training to close more deals. Demand gen plays a key role — including sales messaging, campaign planning and execution.
Lean on your marketing agency to build these into a robust framework of sales enablement assets that fit your needs, help you sell, and drive business growth.
Why New Perspective?
We're going to toot our own horn here, but we firmly believe in what we're doing — and so do our clients. As far as digital marketing, we combine great people, a great partner (in HubSpot), and real depth when it comes to industry knowledge and experience:
100% senior level team and two decades of experience
Our seasoned team boasts two decades of experience, ensuring you receive high-quality service informed by years of industry practice. This is not a firm where interns manage your work. All of our team members have more than 6+ years of expertise and marketing experience; many have far more.
HubSpot platinum partner and HubSpot Onboarding accredited agency
Our firm was recognized as a HubSpot Platinum Partner and HubSpot Onboarding Accredited Agency, meaning we've proven our ability to navigate the complex terrain of digital marketing and maximize. HubSpot's power for our clients.
Deep industry knowledge
We've got a proven track record in sectors including Cleantech, Climate Tech, Agritech, and High Tech Manufacturing, and more. We know what it takes to craft a winning strategy in those arenas that fits a business's particular needs — and we love helping organizations grow.
Choose New Perspective as your agency partner
We know how complex the right marketing approach can be — and we know how to make sure your organization is headed in the right direction. Our digital marketing strategies have helped our clients achieve their goals and head for the future.
If you'd like to hear more about how our demand generation and other programs could fit your needs, reach out. We'd be happy to jump on a call.