7 Best B2B Content Marketing Examples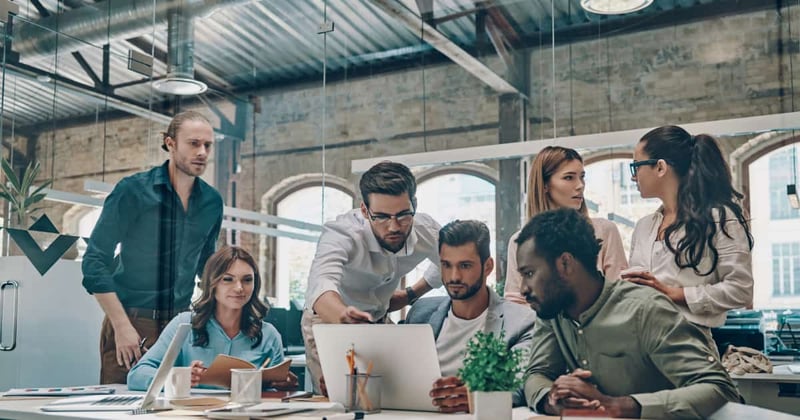 There was a significant shift in the marketing industry in 2020. The unexpected start of the COVID-19 pandemic pushed every business to adapt — and the frontrunners are discovering (or rediscovering) the power of content marketing.
Two essential facts about content marketing may surprise you:
Businesses with innovative marketing strategies know that content marketing is about more than just churning out content at scale. The content needs to speak to the target persona's challenges and be purposefully woven into your buyer personas and the right stage of the buyer's journey.
To help you discover the value of B2B content marketing, we've put together some examples of great business-to-business content marketing strategies, along with tips on best applying them to your company's needs.
An Inspiring List of Best B2B Content Marketing Examples
What is the difference between B2B and B2C content marketing?
A B2B, or "business-to-business" company provides services or products to other businesses. A B2C, or "business-to-consumer," company sells directly to individual consumers. They're two separate business models that serve different types of customers, one being businesses and the other direct to consumer.
Content marketing isn't as narrowly focused as you may think. While it seems like you'd want to only research close competitors for effective tactics, it's a better practice to get out of the bubble.
Sure, if you own a plumbing company, you'll likely look for others who are absolutely flushing the competition (pun intended).
But there are countless other companies to take inspiration from. It's not always about what you're selling. It's how you're selling it. Take a look:
1. Mailchimp: A Unique Take on Reality TV for Video Content Marketing
Video series and educational webcasts are a great way to take your brand outside the comfort zone and expand your promotional reach. Since the content in videos can also be repurposed and recycled into podcasts and blog posts, this is a great way to do no-waste content marketing.
Mailchimp created an in-house video production studio before the pandemic that's been going strong since. Among its series is a small business reality-style show, Werrrk, in which every ten-minute episode focuses on a small business struggling to overcome a challenge.
From a disconnected team to a clunky office space, three experts come in and save the day.
The show is a great instance of content marketing: fun, bite-sized content that Mailchimp's target audience (which includes entrepreneurs) can enjoy, and content with real value in the form of actionable solutions viewers can apply to their own business issues.
Looking for more inspiration? Here are 16 unique ways to promote your content.
2. Hootsuite for Social Media Content Marketing
Hootsuite is a vault of knowledge when it comes to B2B social media channels, from scheduling tips to social media management must-knows.
Their depth of expertise is founded on a powerful content marketing strategy that conveys their position as industry leaders.
Their knowledge hub is packed with educational and relevant content that speaks directly to their target audience. It's a lesson in the value of building content around a very clear target audience, focusing on the material that they want to see.
3. Asana Connects the Dots With User Generated B2B Content
In 2018, Chris Butler-Stroud, CEO of Whale and Dolphin Conservation, shared the following about his team's experience with Asana:
"I can genuinely say that there are more dolphins and whales alive today thanks to Asana."

Chris Butler-Stroud, CEO of Asana
The statement struck a chord with Asana's leadership, who decided to ask their users how Asana helps them. Within two weeks, they had received some incredible stories. That gave Asana's team an idea: Why not shine a spotlight on the important work their users are doing?
The company decided to launch a campaign that focused on their customers and the things that matter to them. They called it "We love humans."
They photographed over 80 people to share their remarkable stories.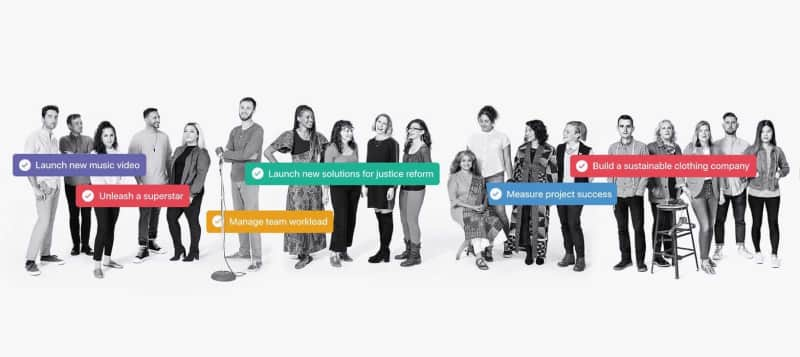 Each story focuses on one team and how they use Asana — from companies encompassing a wide range of industries, including Glassdoor and Figma. The campaign was so successful that it remains Asana's primary brand campaign.
Its images feature heavily on their landing pages, social media platforms, and in their email marketing.
The best way to connect with people is by showing how your brand solves problems, addresses pain points, and improves lives.
Try reaching out to the businesses you work with about telling their stories. Ask if you can talk about how your brand or product helped their business grow.
4. DropBox Creates B2B Content Marketing for Marketers
Marketing to marketers is notoriously difficult. Dropbox knew that marketers had limited knowledge of the benefits Dropbox for Business could provide for them.
By researching their audience, they also discovered that marketing teams often blame project delays on "personality clashes" and bad communication.
So they created Marketing Dynamix, a highly engaging/interactive campaign with a personality assessment tool as its centerpiece.
The tool is designed to help marketers understand their team and appreciate the perspectives that different personalities can bring. It uncovered personal development areas to help improve relationships, team effectiveness, and ultimately, improve B2B marketing processes.
Marketing Dynamix was hosted on a microsite where users could take the assessment, share results, invite others, and consume personalized content. The result was a 220% performance increase in lead generation and an awareness campaign that resonated with thousands of marketers.
Creating content strategies with tools like Type Form Quizzes, ConvertCalculator, Interact (for interactive quizzes), assessments, personality tests, and even interactive calculators can provide real value for your customers.
At the same time, you'll get data-driven insights on who they are and how to better market your products to them.
Bonus: Check out New Perspective's library of free Marketing Tools & Calculators.
5. Trello for Teams: Accessible and readable content
Trello is a SaaS company that centers around task management and scheduling for small to medium teams, with a heavy focus on startups.
How does their content marketing set them apart?
Their content is diligently arranged in the same way as the very software that they sell. A simple glance at their product and their blog give you the immediate impression that this is the same brand.
Their categories in their written content are clear and concise, meticulously organized in such a way that it takes a website visitor a short amount of time to find what they're looking for.
What can your business learn from this?
Make your content accessible and easily decipherable for your reader or page visitor. The quicker you can answer your audience's question, the better the impression your content will make.
6. Backlinko for Blogging: Prioritize quality over quantity in your B2B content marketing strategy
Backlinko has been around for more than nine years and has only 170 published articles.
Yes, you read that right.
Brian Dean is known for publishing quality blog articles over aiming for high quantity content. He does this by making sure his blog articles are completely jam-packed with relevant information, data, and examples to truly educate his reader.
Here's what he did. When he first published content, he established why he was able to speak from a leadership point of view.
Then, he started to create really detailed content that dug much deeper into his topics than his competitors with long-form blog posts, videos, and images to boot.
So, what is there to learn from Backlinko?
Prioritize quality content over quantity. If your business can only put out one decent, relevant blog post per month then stick to that. But don't just publish content for the sake of it.
7. MOZ for SEO Content and B2B Content Marketing Tips
The Moz Blog is a great place to pick up SEO (Search Engine Optimization) advice. This brand doesn't publish fluffy content. The Moz team has no qualms about publishing SEO best practices and sharing its experience with readers.
But Moz goes farther than that. It gives readers incentives to engage with Moz content. Readers can earn points through various activities, such as interacting on the Moz community page.
Moz also brings in outside experts to share more great content on their blog. The takeaway?
Guest bloggers and other experts' provide different types of content that can help your marketing strategy outshine others.
Sometimes people get to your website simply looking for an answer to a dilemma. Use this strategy to help your content perform well and increase your organic traffic.
Best B2B Content Marketing Examples to Inspire You
This list of b2b content marketing magic-makers should have you reeling with inspiration and positivity.
If these brands can do it, then so can your business.
Take these seven examples as inspiration for your own content marketing approach, and soon you'll see real results.
Just remember that content marketing is a journey. Don't go for instant success. Go for the long term — and use these tips to win it.
If you want to do a deep dive into the essence of content culture, read more about it here.
Hire an expert content marketing agency for the best B2B content marketing strategy
The truth is, what causes most B2B companies to fail with content marketing is talking too much about themselves. They lack the skills to be great content creators and the perspective to build an effective content marketing system.
The industry needs more stories that engage with users, offering real information and real value.
We hope these brands and stories inspire you to up your content marketing game. No matter your industry or size, you can leverage B2B content marketing to drive your business and improve your thought leadership.
Building trust takes time, but feel free to reach out to us to find out how you can turn your content marketing into a selling powerhouse.
We have case studies to support our claims. 🙂