B2B Instagram Strategies: How to Tap the Untapped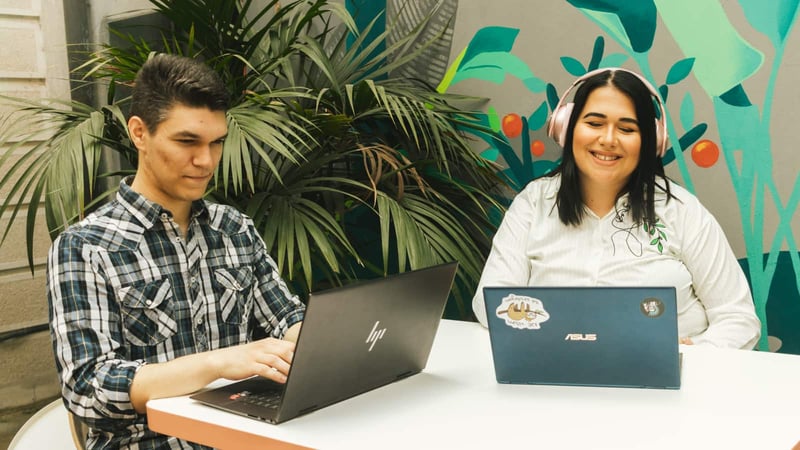 When it comes to social media, there's a commonly accepted opinion that different platforms are intended for distinctive types of marketing. For example – Instagram is most often associated with B2C and LinkedIn with B2B.
However, according to business researchers at HubSpot, Databox, Statista & Pew Research Center – ALL social media apps are great for B2B, it only matters HOW you use them.
Did you know that Instagram has nearly 800 million daily active users and boasts 10x the brand engagement seen on Facebook and 20x more engagement than LinkedIn?
B2B Instagram: A forward-thinking approach
B2B companies experience their largest engagement ratios on Instagram – which means that from all major social media platforms, Instagram cultivates the highest number of interactions per number of followers.
It boosts engagement through commenting, photos, texts, galleries and videos so your followers don't have to click elsewhere to see the content.
Instagram opens up a creative way for companies to boost visibility and drive brand engagement.
Inspired businesses leverage Instagram to effectively communicate at times complicated, technical or methodological information into visually digestible stories, illustrations, or pictures. This approach can accelerate your brand's awareness and strengthen it's relatability to wider audiences.
So what are your goals? If you are interested in boosting your B2B brand awareness, attracting new customers and increasing customer loyalty/retention, it's time to pay closer attention to the massive audience on Instagram.
Unsure where to start? Lets dig in!
Create a B2B Instagram Strategy in 4 Steps
Achieving your goals on Instagram takes a lot more than just posting content – having a brand page on Instagram is just the beginning. You need to think about what visual content you can publish that your target audience would find engaging.
Clearly define your target persona/s
Source inspiration from market leaders and your competition across the Instagram channel
Align your visual messaging plan with your target audience
Test some content types and measure the success. A/B test content types for a month and then something else the month after – explore and find out what creates the most value and engagement with your target audience
Does B2B Work on Instagram? Optimize Your Instagram Business Profile
You'll need to choose a recognizable and on-brand username, so start with what first comes to mind, and don't overthink it – you can change it later.
Do you already have a personal account that you need to switch to a business account? Switching to Instagram business account will unlock several powerful features for your brand to take advantage of.
You will receive call-to-action buttons allowing followers to easily contact and connect with your B2B business.
Also, you will get access to analytics – which is really valuable. You'll have access to ads within Instagram; so if you want to do some paid promotions, it's easily available.
To make the personal to business Instagram profile switch: go to Settings → Switch to Business Profile → Select the Facebook page you'd like to associate with → Start the fun!
Commit to a regular Instagram posting schedule
Creating a well-thought content calendar is crucial to keep posting continuity and keep your followers aware of your business – without overwhelming them with content.
Platforms like HubSpot are offering easy to use content calendar templates that will help you plan your updates, break down how to format your content and provide helpful tips and tricks along the way.
We also made free ready-to-use template bundle that includes:
2022 Editorial Calendar
2022 USA Holidays Calendar
Content Roadmap Template
Content Ideation Template
Just click on the image below to download it for FREE and start planning out your whole content strategy.
There is no single best time (days/hours) to post for all B2B businesses – so you'll need to explore resources like Instagram Insights or, again, HubSpot who can help you to determine which timing works best for you.
B2B Companies on Instagram: Align on creative art expectations before starting content production
Planning great B2B Instagram marketing strategies and content ideas is easier said than done. Have you shared your brand guidelines with your content team? The best start is to make an Art Direction mood board and set a path for an overall profile look.
Incorporate all available formats: stories, feed carousels, pictures, videos, and reels – as they will pump up the engagement and make your business more relatable.
MailChimp's Instagram profile is a great example of how you can use different formats, get creative, have fun, showcase your work and leave the audience inspired.
Another good example is Liebherr
A German-Swiss multinational equipment manufacturer, whose B2B Instagram account showcases their work through visually interesting pictures and creative copywriting: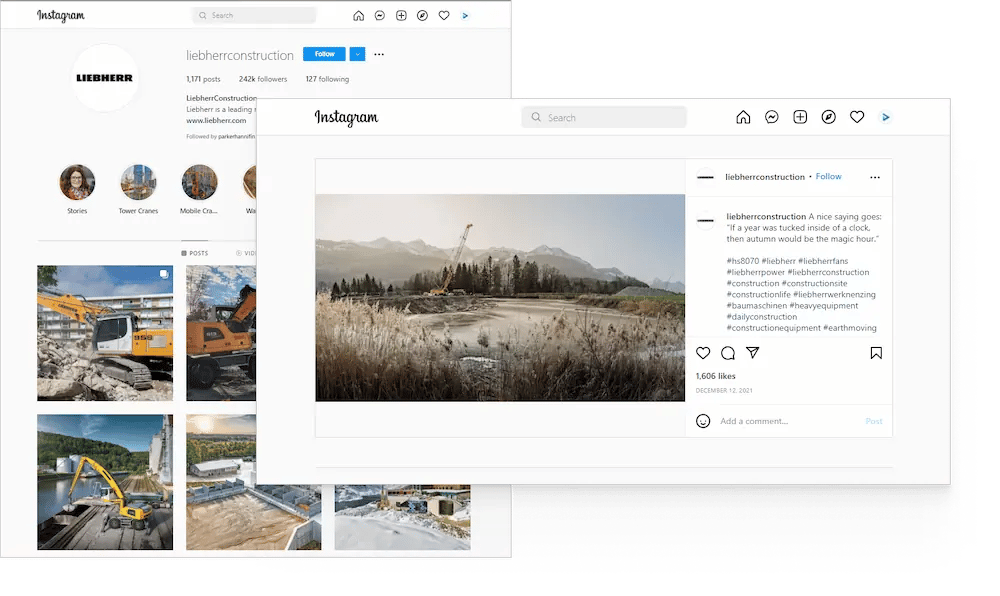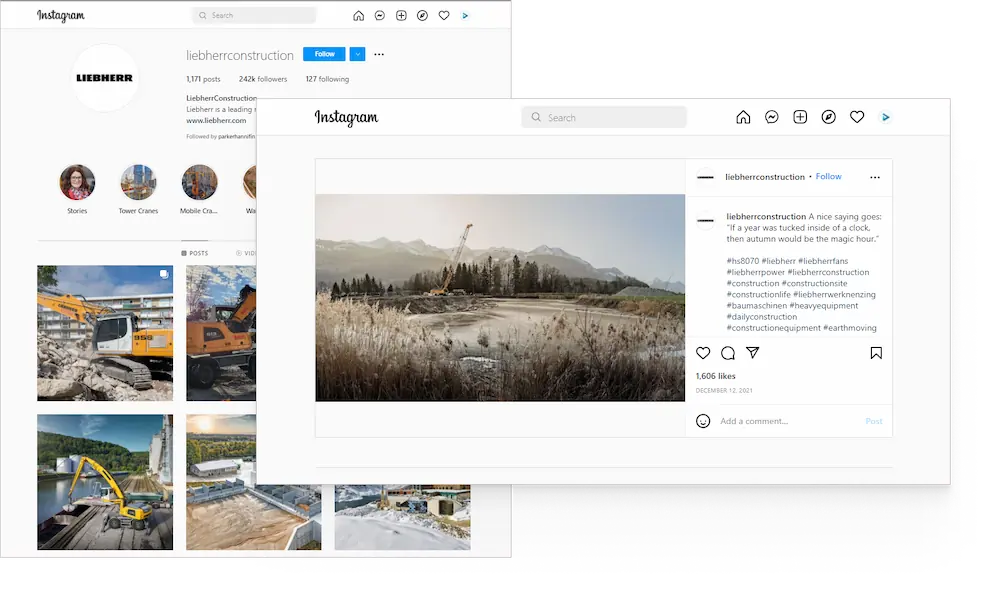 Aside from movies/TV announcement content, they often post homemade engaging memes and pools.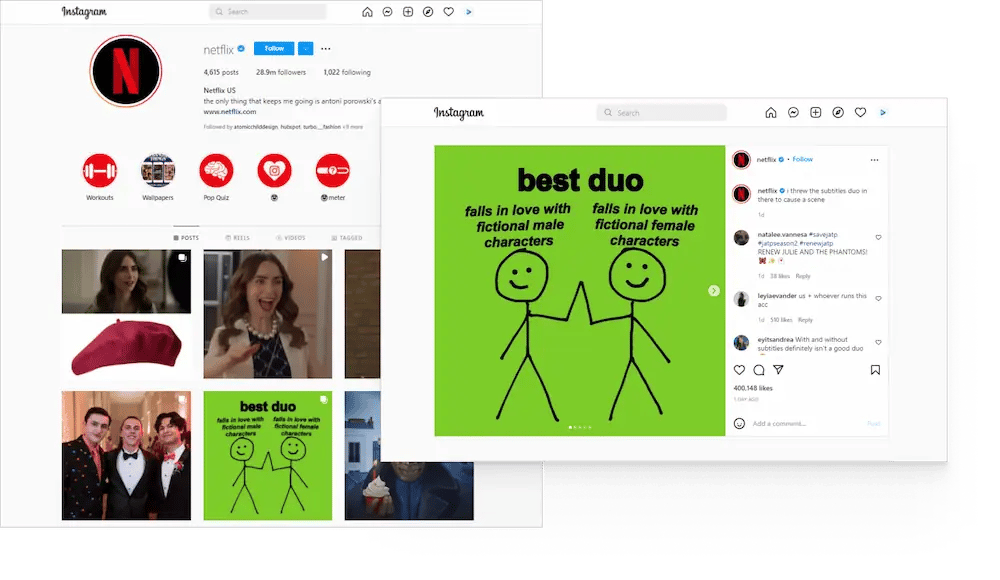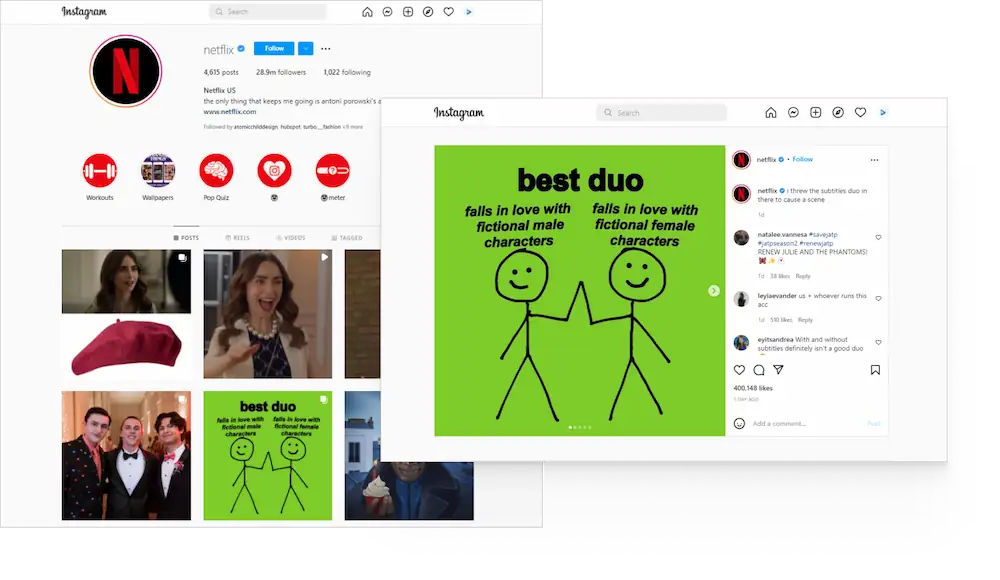 This media platform is best known for their easily recognizable art direction.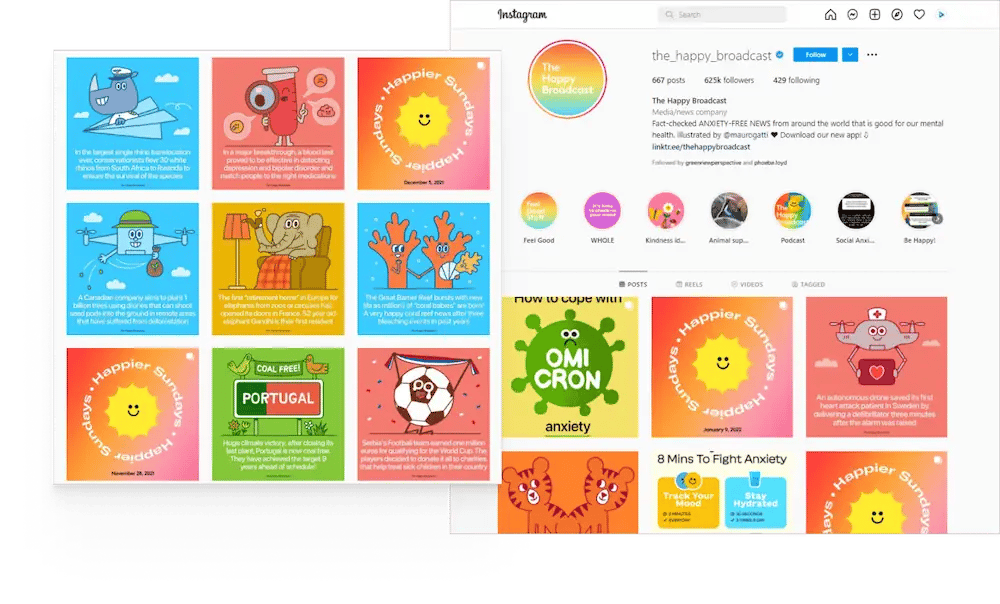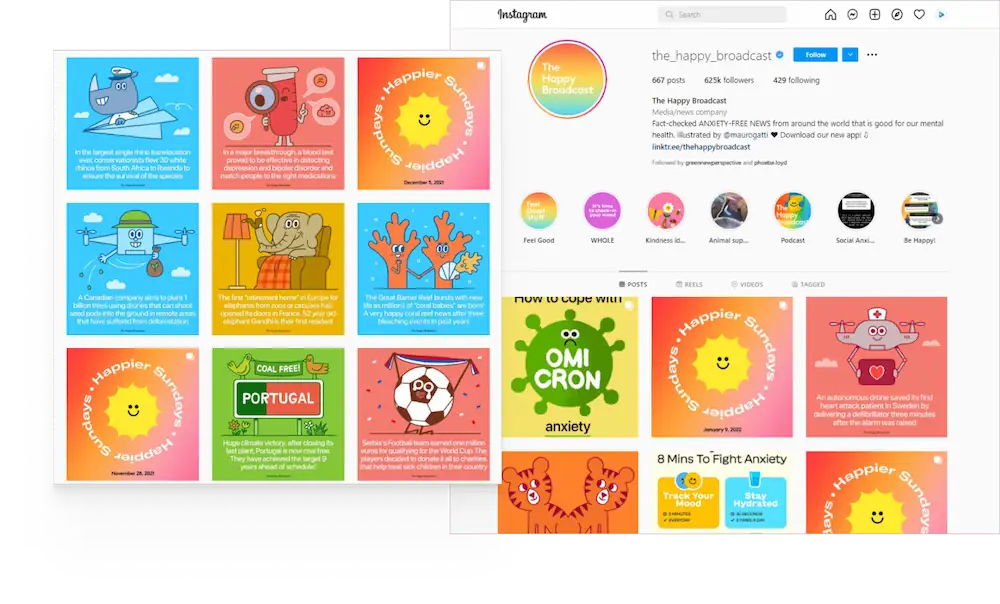 Create Quality Instagram content that the audiences will want to revisit
Instagram save button also increases engagement, along with comments and shares sections. So keep in mind that you should create more content that encourages your audience to "save" your content and revisit it after some time.
Carousel posts with some valuable tips, and interesting information increase the number of saves, so try them out for your B2B Instagram.
COP26 profile is a good example of frequent use of carousel format for getting that extra engagement boost.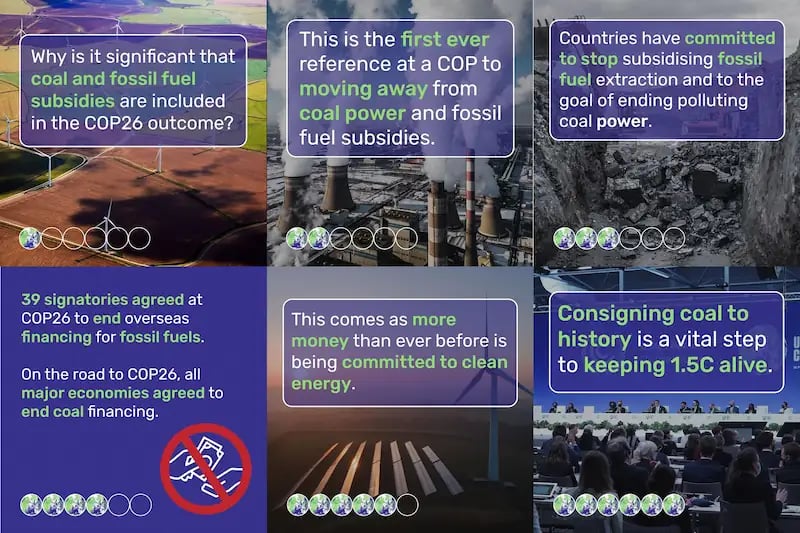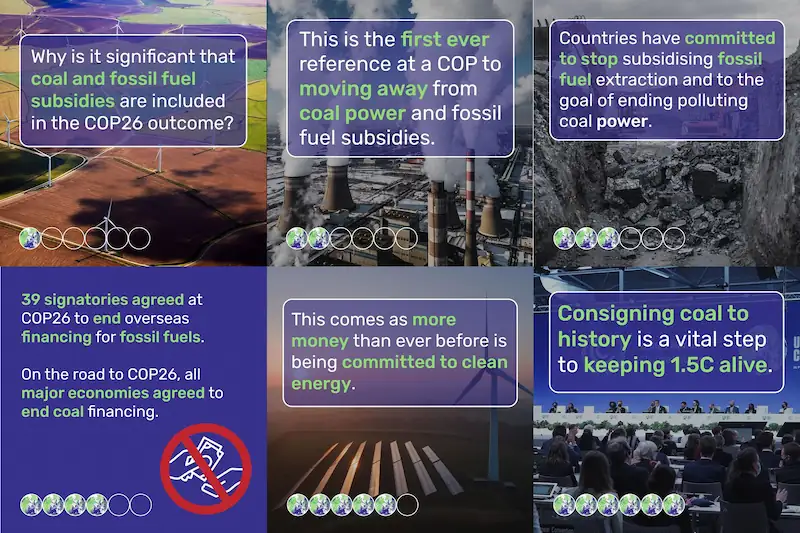 Instagram & B2B Content Marketing: Explore The Use of Hashtags
Use hashtags to gain a wider reach for the content – choosing the right hashtags is similar to choosing SEO keywords for a website, so you have to explore which ones are best for your business.
Here are some quick tips that will help you find the right hashtags:
Research which hashtags your competitors are applying
Use Instagram's search option and explore related hashtags
Embrace popular hashtags like #tbt #earthday or #picoftheday and build your content around them
Communicate with followers and other B2B companies
To encourage followers to engage with your business and to show that you're authentic, you should be responding to comments and mentions. Also, connect with other related businesses, and share each other's content for higher engagement rates.
Reach your target audience through targeted ads on Instagram (Meta)
Luckily, Instagram offers a wide range of options for targeting audiences based on demographic characteristics, occupations, or interests – so you can make an ad and effectively reach your target group and improve the reach.
Instagram B2B Marketing Strategy: Wrapping up
Driving brand engagement from new and existing customers via Instagram is a long term play that is worth the effort. With some planning, creative exploration and an open mind – you will be off to a strong start.
And if you are considering more hands-on help with your B2B organization's Instagram strategy, feel free to reach out to New Perspective. Our growth consultants and social media experts will answer all of your questions. Book a free 15-min exploratory call today!