B2B Social Media Marketing Strategy: Instagram Company Culture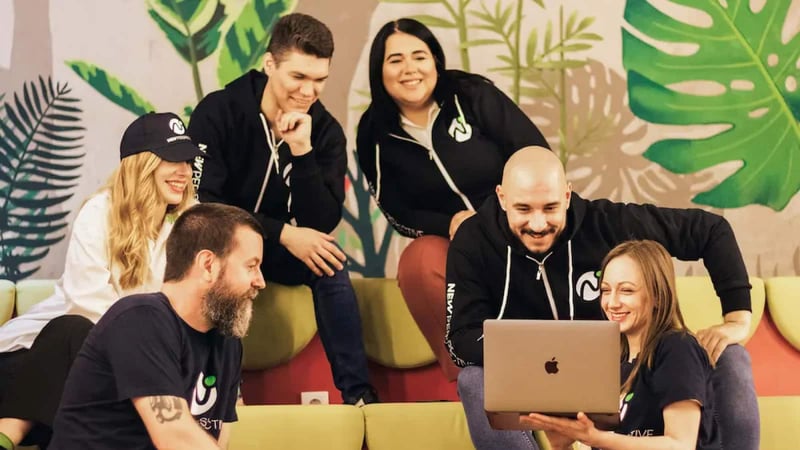 Creating content for your business's Instagram account used to be easy. Your whole team was together. You could post right from your office and actually do things together as a team to show off your company culture. But that was before COVID-19. Now, with the team working from home, it's time to reconsider your B2B social media strategy. Everything from the content we post to the times we post it will need to change.
Companies like Oracle, Shopify, and IBM have been right on the money with their B2B Instagram strategies. However, even companies as big as these have had to adapt. Many businesses have been able to evolve their Instagram strategies, incorporating their at-home work environment, Zoom screenshots, motivational quotes, and more. Is it time for your business to do the same?
By continuing to post on your Instagram business account, you can show your followers that your team is still active and united as a team through this difficult time.
This blog post will begin to help you and your company evolve your Instagram strategy throughout (and after) COVID. We'll also show you some specific examples and tactics to inspire you and your followers to do nothing but grow. Let's get started!
5 Creative B2B Social Media Tips for Using Instagram During COVID-19
1. Rethink the Old Paradigms
The idea of having to rethink your Instagram business strategies can be scary to many businesses. You cannot pretend that things haven't changed drastically, so it is time to change your way of thinking.
Where do you begin? Lean on your team. Have everyone brainstorm how you can make an impact. Adjusting to the new remote reality can be difficult, but this is the time to switch things up and make it fun! Here are a few ideas to get you started:
Employee spotlights—check out this article from BuiltIn to learn how to create a great spotlight!
Your work from home set-up
Team member wins (personal and professional)
Work anniversaries
Informational posts involving COVID and the industry—see how Hootsuite did this with their post below
There are so many opportunities to continue to showcase your business, even as the old ways of doing things change. If everyone puts their heads together, rethinking the old paradigms and getting creative will be effortless.
2. Be the Voice of Optimism
Right now, everyone is struggling with the constant fear of the unknown and the issues that have arisen from COVID. It's important that your team and company remain positive and inspire optimism. Your followers need this positive energy right now, so being optimistic during this time is essential to ensure that you, your team, and your company are set up for Instagram success.
Showcasing how your company remains united is a great opportunity to spread positivity, not only to your followers but through your team as well. Post authentic and inspirational pictures to inspire your team and your followers to keep going, or even post a screenshot of your team on Zoom to show that you're still collaborating and working hard despite these challenges.
Encourage your followers to support charitable opportunities, such as supporting our nurses and hospital workers or the BLM movement. Beyond that—get involved with celebrations! See below how Accenture celebrated Pride month.
3. What's the Story?
Instagram stories are a quick way to engage your followers. You can post stories about anything you want and they only remain on your account for 24 hours. We know what you're thinking: "If they only stay up for 24 hours, what's the point?" This is where the "Highlights" tool comes into play. This tool allows you to post your stories to a highlight reel that remains on your account. That way, your followers can see your past stories if they missed them or want to glance at them again.
Posting stories can have a great impact because it allows you to post creative and informative content without creating an actual post. Some suggestions for this could be:
Promoting your clients' success—see how Lyfe Marketing did this with their story!
A new campaign launch
A piece of content
Showcasing what your team members have been up to during this time at home!
The story tool allows you to add GIFs, stickers, create a quiz, create a poll, and even ask a question to engage your followers and encourage them to respond. With everyone stuck at home and online more than ever, it gives your followers an opportunity to engage with you more. To get the inside scoop on how to make the best Instagram story, check out this great Instagram story walkthrough by HubSpot.
4. Refresh Your Hashtags
Hopefully, you were using hashtags in your Instagram posts and stories before COVID-19 came around. Now, with everything going on in the world around us, it is more important than ever to refresh your hashtags. Hashtags expand your post reach beyond just your followers. In fact, adding just one hashtag can increase your engagement by 12.6%. Using relevant hashtags will allow you to get the attention of your followers and show them that these topics are worth talking about because they are being mentioned in your post.
To discover new hashtags and refresh your current list, you should conduct some hashtag research. You can do this by looking at the hashtags your followers, competitors, and industry leaders are using. Tools like Keyhole can help you measure your hashtags' performance, prove your campaign's impact & ROI, and generate client-ready reports for all your social media campaigns. They even allow you to test it out with a free trial.
Refreshing your hashtags is essential to continue the success of your business and social media, so start researching. Happy #hashtagging!
5. Showcase Your Team Culture and Pride in New and Creative Ways
How do you showcase who you are as a company if your team can't be together? Get creative! Some ideas for posts highlighting your company culture could be:
Post a picture from a Zoom meeting
Have a virtual happy hour on Zoom
Create a dance! See Sprout Social's "Data Dance" post below!
Do an online escape room
Birthday celebrations
This is just a small list of many ideas that can inspire you to be creative with your posts during COVID. It's important to show your followers that your company is still a cohesive and hard-working team during this difficult time. You still have the same culture you've always had, it just has to be showcased differently now. This is an opportunity to set a good example by staying positive and being a united front. Who knows—you may inspire your followers to do the same.
Moral of the Story
You likely have the same goal as we all do for B2B Instagram business accounts. You want to gain awareness and engagement from your prospects, customers, and candidates. However, how you achieve this goal has changed due to these unprecedented circumstances. We all have the same vision, but we at New Perspective want you to be inspired to get creative with how you promote your business and company culture through COVID-19 and beyond.