Employee Spotlight: Dunja Jovanovic, Head of Sustainability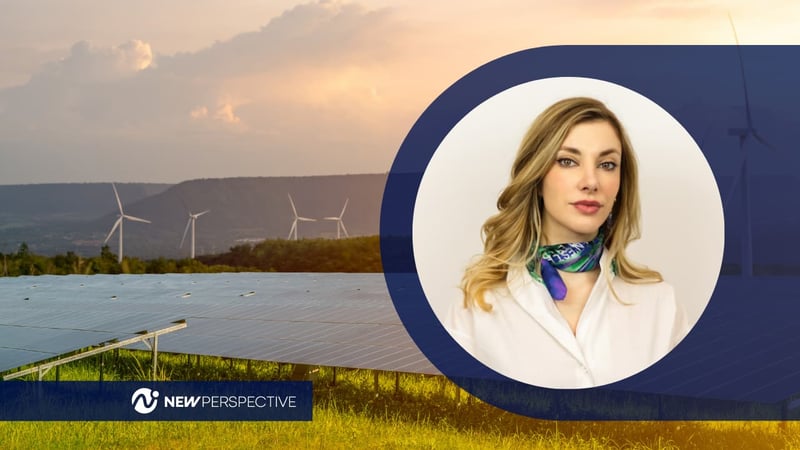 Introducing Dunja Jovanovic, our Head of Sustainability and Communications at New Perspective. Dunja's extensive experience in sustainability and marketing communications and operations makes her a valuable asset to our team.
Get to know Dunja
How would you describe your role?
I'm Head of Communications and Sustainability at New Perspective, specializing in driving brand success and promoting sustainability initiatives through environmental communication. With the help of my colleague Marko Bodiroza, I've successfully built and managed Green New Perspective, a sub-brand that aims to educate the general public on sustainability and foster connections within the cleantech, nature tech, and biotech industries.
In my role, I develop and implement communication strategies for Green New Perspective, ensuring consistent messaging, art direction, and content creation. I also manage all social media channels for the brand, leveraging my expertise to create engaging content, foster community engagement, and grow our audience. Additionally, I produce and promote Green New Perspective Podcast, fostering cleantech industry connections.
In addition to leading Green New Perspective, I also oversee social media efforts and post-production processes for The New Perspective agency. I stay updated on industry trends and incorporate relevant insights into our communication strategies. I also contribute to internal sustainability education through our monthly magazine and organize events with a sustainability theme. I collaborate with cross-functional teams to ensure cohesive branding and messaging across all channels.
How would you describe working for New Perspective?
Working for New Perspective is a great experience. It's a fun, dynamic, and supportive environment where I feel I can truly thrive. The remote work setup is a perfect fit for me, giving me the freedom and independence to advance in my role. Also, the company's kaizen mindset is a game-changer.
We're all about continuous improvement and pushing ourselves to be the best. It feels great to be surrounded by productive colleagues who always have my back when I need a hand. We're like a well-oiled machine.
What sets New Perspective apart is the constant drive for innovation and exploration of new technologies. We're always at the forefront of industry trends, finding ways to enhance our approaches and achieve better results. This aligns perfectly with my passion for staying up-to-date with advancements in the field.
Where do you think you can have the biggest impact in your role?
I think the area where I can make the biggest impact in my role is by developing the Green New Perspective brand and watching it grow while seeing how it positively affects the entire company. It's pretty exciting to be able to focus on driving the success of this sub-brand and spreading the word about sustainability in the cleantech, nature tech, and biotech industries. By creating and implementing communication strategies that are on point, I can effectively communicate the brand's mission and values to the public. This can lead to increased engagement, a growing audience, and a strong reputation for Green New Perspective and New Perspective both.
Managing the social media channels gives me the opportunity to educate and inspire our followers, and to build a community around sustainable initiatives. On top of that, producing and promoting a cleantech podcast allows me to share valuable insights and make connections within the industry. All in all, it's a pretty awesome role where I can contribute to something meaningful and watch it make a difference. Seeing the Green New Perspective thrive and having a positive impact on the entire company is truly rewarding.
What are the biggest challenges businesses face when integrating sustainability into their marketing strategies?
Integrating sustainability into marketing strategies brings its fair share of challenges for businesses. First off, authenticity is key. Companies need to be genuine in their sustainability claims and avoid greenwashing. People can spot insincerity, so it's crucial to back up those claims with real action.
Sustainability is a complex beast, and measuring its impact can be a real puzzle. Figuring out the right metrics and reporting systems can be a head-scratcher, but it's important to be transparent and communicate progress effectively. Additionally, collaboration and transparency with suppliers and other stakeholders are key to keeping things sustainable from start to finish.
Balancing short-term costs with long-term benefits can be a bit of a tightrope act. Sustainable practices might require some upfront investment, but the payoffs down the line, like cost savings and a better brand reputation, can be worth it. It's like playing a long game. Lastly, getting everyone on board and in the know can be a challenge. Educating and raising awareness about sustainability initiatives internally and externally takes some effort, but it's crucial for success. It's like spreading the word and getting the whole gang involved.
To tackle these challenges, businesses need to be strategic, transparent, and adaptable. It's all about finding the right balance and keeping up with the ever-changing sustainability landscape.
What business reading would you recommend?
While it may not be a traditional business book, I highly recommend "How the World Really Works" by Vaclav Smith for gaining a deeper understanding of sustainability and what are our obstacles to our transition toward a more sustainable future. This book offers valuable insights into the intricate workings of our world and provides thought-provoking perspectives on sustainability.
What kinds of hobbies and interests do you have outside of work?
One of my major endeavors is founding and leading an NGO called FFM Platforma, which focuses on educating people about waste management and overconsumption issues. Through FFM Platforma, we have produced podcasts, and video essays, organized events, and conducted digital campaigns. It's been an amazing journey, and we've even received acknowledgements from esteemed organizations like the Institute for Circular Economy (INCIEN) and the European Environmental Bureau. Now, when I do find some spare time, I nerd out big time. I'm into playing D&D and old-school PC RPGs like Dragon Age, Pillars of Eternity, Baldur's Gate, and such. So, yeah, when I'm not at work, you can find me rolling some dice with my friends.
Name a role model who has inspired you
Naomi Klein and Rebecca Solnit.