7 Sustainable Business Actions To Help Your Company Do Good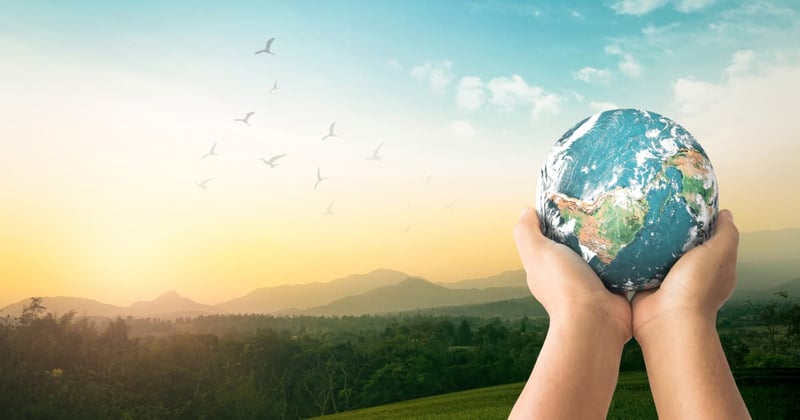 Sustainability is becoming part of business – and more and more B2B leaders want to get their companies on board. 90% of business leaders believe sustainability is important, reflecting investor as well as consumer demand, regulatory developments, the need to attract talent, and a growing sense of corporate responsibility amid a changing climate.
Still, just 60% of organizations around the globe have created sustainability strategies. Among the biggest challenges that keeps some from going forward are not knowing how to get started or what to focus on first. Should there be a complicated process of restructuring and revising governance? Should products be reconsidered? Should a business focus on the requirements of becoming a certified sustainable business in the US to meet certain qualifications, such as LEED and Energy Star? Or is it enough to just commit to the concept and go from there?
The (somewhat) short answer: It depends on the nature of your business. But we see plenty of businesses rolling up their sleeves and just getting started — a simple on-ramp that can lead to powerful transformations. Whether or not you're at a phase where the C-Suite is wrestling with long-term sustainability plans across the organization — and looking at larger aspects of ESG (environment, social, and governance), making incremental improvements will have an impact.
The longer answer: There probably isn't a business that shouldn't get started with sustainability.. There are countless benefits to becoming a sustainable company — overall doing good, fighting the climate crisis, and helping with environmental challenges. Your company will likely be more appealing as a brand to clients, customers, and associates. It will tap into a growing preference for jobs with meaning and purpose among many potential employees, and likely many present employees as well. A Yale School of Management study found that 51% of the 2000+ business school students polled said they would accept a lower salary to work for an environmentally responsible company, and we predict that number's going to rise in the near future.
The 7 simple actions to start your business's sustainability journey
With that in mind, here are some simple, practical actions to take that will help the business along when it comes to sustainable practices. They're easy to follow and execute, have proven positive impacts on the environment, are great at changing the habits and behaviors of the workplace, and lay the groundwork for further efforts toward sustainability.
Action 1. Educate and engage your employees
Green isn't just a state of mind. It's one thing to say biodegradable or energy consumption or reduced emissions, and it's another thing to connect it to the operations and mission of your company. Once you've made a commitment in principle to sustainability, you need to make sure your employees are in. You need their buy-in. You need their input. It takes the whole company to become sustainable — which means education, training, engagement, and participation.
Steps:
Make it official with an announcement that you're taking steps toward sustainability.
Share information on what it means to operate as a green culture, pursue environmentally-friendly policies, and set green goals.
Hold a Town Hall series on going green and what it means for the company.
Set some basic milestones as achievable goals.
Create opportunities for employees to weigh in and participate.
Create a green team of people interested in sustainability to drive accountability, make suggestions, and support the effort.
Tap into new incentives like the 2022 Inflation Reduction Act (IRA) and other green business initiatives in your area to see what you qualify for.
Action 2. Create a company-wide recycling program
Take a look at how your own business operates. See how you can expand and extend recycling into every department. Who is doing it, and who isn't? What's being thrown out that should be recycled? How can the whole company come together?
While we know that certain kinds of recycling are less than ideal, far worse is not having any recycling program at all. Among the many tangible benefits of an organizational recycling program: reducing waste going into landfills, saving money on trash disposal, reducing paper use, supporting businesses that create supplies from recycled materials, and increasing the green and circular economies.
Steps:
Educate and inform the workforce on how and why to recycle (knowledge is power).
Create a procurement policy that gives preference to suppliers and manufacturers who offer items made from recycled materials.
Look into recycling policies in the areas you're headquartered in, and see how what your company is doing stacks up. If the area has lax policies, resolve to go further.
Create a recycling team to drive company accountability, communicate, monitor, track, and suggest improvements.
Find a recycling waste company and create a program with them for handling your recyclables.
Install designated recycling bins throughout your facilities and break rooms that match how your region handles recycling (e.g., paper, plastic, metal, mixed, etc.).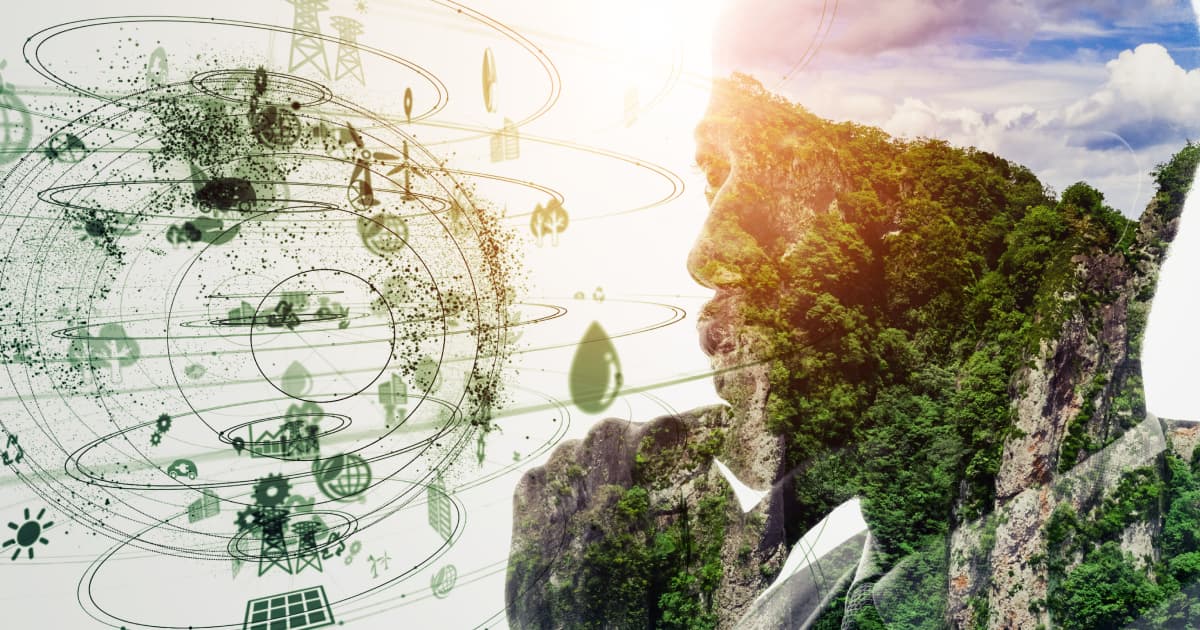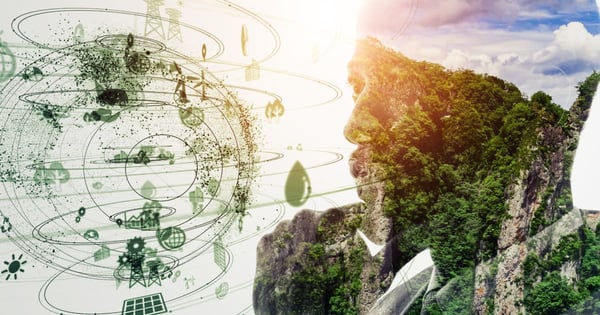 How Cleantech Businesses Benefit from the Inflation Reduction Act of 2022
Action 3. Shift your paper operations to digital
This may seem like a small step but it can have an enormous impact: pulp and paper manufacturing produced some 24.5 metric tons of CO2 emissions in 2020 alone, according to EPA reports. Not only does paper contribute to massive deforestation, it's also pushing the envelope (no pun intended) on CO2 absorption as a result.
Going paperless is also cost-effective, saving everything from printing and ink to filing and storage costs: one study found that U.S. companies spend $8 billion a year just to manage paper. and an average of $120 to find each misplaced document annually. Since many companies have shifted to remote and hybrid workplaces at least for some teams, paperless is likely already a trend. Here's how to make it stick:
Steps:
Conduct a voluntary inventory of how much paper your workforce uses for day-to-day tasks. Reach out with a survey on suggestions to cut paper use.
Ask every department to take one process and shift it from paper to digital.
Improve and update digital capabilities to make it easier to share, collaborate on, sign, and handle documents.
Try shifting communications from on-paper memos to digital channels.
For those instances that require paper, make it easier to reuse and reduce paper use:

Put reusable paper bins by printers.
Make both-sides and fast/black-and-white settings a rule for non-client-facing documents
Hold a contest /game to see which team can cut back on the most paper.
Benchmark paper use on Day One and then in 3 months, etc., to measure improvement. Share the information across the organization — and challenge people to do better.
Action 4. Reduce your energy consumption
Commercial spaces are notorious for energy consumption. According to the U.S. Department of Energy, commercial buildings in the U.S. are responsible for 18% of total U.S. energy consumption, some $190 billion annually in energy costs, and 826 million metric tons of CO2 annually. To reduce your carbon footprint, look at your equipment and facilities — and start an initiative to cut back.
Steps:
Conduct an energy audit to find out where you're consuming the most energy in your workplace/facilities.
Inventory the exterior as well as interior lighting.
Based on the audit, set a goal (for instance, 25% less energy) and start making changes:

What stays plugged in when it's not being used that could be unplugged?
What is continuously powered that doesn't have to be?
What equipment could be upgraded/updated to a more energy-efficient version (check your contracts and ask your vendors)?
What lighting could be changed to energy-efficient LED?
Action 5: Cut down on fossil-fuel transportation
Cutting down on fossil-fuel-based transportation may not be easy for everyone or every industry, but there are lots of small changes to make that really add up. Cost savings include lower fuel costs and the possibility of leveraging incentives for EV fleets. Employee benefits range from improved health to being able to work from home and cutting down on commuting time and costs.
Steps:
If you have a large campus or facility, encourage bicycling and walking around instead of driving — add more time on breaks for getting around, provide bike racks, and make pedestrian-friendly walkways.
Swap out fuel-powered company vehicles for electric and hybrid vehicles
If you work with a transportation/delivery provider, switch to electric or hybrid instead of diesel and gas
Hold "fuel-free Fridays" that give employees the option to work remotely (if they can) or give them points / rewards for carpooling, public transportation, or bicycling
Have a Town Hall about the company's use of fossil fuels and invite suggestions and discussion to get the whole workforce involved and engaged
Action 6: Reduce your plastic footprint
The quantity of plastic used in a workplace can vary wildly — but it's often far more than organizations realize. But plastics are certainly part of the problem regarding the environment, and more organizations are looking for ways to cut down on its use. This is one action that can really engage employees — and depends on their participation.
Steps:
Conduct a plastics audit of the organization. Plastic is likely used in nearly every operation in some way. Get the help of the green team and interested employees. Identify all the kinds of plastics used, including:

single-use: disposable cutlery, dishes, cups
single-use water bottles and other beverages
plastic-wrapped materials and supplies
plastic containers
plastic packaging and shipping materials
plastics you really can't do without (like shipping tape, for instance)

Request alternatives to plastic from your suppliers and partners.
Set up a procurement policy to give preference to non-plastic packaging and materials.
Switch to returnable, reusable packaging for your own products and services
Start a cut-back on plastic campaign with employees and offer incentives and rewards for reducing plastic use.
Set clear milestones for reducing plastic in different areas: measure on Day One and then 3 months out.
Action 7: Put it all into a sustainability plan
Organizations will certainly benefit by every single one of these actions by themselves. But to take it to the next level, put all of these actions and more into a sustainability plan. An official plan is a way of codifying your goals, laying out the roadmap for how to achieve them, and connecting those goals to practical actions, new behaviors, accountability, measurements and milestones. Again, this needs to be an organization-wide effort, well communicated, and involving the participation of as many people in your workforce as possible.
Just how you create this plan depends on the nature, size, and mission of your company. But we recommend these 4 strategies:
Make sure the C-Suite is involved — without leadership buy-in from leadership, the whole effort could falter and be deprioritized.
Have a sustainability summit in which you and your organization build a core vision of what sustainability looks like for your business in the near- and long-term.
Identify the biggest risks and benefits for embarking on a full-fledged sustainability effort — as a brand, as a market competitor, as an employer, as a work culture, as a workplace, and as a workforce.
Identify your sustainability SMART goals: Specific, Measurable, Achievable, Relevant, and Timely.
Making the commitment
Change is a gradual process no matter what the purview. But we've seen how the most practical actions can lay a strong foundation for success, inspiring buy-in, support and participation among your stakeholders. Then as an organization, you can build on that success to dive deeper into what being sustainable truly means for your company.
But the competitive advantages are without question. In certain fields, being sustainable has become the gold standard. It's got major appeal for purpose-driven talent who want to work for companies they're proud to represent and whose principles they can stand behind. Given the rise in climate-friendly investments and policy-making, it's also a way to gain additional traction in a tricky economy. Facing the prospect of increasing regulations, far better to be prepared and avoid the risk of noncompliance.
Partner for success
Partnering with a seasoned team that has helped organizations on the path to sustainability may be the best action step of all. Reach out to us to discuss your sustainability concerns and goals — and how we can help you craft a great sustainability plan that achieves your objectives.