How to Sell Account Based Marketing to the C-Suite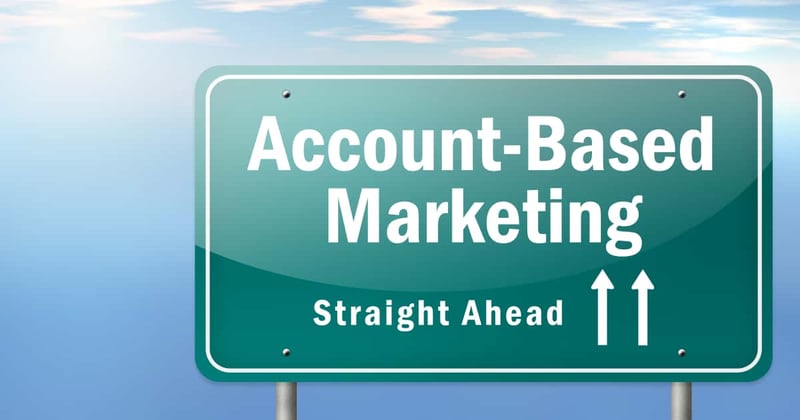 As your company's business strategist or senior sales person, you've recently had a lightbulb moment. You have just been introduced to the concept of Account Based Marketing (ABM), and become a convert to the idea of actively targeting high-value business opportunities — versus the current approach of every prospect getting the same marketing material.
And you passionately believe it would be a business growth game changer for your organization.
But you face a major hurdle. You can't just implement a new plan on your own. A strategic and operational shift of this magnitude requires buy-in and support from senior decision makers, a.k.a. the people in the big offices upstairs.
So how do you sell the C-Suite your vision for ABM and its potential impact for the company?
First, the good news: Most forward-thinking C-Suite executives really like the core idea of ABM. They get the idea of hyper-targeting specific roles within high priority prospect organizations. They probably also like the idea of focusing efforts on areas with the highest potential return.
They love the concept of sales and marketing working together. Here's what they likely need more of in terms of relevance and motivation to be convinced:
Exhaustive detail around the targeting and execution methodology that you plan to use, including the identification of relevant personas and buying roles involved in these prospective deals.
A clear understanding of the messaging that will engage these prospects, including the format and the channels that will be utilized.
Assurances that this 'new and disruptive' approach will not burn bridges with existing target accounts.
You're only going to have to sell the concept of ABM once, though, and here's why. As the business realizes the bottom-line benefits —including increased revenue, team cohesion, longer customer engagements and a rise in organization efficiency, ABM will become standard operating procedure within the company. It becomes a best practice.
We recommend creating a roadmap — a detailed executive summary that also gives the 30,000 foot view. You want leadership to have enough information so they know what they're being asked to consider, but not so much that they feel like you're wasting their limited time. They need the overall big picture reasons why ABM is such a business-forward approach, but not a snow job.
We suggest you cover the following:
Alignment
Many of the clients we work with say the biggest plus when selling ABM to the top floor is alignment: the fact that marketing and sales work together — which has elicited more than one "Finally!" in response. Here's a vision statement our team uses on how ABM forges that alignment — feel free to borrow from it:
Account-based marketing is a business strategy that concentrates marketing and sales resources on a set of target prospects. Those prospects are targeted with highly personalized campaigns, basing the message on the prospect's specific attribute, thereby providing a 'red carpet' or entree-class experience for your top prospects.
A solid ABM plan ensures that the prospect's experience stays consistent when marketing and sales teams are working together. The trick to making it happen is providing the sales team with as much information and resources as possible to close the deal.
We've written extensively on ABM and its intrinsic value for companies looking to grow the size of their business, including a number of resources like this one on finding out if ABM is a good fit for your company. And before you engage with the C-Suite on deploying ABM within your organization, use our calculator tool.
This helpful quiz will establish if your company is a solid fit for ABM and to identify any areas of vulnerability around your company's adoption of ABM — address these before you go to sell your vision to your company's leadership team.
The Process
As we get into the nitty gritty of getting the C-Suite on board with ABM, here's a thought from one of our colleagues — a B2B marketing veteran: "One of the problems with ABM is that it has 'marketing' in the title. True ABM is the strength and alignment between sales and marketing." That's the core benefit of ABM. It will get your company working together synergistically on high-value business opportunities like never before.
We've mapped out the process of shifting to ABM so you can present it to the decision-makers. Each one of these steps has unquestionable value from a business side — one of the beauties of ABM is that in many cases, it sells itself.
Use the TEAM Framework
We recommend that you use the TEAM framework — Target, Engage, Activate, Measure — to articulate the required steps to ABM adoption and the overall process to leadership. It's a time-tested framework that has proven itself across a wide range of companies and industries.
TEAM enables everyone involved to know how they're going and how they are going to get there. It's a powerful tool for quarterly reviews and strategy: the sales and marketing teams can use it to look at the previous quarter's performance and collaborate to develop a unified target account strategy for the next one.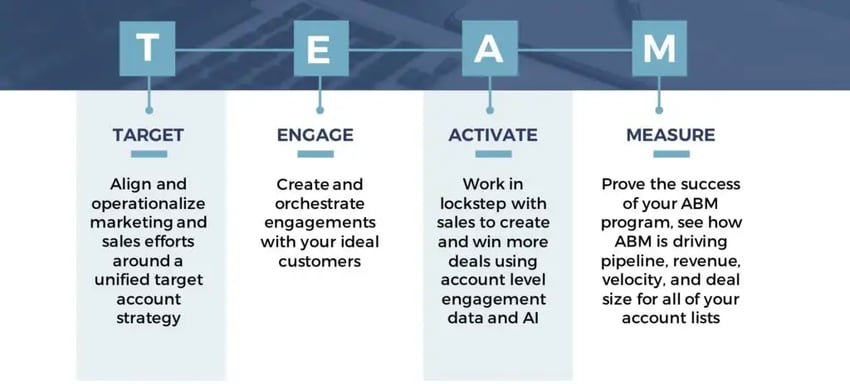 Create Target Accounts
Target accounts are those selected prospect companies that you want to turn into customers. Identifying these using a search criteria filter agreed to by sales and marketing helps focus the majority of your team's monthly or quarterly efforts on best-fit accounts with the highest revenue potential for your company.
Search criteria — geographic, industry specific, by size, perceived need or other variables — as well as optimal characteristics will vary depending on your business, and may change as you get ABM up and running and refine your approach. This is an important point to make to the C-Suite: ABM is not static, but a process of continuous improvement.
The important thing here is that sales and marketing agree that these are your best prospects in a given month or quarter. Further, any companies lying outside of the agreed to target profiles should be considered of lesser value to the organization, and not to be pursued.
Again, few within the C-Suite will argue with an approach that targets highest revenue opportunities while having sales and marketing fully coordinated and playing on the same team. But this new approach doesn't mean existing customers should be ignored. Develop a plan for current client retention to make sure they don't feel ignored or omitted from your exciting new approach to building business. (Consider how you feel when you see the incentives your cable or cellular company is offering new customers.)
Make a Connection
Buyer Roles, Messaging and Personas
Once you have identified what your team believes to be your best fit prospect companies, you need to find out who to talk to. For that, we recommend using a marketing automation tool and keeping Sales and Marketing working together to ensure each of your targets gets a relevant message about what you can do for them at the right time within their decision making process.
Automation and alignment ensures that you avoid that mistake of sending three different contacts within a targeted prospect company the same brochure. Instead, each receives a relevant, engaging, and well written piece of content that helps to communicate your message in terms that motivates and inspires each of them.
Invest in a tool like ZoomInfo or Seamless AI as well as a resource like LinkedIn to help build a contact list and load it into a CRM like HubSpot or Salesforce. That will lessen the chance of working at cross purposes (something senior executives tend to abhor). Best to start slow (with 50 accounts) and then scale as you gain momentum and refine your approach. Consider the C-Suite here: map out this approach and build it into your budget presentation.
Pro- tip: Use Buying Roles to identify a contact's place in the sales process. But realize they can have more than one role — and may share the same role with another contact:
Decision-Maker: The person who signs the check, re-allocates budget on their own, and says "yes" without conferring with anyone. Others may share their research and recommendation, but it is the decision-maker who makes a choice. This could be Manager, Executive, Director, Managing Director, Vice President (VP), or C-Suite.
Champion: A person who enthusiastically supports, defends, or fights for your product or service within their organization. They're part of owning the process and have a stake in the final decision, though they don't have the authority to act by themselves.
Influencer: An influencer is traditionally an employee who's asked to research options before their superior is briefed. They don't have the budget or authority to make a final decision, but they do have the power to influence the decision-maker.
Legal & Compliance: A person that is responsible for terms and conditions on the contract.
Blockers: A person who can stop the sales process from moving forward, the people you'll have to hurdle. Gatekeepers are common to this role.
As you build your contact list, make sure that you identify the role of each of the individuals you are engaging with. No surprise here that blockers can really ruin your day (and sales quarter) so pay particular attention to them.
Your Team's Roles and Responsibilities
Here is a sample plan using TEAM that can be shared at a high level with the C-Suite to demonstrate how the moving parts all come together in ABM.
Target Pre-work:
Sales: Group companies and contacts appropriately, research & update contacts
Marketing: Plan and develop ABM plays and create supporting assets
Engage:
Sales: Execute Direct mail & outreach campaigns
Marketing: Execute micro-targeted paid campaigns
Activate:
Sales: Engage with target account respondents
Marketing: Report on insights (site visitors, engaged accounts)
Measure:
Sales: Provide sales insights & customer feedback from opportunities
Marketing: Review KPI performance and insights
Sample Game Plan: Top 50 Target Account Kick-Off
How do we get things moving?
This sample play is designed to engage top target accounts by providing a personalized performance report based on specs from a specific project. Your C-Suite will love this level of detail and the fact that there is a solid, predictable plan in place to grow the business:
Target: Tier 1 Target Companies (Top 50 Target Account per sales rep with identified contacts, no current deals and never been a client)
Goal: Generate net new initial meetings from Tier 1 accounts
Cadence: ABM cycle to be completed in 13 weeks. Each sequence takes up to 30 days to execute. Each regional sales rep will Separate their top 50 into 5 groups of 10, executing on 10 accounts per week. Therefore, all groups will have completed the sequence within 11 weeks. leaving 2 weeks for performance review.
Executed By: Regional Sales Manager.
Tools:

ZoomInfo (company research)
Linkedin Sales Navigator (company research & outreach)
Hubspot (Sequences)
Vidyard (personalized videos)
Sedeso / Reachdesk / Postalytics (personalized gifts)*
Influ2(person-based advertising)*
OrgChartHub (org mapping)*

Assets:

Custom Account Report Template
Personalized Gifts
HubSpot Sequence
Email Templates & Scripts
Sales Pre-work:
Confirm all Tier 1 accounts are marked accordingly in HubSpot
Research: Confirm all target personas have been identified and tagged appropriately in HubSpot via ZoomInfo
Ensure the most up-to-date information available is reflected in the company and contact profiles via Linkedin Sales Navigator
Identify influencers if known from existing relationships and tag accordingly in HubSpot
Set up Vidyard and LinkedIn Sales Navigator for personal use
Marketing Pre-work:
Conversion Path: Create the custom account report landing page & thank you page with personalization tokens.
Create Custom Account Report Template for the sales team to customize for each account
Coordinate Gifts, Mailing Vendor and Tracking in HubSpot.
Set up & Launch micro-targeted social branding campaigns on LinkedIn for all Tier 1 companies.
How Are We Doing?
Critical to getting C-Suite buy-in to any new plan is the concept of transparency and the establishment of agreed to goals and objectives. Get your company executives excited about ABM by having them help set goals for the program's first quarter of activity and make sure that they have easy access to a performance dashboard so that they can track your execution against the plan in real time.
Executives like to track progress (particularly if the arrow is moving in the right direction). Getting them engaged early as the program gets underway is an easy way to facilitate their continued support.
And what do we want to measure? The choices are numerous but here are some key performance metrics we established for a client on a recent ABM initiative.
Engagement

# of Tier 1 accounts that have at least 1 website visit or campaign response (phone/email).
# of account report request submissions

Opportunities – New P1's from Top 50 Accounts
Velocity – SQL-to-P1
Close Ratio for Tier 1 Accounts
Again, these are just examples, each business is different and what they need to measure will vary. Also, be flexible in what you measure as you go through the process of setting up ABM and determining which performance numbers are the most relevant to your business building activities.
ABM: The Bottom Line
What you're really doing is creating an extended vision statement of this new and dynamic way of selling your company to the market, and layering it with some credible strategies that have proved out. You don't want to come in with a two-hour presentation but you do want enough for people to wrap their minds around.
Depending on your own company culture — and your awareness of how your execs are doing these days — you may want the details to be available once the C-Suite has a chance to read the topline argument.
But don't be surprised if they then lean on you as the authority of the effort. The value in this exercise is also that in doing it, you get a handle on all the dimensions of ABM and why it's such a beneficial approach for your company. When everyone's gone back to their corner office happy with the decision, it's up to you and your team to execute. Guess what? Now, you can.
At New Perspective we're fierce proponents of ABM and its potential boost for your business, we're seeing the results in real time for a wide variety of companies. Reach out to speak to one of our strategists to learn more about our experience with ABM — and how and why to implement it within your organization.