16 Unique Ways to Promote Your Content and Win at Search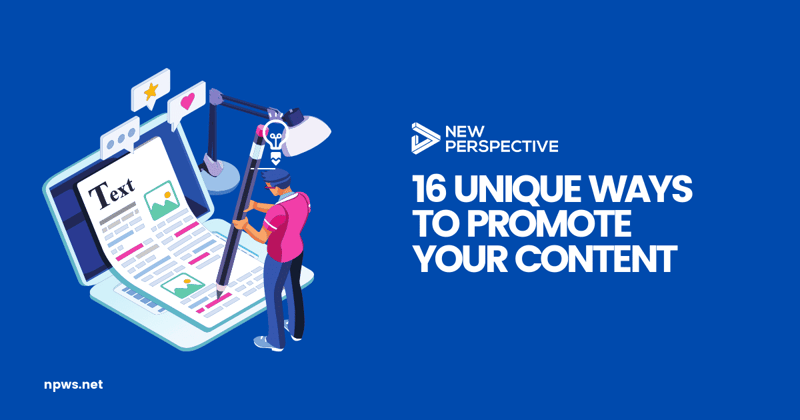 Creating content for your business is an essential piece of any inbound strategy. However, to drive traffic and ROI, it's crucial to find ways to promote your content to your target audience.
Sure, you may be familiar with the typical strategies of sharing your content on social platforms or sending out an email broadcast, but why stop there?
There's so much content out there available to customers, so it's essential to think outside the box if you want to stand out.
In this blog post, you'll discover 16 unique ways to promote content you may not have thought of.
Let's dive in.
Repurpose Your Content
If you've dedicated time to content creation for your business, it's likely that you already have some great content on your site that's performing well. Are you getting the most out of that great content? Why not try repurposing it to maximize its reach?
Repurposing involves taking existing content and spinning it into a new format. Here are some things you can try:
1. Convert Blog Posts Into YouTube Videos
Video is the future of content marketing and can make the extra difference you need to stand out. According to a recent survey done by Wyzowl:
87% of marketers say video has boosted traffic to their site
84% of consumers say they bought a product or service after watching a company's video
86% of people are seeking more video content from companies in 2020
The reason why video works so well is that it's engaging and easier to digest than text. To drive more traffic, you can simply convert your top-performing blog content into Youtube videos. You can use a free online video editor to help you achieve this efficiently and cost-effectively.
Need an idea for what type of video you can create from your existing content? Here are a few examples:
Video Summaries
Summarize your article's main points in video format and post it on YouTube. You can also use the video to complement your original blog post.
Here's an example from our friends at HubSpot, who turned their original blog post on how to be productive after a long weekend into a youtube video.
Video Tutorials
If you have any blog post that covers how-to tips, you can use it as an outline for a video tutorial. Adding the video to the how-to blog post also gives readers a better understanding of what you're teaching.
Slack is a collaboration software that helps teams be more productive. In their blog post on building apps with their platform, they also included youtube videos to explain each step. This makes it easy for their customers to understand their product—but it also allows Slack to promote their content in a new way. It's a win-win!
2. Turn Content Into Podcasts
Another form of content that's on the rise is podcasts. There are currently 30 million podcast episodes as of January 2020—and 22% of the US population (61 million people) listens daily.
To get started podcasting, you need to find what form of content your audience is looking for. Search for your best-performing content on your site, and create a new script from there.
To record your podcast, you can use free online tools such as Audacity. If you don't wish to record your own voice, however, you can use InVideo to automate your text into speech instead.
An example of a company doing podcasts right is SME, a membership site that helps professionals in the manufacturing industry connect to boost their careers. On top of blogging, they regularly host podcasts called where they discuss current trends in the market. This allows them to get their message out to people who consume content in a different way than by reading traditional blogs.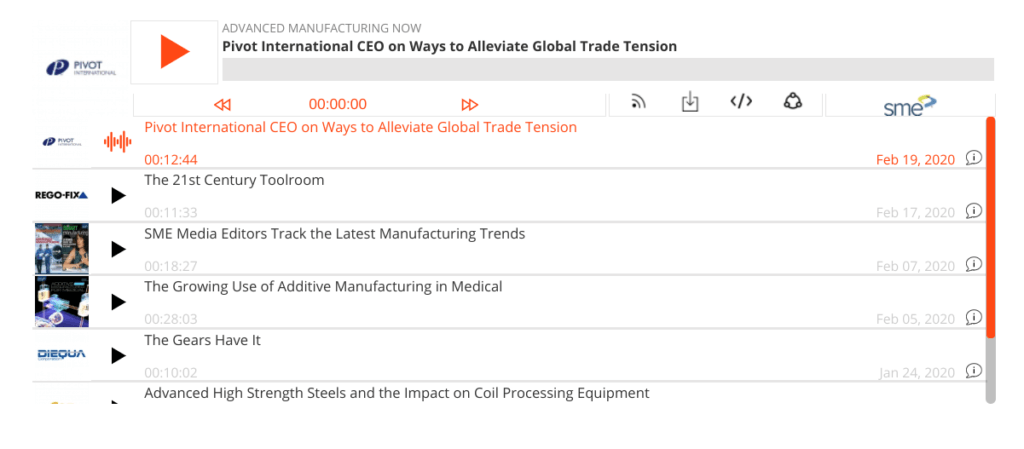 3. Use Content for Live Streaming
Live streaming is a powerful way to connect with your audience. It offers real-time interaction and creates a sense of community like no other marketing tactic.
You can use previous blog content as inspiration for your next live-streams. It's an opportunity to get more into detail on the subject, or even invite other industry leaders for a Q&A.
Utilize Your Email Signatures (For Yourself or Across Your Whole Team)
It's the small things that count in digital marketing. If you're not adding CTAs to your email signature, you're clearly missing out.
Email signatures describe who you are and what you do, but you don't have to stop there. Done correctly, you can use your email signatures to promote content and drive more traffic.
Here's how to do it:
4. Promote Recent eBooks or Podcasts
In your email signature, add a CTA to downloadable gated content such as eBooks and podcasts. It's a good way to generate new leads and drive conversions.
5. Featured Case Studies
Do you have any case study or testimonial that shows how you were able to drive results for a client? If so, consider adding it to your email signature to prove your credibility.
6. News About Relevant Upcoming Trade Shows or Conferences
Your email signature can be a great tool to build excitement around an upcoming trade show. You can provide the precise date and location of the conference, and add a CTA so people can learn more about the event to register.
Bonus Tip: An email signature may seem like something you simply set up in your email client, but are you truly making the most of your signature? With tools like WiseStamp or Exclaimer, you can ensure a consistent, professional-looking signature across devices—and you can even customize signatures for your whole team. If you're considering using signatures to promote content, make sure you have the right tools for the job.
Leverage Influencers to Promote Your Content
Networking with top leaders in your industry is vital to any business. And thanks to social media, it has never been easier.
One of the best things you can do to boost your B2B business is to connect with influencers in your industry. Here are three ways you can do it:
7. Use Online Tools to Find Potential Influencers
To find the perfect influencer, you can use various online tools to facilitate the process. The tools we recommend include:
BuzzSumo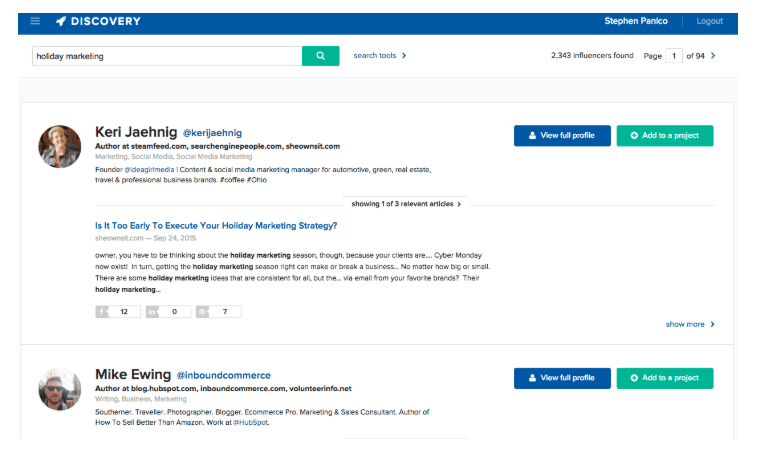 By scanning millions of profiles online, BuzzSumo helps identify the top influencers in your industry. You also gain insights on who's boosting your competitor's content.
NinjaOutreach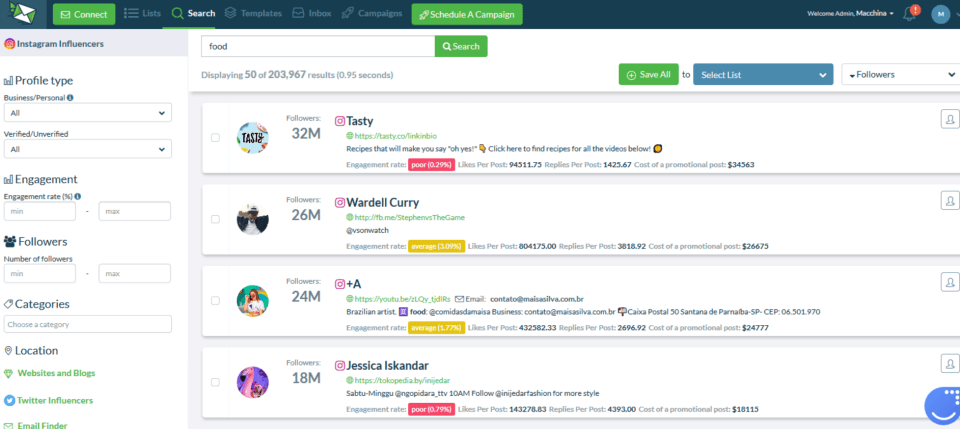 This platform helps you find the ideal influencer to connect with based on specific keywords. NinjaOutreach's built-in CRM also makes it simple to schedule email outreach campaigns and track conversations.
8. Use Direct Message on Social Platforms
Another way to network with influencers is to use direct messaging on social media.
As a B2B brand, your best bet to networking with influencers is through LinkedIn. The platform helps you easily connect with professionals in your industry and exchange ideas.
But before you reach out, take the time to personalize your message. No one likes to receive social messages that look like they were sent by a computer! Try starting off with what you like about their products or how their updates were useful to you. Find a way to make a real connection!
A good tactic is to also comment and share their own content before your first message. From there, you can ask whether they would be willing to share your content on their pages.
9. Republish Blog Content on LinkedIn Publisher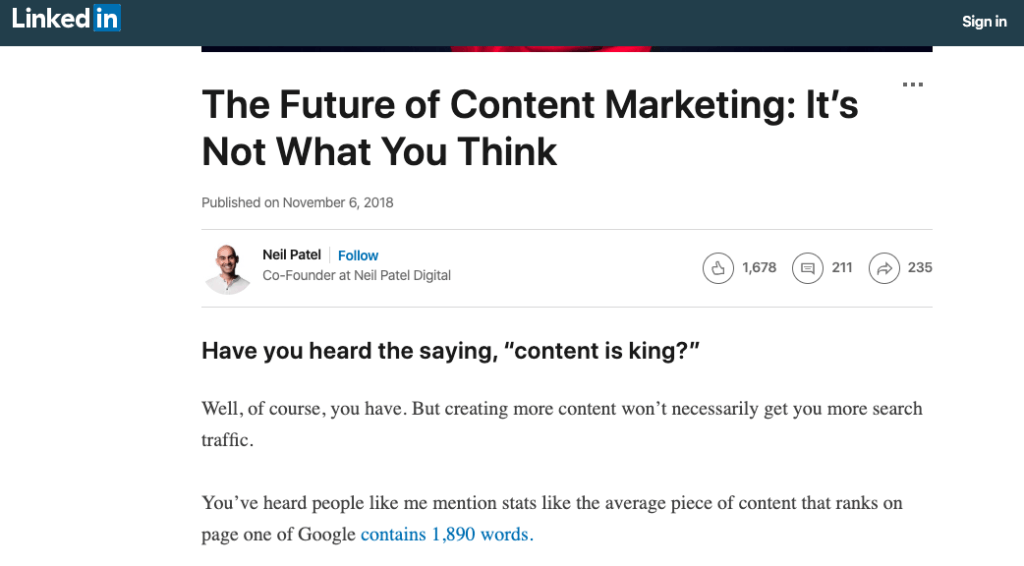 With LinkedIn Publisher, professionals can boost their authority by posting relevant articles on their industry. It's a solid way to get your name out there and grow your network.
One way you can maximize this feature is to take existing blog content and republish it with LinkedIn Publisher. This way, you'll be able to gain attention from others in your industry and engage with top influencers.
When you do this, make sure to add a link to the original blog post.
Reach out to Content Communities and Content Discovery Platforms
Cross-promoting content and posting regularly are great for SEO. But there are also other ways to boost your reach, such as posting in content communities and using discovery platforms.
10. Use Free Content Communities
The web is full of platforms where you can promote your content for free to drive more traffic. These include:
Quora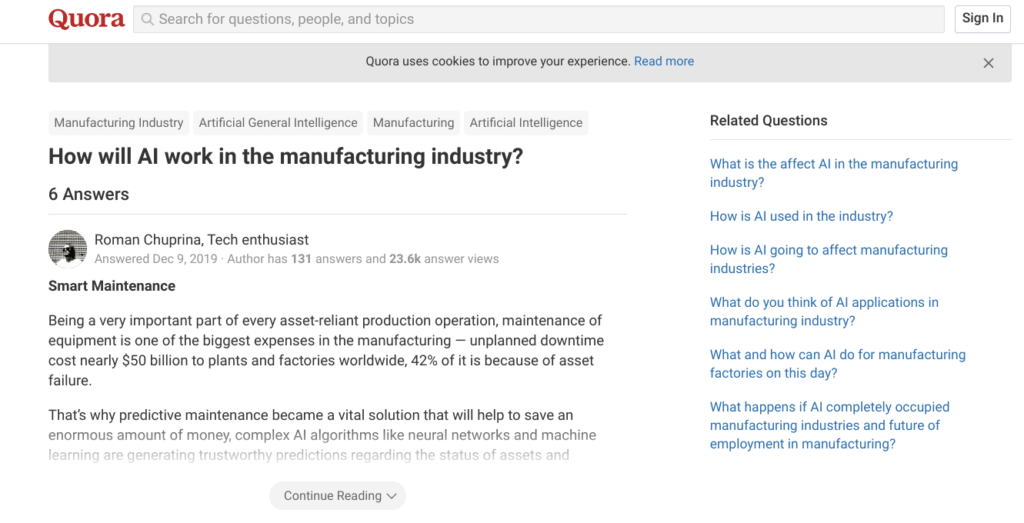 Quora is a social network where users ask questions and get answers. You can search for questions or keywords related to your industry and provide value by giving an in-depth response.
In your answer, make sure to add a link to your blog post and encourage the reader to visit it for more information.
Reddit
With over 330 million monthly active users, Reddit is one of the most popular discussion boards on the web. You can use it as an opportunity to post your content in relevant 'subreddits' (subgroups on Reddit) to boost your reach.
Medium

Medium makes it easy to syndicate existing content from your blog. Create an account, post a URL of the blog post you want to syndicate, and Medium uploads your content in an instant.
Republishing content on Medium provides many benefits, such as targeting a new audience and growing your social media. It's a strategy used by big brands such as Forbes and Entrepreneur magazine.
11. Use Content Discovery Platforms
Another option is to work with a content discovery platform to boost your content. Keep in mind, however, that you'll have to invest your own money to work with these companies.
The best platforms we recommend are:
Outbrain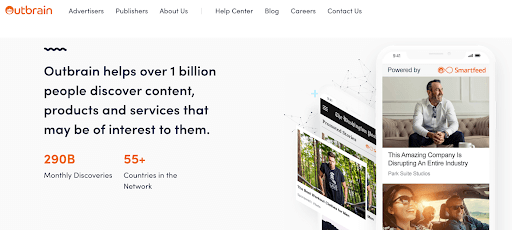 Started in 2006, Outbrain uses a unique feed technology to get content in front of millions on the web. The tool has been used by big companies such as CNN, The Guardian, and BBC.
Taboola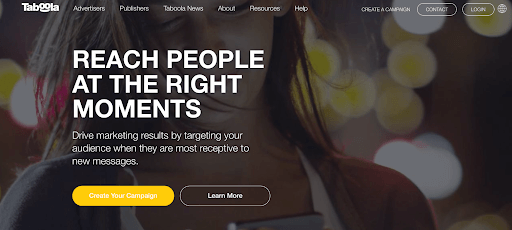 With their software, Taboola promotes content to users when they're most receptive. Since its launch in 2007, they've been able to reach 44.5% of the world's population.
Experiment With Social Platforms
Social media is not an exact science; your unique brand, industry, and customers will dictate which platforms will be most effective for you. We recommend continually testing each platform to see what works best for your business.
Below, we've compiled our best tips to experimenting on social media:

12. Use Social Media Stories
Stories on social media can be a clever way to promote new content. To do this, give an audience a sneak peek of your content (such as a quote from the post), and add a link to invite them to read more.
HubSpot frequently uses stories on their pages to promote their blog. Here's one of the stories they published on Instagram for their article on what not to write in a business email: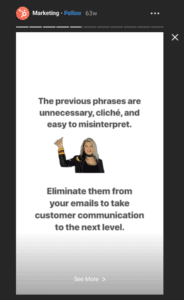 13. Pin Links to Blog Posts
Facebook, Twitter, and LinkedIn give you the possibility to pin a post on top of your profile. When visitors come to your profile, pinned posts are the very first things they'll see. So why not use them as an opportunity to promote recent blog posts and drive new traffic?
14. Time Your Posts to Maximize Reach
When promoting your content on social media, you want to make sure to time your posts correctly to maximize your reach. You don't want to post at times when your audience isn't active.
Here are some of the best tools you can use to help you out:
Sprout Social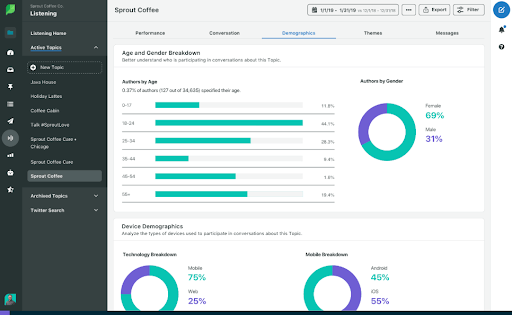 This social media management platform makes it easy to understand your audience. Sprout Social gives you data on when your audience is mostly to engage with your content, so you know when to post.
Buffer
Just knowing when to post isn't enough. You likely don't have a dedicated social media manager just waiting to click "send" on every social post at the exact right time. You need tools that can help you schedule your social messaging. From one dashboard, Buffer gives you the possibility to plan and schedule your posts on multiple platforms. You also receive reports on how well your social media campaigns are doing.
Look for Guest Posting Opportunities
Guest posting involves your business writing a new blog post for another website in your niche.
You may ask yourself: What's the point of working hard to create content if it's not even for my own site?
The truth is that guest posting is one of the best ways to promote your own blog. Posting on high-ranking sites can boost SEO, build industry authority, and get your name in front of a new audience.
Here's how you can get started:
15. Search for Sites That Accept Guest Posts on Google
To find the best websites to guest post, simply type in your keyword on Google and add 'write for us', 'guest post', or 'writers needed'.
For example, if you're in the eCommerce niche, this is what your search may look like:
eCommerce + write for us
eCommerce + guest post
eCommerce + writers needed
These sites are actively looking for guest writers—so reach out to them and see what you can offer one another!
16. Use MyBlogGuest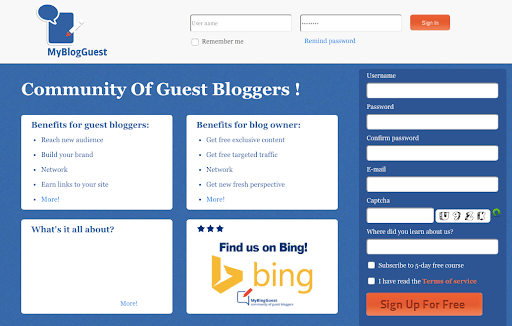 If you feel like you don't have time to research guest post opportunities, you can always use MyBlogGuest.
This is a great platform that connects guest posters with other blogs in their niche. The website also comes with a forum where you can post about yourself and what topics you'd like to write about.
Guest blogging is a great option for driving traffic to your site. Once you've found a guest blogging opportunity, take the time to create a high-quality blog that the site will be proud to post. Ensure it links back to your website so that readers know where to find more of your content.
Drive More Leads With Content Promotion
The web is getting more competitive, and it's not enough just to create quality content anymore. By following our tips above, you'll never run out of creative ways to promote your content.