B2B Engine: Your Go-To B2B HubSpot Theme is now Free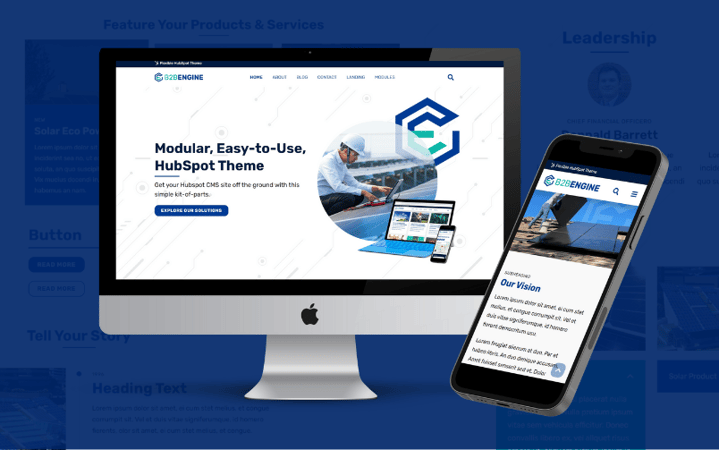 Are you considering building your next website on HubSpot's CMS? Having built websites for over 18 years, we have used a lot of different platforms to build and design. HubSpot's CMS has been and continues to be one of our favorites. With its intuitive functionality, engaging community, and easy integrations the advantages to choosing the HubSpot platform are overwhelming.
Features and Benefits of HubSpot's CMS
HubSpot's marketplace offers multiple options for free and paid themes to choose from, streamlining your design process. We know the concerns when it comes to pre-built themes, are you going to be able to get the functionality and flexibility you need off the shelf?
Being familiar with the options out there, we felt that the HubSpot theme marketplace could benefit from more themes specialized for B2B. This is why we decided to package up our B2B must-haves in one easy-to-use HubSpot theme and share it with you all for free! Startups & in-house teams- start your engines, just wait until you see what we've worked into this new theme, B2B Engine.
HubSpot Theme With Crowd-Pleasing Functionality
B2B Engine was created for HubSpot CMS's new drag and drop editor. The new environment provides the flexibility that designers and developers need with easy page editing (WYSIWYG) functionality that marketers appreciate for on the fly page updates.
Powerful Customization Capabilities
It's not easy to create a great-looking, easily managed, and high-performing B2B website. To help more B2B companies using HubSpot accomplish these goals efficiently, our B2B HubSpot theme includes must-have site pages templates and features. A majority of your website elements can easily be customized to represent your brand conveniently in your theme settings. Take a peek at the theme settings below!
B2B Specific Page Templates
Start building your pages from scratch, or get a jump start on your page layout by using one of our pre-built page templates made with B2B companies in mind. Our out of the box page templates will help you to share your latest case study, showcase your products, publish a content offer, and connect with your prospects.
HubSpot Themes Have Flexible, Multi-purpose Modules
Think of your modules as the building blocks used to create each of your website pages. Modules can be added, removed and rearranged using HubSpot CMS' drag and drop functionality. We want to make sure that you are getting the most out of the B2B Engine module library. Our modules offer multiple style variations to empower designers with the content design flexibility you need. We have also laid out all of the style options on a dedicated page so that you can reference what each of the variations look like in application. So how can one module serve multiple purposes? Let's take a closer look at the 'Cards' module, how it works, and example style variations.
Card Variations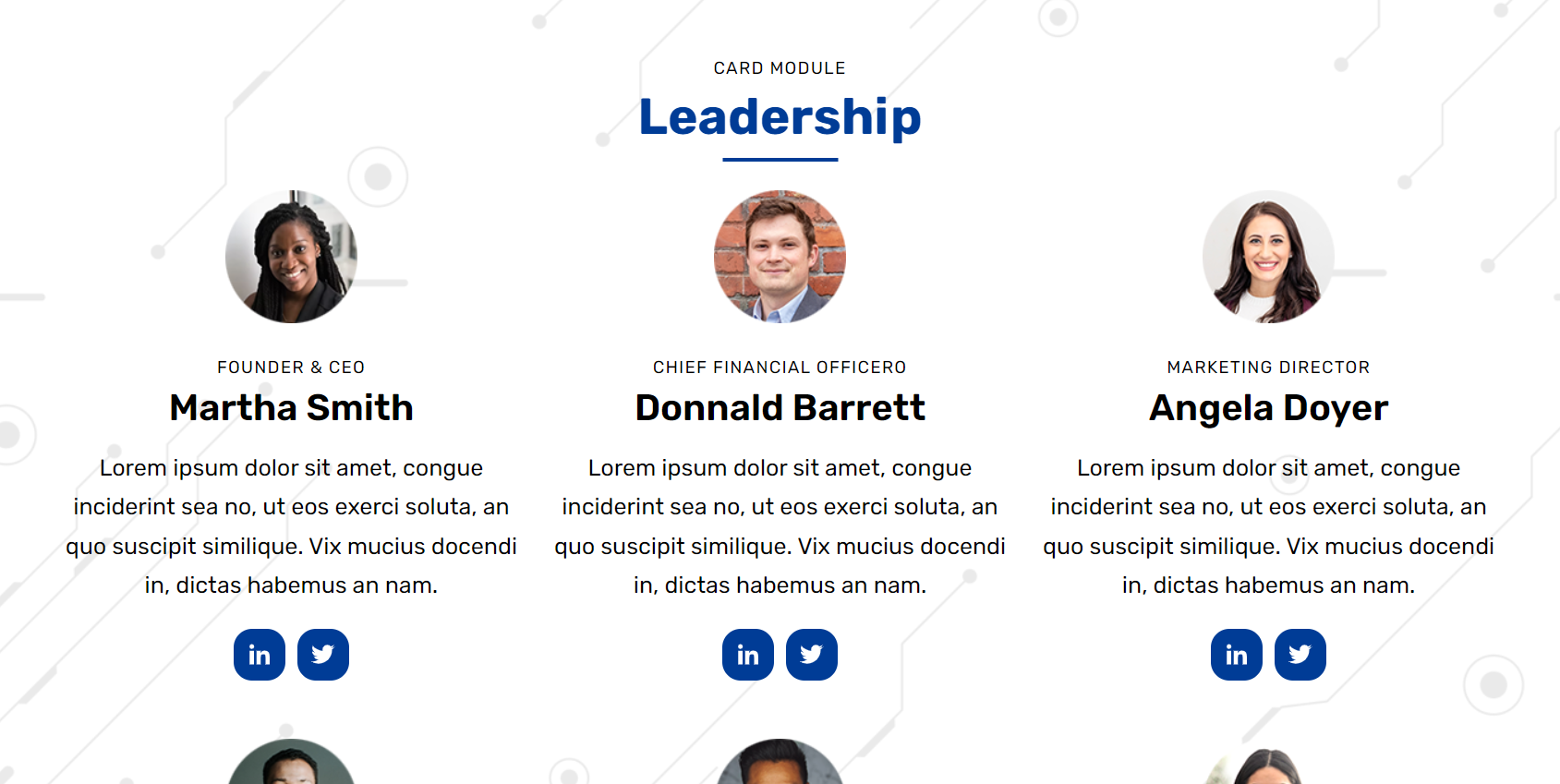 Above, is an example of the 'Cards' module being used to feature team members. There is the capacity to add a headshot, name, title, short bio, and links to social profiles.
Above, is an example of the same 'Cards' module being used to feature a service. There is the capacity to add a background image, title, subtitle, description, and links to social profiles.
Explore the Full HubSpot Theme Demo
Interested in exploring the ins and outs of this theme for yourself? You can explore our live demo here, browse through the theme docs or download the theme for FREE here.
We hope this theme helps you take the next step in your site transformation. Whether you are looking for a complete redesign, or a quick refresh, B2B Engine will have the kit of parts you need to create hit your personal website goals.
Are you considering hiring a certified HubSpot CMS agency to manage the redesign?