New Perspective Earns HubSpot Onboarding Accreditation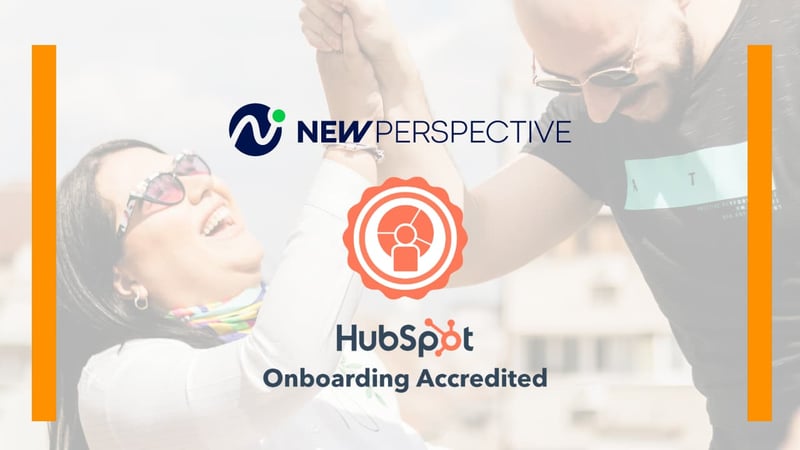 We're thrilled to announce that New Perspective has earned the HubSpot Onboarding Accreditation! This prestigious recognition underlines our unwavering commitment to providing top-notch services to our valued clients and further mastering the HubSpot platform.
Read the official press release here.
Among the vast pool of over 6000 HubSpot partners worldwide, a distinguished group of 167 has achieved the esteemed HubSpot Onboarding Accreditation. This exclusive recognition becomes even more remarkable when considering that in the United States, out of the 2400 partners, only 97 have earned the accreditation as HubSpot Solution Partners, New Perspective being one of them.
What does this accrediation mean? In HubSpot's own words:
"HubSpot accreditations are for solutions partner organizations that support the success of HubSpot customers at the highest levels of quality, service, and strategic insight.
Organizations must demonstrate that they have the expertise, capacity, and practical experience needed to serve customers with complex technical and business needs.
Accreditations are more rigorous than certifications — they have a set of prerequisites and often require practical application, like a role play exercise."
Earning HubSpot accreditations: A rigorous process rooted in expertise and results
In order to achieve HubSpot partner status and accreditation, agencies must combine their technical expertise in HubSpot with a deep understanding of their clients' unique business needs and goals. This goes beyond theoretical knowledge and requires tangible results for clients to showcase their capabilities.

Agencies, like New Perspective, are asked to showcase real client projects to HubSpot. These case studies illuminate how they've deployed HubSpot at different companies, integrated it with varying applications to address distinct challenges, and ultimately, driven clients towards achieving their goals.

HubSpot stands out with its integrated Marketing, Sales, Service, CMS, and Operations software Hubs, providing clients with a unified view of the customer journey and serving as the central source for accurate customer-related data. It plays a pivotal role in connecting a company's technology stack.
Who we are and how we help you
New Perspective is a dynamic growth marketing agency with over two decades of experience, based in Boston, MA. We specialize in helping cleantech, agritech, climate tech, and next-gen manufacturing businesses succeed in the digital age.
Our areas of expertise include digital transformation, demand generation, sales-ready websites, HubSpot marketing, brand building, inbound marketing, content strategy, and internet marketing. Reach out to our team of experts and start your HubSpot journey today.