How We Create Growth-Driven Websites for Our Clients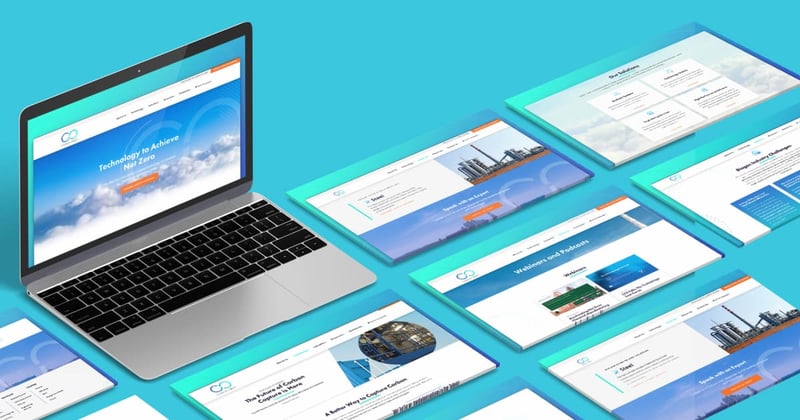 Your website is one of your most important marketing assets. It's your 24-hour salesperson, a constant representation of your brand online. It's also a key differentiator for your brand. Done right, it enables you to stand out in a sea of competitors.
With websites, there are a lot of shoulds and one clear should not: your website should not just be static and one-dimensional. It has a lot of jobs to do. Your website should:
represent your brand in a modern and creative way.
provide an intuitive and helpful user experience to your target audience.
provide your prospects with a seamless journey — that not only addresses their common challenges, but clearly shows how your business' solutions can overcome them.
All in the approach: growth-driven website design
At New Perspective we approach websites with all of that in mind. We know that as with your business, your online presence needs to be able to evolve with the times and the state of the industry. As your target audience grows and their needs shift, your website needs to be able to flex to match them.
We also know that website design can be overwhelming. Given the investment and complexities, the de facto approach for many businesses is to throw a lot of resources into one design and then remain stagnant for two or three years.
What we recommend is a completely different approach: Be in a constant state of learning and re-learning about your customers needs as well as the effectiveness of your online presence. Create a website that can adapt easily and quickly to these learnings through growth-driven, continuous improvements. The payoffs will be tremendous.
Our website design process
How do we make that happen? We follow our own agile process for website projects, heavily inspired by HubSpot's concept of Growth Driven Design. Our core goal is to ensure that when your new or refreshed website goes live it performs far more effectively than what it replaces.
This methodology starts with strategic prioritization, which feeds smart execution, ultimately leading to continuous cycles of improvement and education.
Let's break down each of these phases and their goals — and spell out what to expect from each one.
Strategy and planning
The first phase of the website design process is strategy and planning, when we work to understand:
your business' big picture goals
your target audience and their personal challenges
the right visual direction to take
the voice and tone of your content
your existing website's performance
These insights will make sure that we create a solid game plan for a website that's truly valuable for both your clients and your internal team.
Understanding your target audience
One of the most important insights we gain at this stage is an empathetic, in-depth understanding of who we are designing and creating this website for. We start with activities such as developing personas — semi-fictional representations of your target buyers. We also build a buyer's journey map that outlines all the vital content for your website and marketing, calibrated to each stage of the journey (awareness, consideration, decision).
Based on the priority level outlined by the buyer's journey, and your budget, we determine what content and features will have the most impact when the site first goes live.
Quick tip
When creating personas, avoid the temptation to stick with the ideal. Take the time, do the research, and use clean data to make the personas accurate. Interview your customers. Gather all the data you can from social media, sales insights, website performance, etc. to gain a thorough understanding of your customers and their needs. HubSpot has a fantastic template to help you get started.
Design and branding
Before starting a formal design, we clarify the visual direction for the website. We take a closer look at all the key aspects of your brand, and determine how they will be visually represented on the site. Among the exercises we go through is creating a mood board — a collage that expresses the overall visual components and aesthetic. We'll include elements such as:
color palette
font families
image and graphic direction
The build
By the time we've completed the strategy phase, we should have a clear plan of the priority content and features that need to be created, and a strong sense of the site's visual direction. Now comes the build phase.
Wireframing
The first step of the build phase is to create wireframes of the priority page templates. These are essentially blueprints for a website page, outlining the basic structure and informational hierarchy. This is when we pinpoint how each page will be laid out, and what story it will tell.
Design and copywriting
Once the wireframes are completed, it's time to bring them to life. Based on the voice and tone we established in the strategy phase and an understanding of the target audience, the copywriting team will start telling the story, creating the messaging, and writing specific page content. With page copy in hand, our design team moves into designing the pages. That may entail a high-fidelity mockup — a static representation of a page that includes colors, imagery, graphic and ui elements, and other aesthetic details. Then we'll continue reviewing and refining the designs until they're ready to move to development.
Development
Our development team takes the static designs, content and site map and builds a fully functional, demo version of the site. This is a pre-live environment where we can thoroughly test its features. We review page size, responsiveness across different devices, content and image quality, as well as any copy issues.
We proof and proof again. We also make sure all the tracking is in place for any key conversion points, and test the behavior of any integrations with other digital infrastructures, such as a CRM (customer relationship management) system.
Quick tip
Page speed is critical and image size plays a big role. Nearly 70% of consumers say page speed influences their likeliness of buying online. Reduce the size of your images to keep your page loads fast. Squoosh is a great tool that makes this quick and easy.
The launch
Once the site is thoroughly tested, it's time to launch the new website. But that's not where the work ends. In some ways, it's just beginning.
The launchpad
We refer to this initial site as the 'launchpad.' It's the first iteration of your website with all the key elements identified in strategy. It's a live, published site that can go up relatively fast so we can get real users visiting and interacting with your content. It's also a wellspring of insights into how visitors experience the site's content, navigation, lead generation elements and more. And these are insights you can only glean from a live site with real data.
Continuous improvements
By starting with a flexible launchpad website, we can make improvements to your new and improved site faster, and gain intelligence on how it's working. Then we start the cycles of continuous improvements and expansions that keep your website vital, relevant, and truly supporting your business' needs.
The knowledge gained in this multi-phased process from strategy to launch is invaluable — and there are no shortcuts that will provide the same results as this breed of due diligence, continuous analysis, experimentation and optimization. The more you understand the true behavior of your user, and how they are experiencing your website and its content, the more you can improve upon the results. That's why we create and tailor each site to suit each business and your unique goals for growth.
Take the next step
Investing in your web presence can be a great opportunity for your business — and New Perspective can help you transform your website into an agile, dedicated sales engine. Explore a Growth-Driven website redesign further by scheduling a free consultation.