17 Essential HubSpot Tools To Improve Your Marketing Game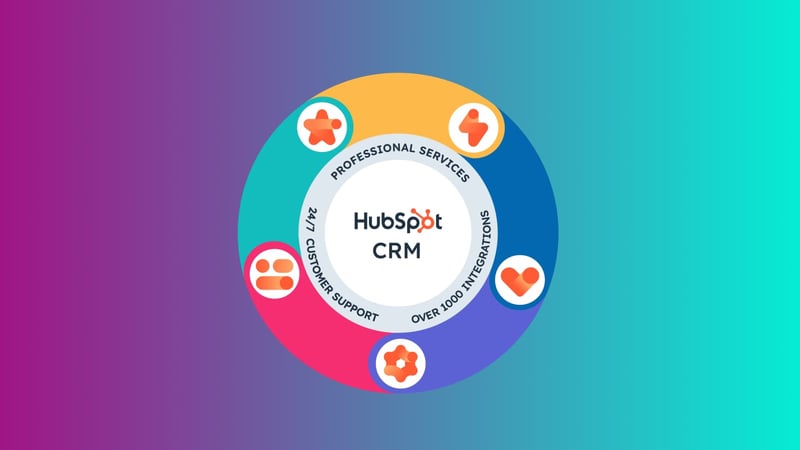 The marketing tools HubSpot offers are second to none, with features for managing every aspect of sales, marketing, and customer service processes. For B2Bs, these are functions that offer the capability to keep your eye on performance and results in real time, when and how you need them.
With plenty of shortcuts, automations, and data, they're highly effective for strengthening your marketing game and markedly boosting customer relations.
One issue we find with my marketing teams, however, is that they're not sure which HubSpot features to go for. For anyone facing that kind of uncertainty, here's a rundown of our favorite 17. These are all features we use, love, and recommend:
1. A/B testing
What it does: HubSpot's A/B testing tool does just what it sounds like. It compares two versions of the same email to see which achieves more open and click rates. It can also test the effectiveness of different parts — such as the subject line, body, or CTA. It's also a great test for evaluating two versions of the same landing page (a practice we strongly recommend).
How to use it: Fine-tune your outreach. Before you send an email out to your entire list of a thousand prospects, run a HubSpot A/B test on a small sampling. Email one version to 50 contacts and the other version to 50 other contacts. You'll find out which version engages the target audience better — and that's the one you should send out en masse.
2. ABM tools
What it does: HubSpot's AI-powered ABM tools (as in account-based marketing) define your ideal customers and recommend top-notch buying experiences for your most important clients. It's a modern, effective strategy for making sure your sales efforts are effective.
How to use it: Focus on priority clients. Machine learning is your friend when it comes to making sure you're aiming for those high-value clients. Use the ABM tools to create workflow templates for target accounts — narrowing down prospects to those with annual revenue above $2M, for instance. Harnessing AI to find you that select group saves you time so you can focus on high-quality, personalized interactions.
3. Custom properties
What it does: Once you understand how to use HubSpot's system of objects (such as contacts, companies, deals, and anything that's repeatable) and properties (the fields that support those objects), you can start to customize. A custom object might be a specific product, for instance — same idea, but not on the list. A custom property will allow you to manage all the data in one place.
How to use it: Track financial data. Say (for some reason) you want to track every deal that involves that product within HubSpot. Create a custom object for the product, then link it with standard objects. Then create a custom property to track it, such as: Name, email, source type, product, company.
4. Dashboards
What it does: With HubSpot's dashboards tool you can quickly combine different reports, importing contact, deal, marketing, sales, and service data from your CRM.
How to use it: Simplify complex data. HubSpot's dashboards allow making a significant volume of data more digestible by compiling multiple reports into a single comprehensive whole. Leverage HubSpot's pre-built dashboards, such as those for marketing, sales, ABM, website traffic, and SEO, to make it even easier.
5. Deals pipeline
What it does: Enables you to add new deals, assign tasks to your team and track your high-value prospects. Each time a new deal is added (either from an existing contact or your company's HubSpot CRM), the deal pipeline automatically updates itself.
How to use it: Track and monitor your sales process. If you want a clear picture of your sales process in real time, you need to see what stage each deal is in. You can also customize the deal stages of a given pipeline to show exactly what you need to see.
6. Email marketing automation
What it does: Automates the workflows so you can reduce time-consuming and redundant tasks, yet nurture each segment separately with targeted, precise campaigns. It's a great way to maximize lead conversion and increase engagement.
How to use it: Save your team time. Poor messaging can be costly, as can badly prepared email lists. Contacts don't love receiving generic messages that target the wrong group. And your team is likely burdened with enough tasks already without having to keep scheduling things manually. Use HubSpots email marketing automation feature to do all of it, and free your team up for more attention-rich tasks. Everyone wins!
7. Integrations
What it does: The integrations feature connects HubSpot's software solutions to other programs and applications, including official integration software and apps like Databox and Salesforce, Slack, LinkedIn,Zapier, and Aircall.
How to use it: Build a cohesive tool stack. Effectiveness and visibility are key to business marketing: you need to be able to lean on a solid tool stack that doesn't suddenly fall apart when you're trying to shift apps. If your business already uses HubSpot-compatible marketing and sales software (such as Databox or Salesforce), you're in luck. You can streamline marketing and sales efforts without a hitch, which also means you won't need to acquire even more new software.
8. Landing page builder
What it does: Never underestimate the power of a great landing page. Done right, you'll get contact information in exchange for a digital asset. HubSpot's landing page builder helps you convert website visitors into real leads — with contact forms and other features. Use the tool to build, and refine landing pages without needing any outside help.
How to use it: Bring in that data. Refine a landing page into a professional-looking, lead-collecting powerhouse by using HubSpot's tool to craft it right and drive continual growth. Create a page, test it out, refine it, and optimize it with HubSpot's SEO suggestions.
9. List segmentation
What it does: HubSpot's list segmentation feature helps you segment your contact database by the criteria that matter to you. The results include increased conversions, superior revenue generation, and improved customer retention. There's nothing not to like.
How to use it: Divide, tailor, conquer. Everyone needs to have less to focus on so they can focus on it better — that's one of the challenges of marketing at scale. And nothing is more disengaging than messaging that's clearly meant for someone else. Use the list segmentation too to divide your list into smaller ones: by stage of the buyer's journey, persona, industry, or engagement levels, for instance. Now you can create targeted, automated emails that meet the expectations of each group.
10. Predictive lead scoring
What it does: HubSpot's predictive lead scoring tool identifies the leads that matter using specific benchmarks you can set up. It uses algorithms and data from your past clients to create models of your ideal customer, then identifies prospects that fit the profile.
How to use it: Prioritizing leads with potential. Say you need a fast, efficient way to narrow down leads to a certain region. You're getting leads from every state, but you need to focus on the northeast. The predictive lead scoring tool can do it quickly, qualifying leads by location so you can go for the ones in the right place.
11. Reporting
What it does: HubSpot's reporting tool gives you a window on your marketing, sales, and service processes, including deals, contacts, and website analytics. It's got an extremely simple setup and offers multiple ways to look at data.
How to use it: Find the growth drivers and obstacles. Flexible and fast reporting is invaluable when it comes to decision making. For instance, you can run a visual report to show the capital drivers of growth, or identify what's obstructing your pipeline — and when. HubSpot has a massive library of pre-built sales and marketing reports, easily editable using drag-and-drop functions.
12. Sales pipeline analytics
What it does: Reveals weak spots in your B2B sales cycle (such as in certain regions or around certain products), predicts revenue, and gives senior management an overall picture of your business.
How to use it: Check your sales team performance. The sales pipeline analytics equips sales managers with data on how each team member is performing. You can create a range of reports, such as comprehensive sales reports based on information from default deal properties and deal pipelines; as well as reports on completed activities, call outcomes, completed deals, completed tasks, meeting outcomes, time spent in each deal stage, and team activities over time.
13. Sequences
What it does: The sequences tool is an ingenious solution for prospect nurturing, based on HubSpot's own analysis of millions of B2B prospect interactions. Deploy it to separate your email templates, sending the right prospect the right message at the right time (and you can be prompted by automated reminders). If a contact replies or books an appointment, the tool automatically moves them out of the sequence.
How to use it: Keep contacts from falling between the cracks. Suppose your business caters to companies in several different fields, such as suppliers, manufacturers, and shippers. Use the sequences tool to organize and divide your email templates so everyone's in the right bucket, gets the appropriate message, and is moved along automatically. Or, you can create a no-show sequence for those contacts who schedule meetings and never (ahem) make it, so they get a new sequence of well-times emails until they rebook.
14. Smart content tool
What it does: In case you need a refresher, smart content is dynamic content on a website that changes according to the interests of part behaviors of a viewer. HubSpot's smart content tool enables you to change up the content in certain modules to better reach specific categories of viewers, such as ad source (depending on the type of ad clicked), country (using the IP address), or device type (desktop, mobile or tablet).
How to use it: Create a special offer for a special group. Depending on your industry, you may want to target regional visitors with a message on a designated module. Set up a smart content rule using HubSpot's tool so only visitors from that region see the special discount offer on your website. Adjust the rule however you need to — so it's not by region, but by state, or even country. There are countless ways to tailor this, including different messaging for QLs midway through the funnel, etc.
15. Snippets
What it does: Talk about a timesaver. Snippets are blocks of text you can reuse over and over again. They're incredibly easy to create — you'll find them in HubSpot's conversations menu. Give them a name and you can simply click on the name (it can be "#" even) and HubSpot will grab the snippet and insert it — in a contact, an email, a live chat or a template (we'll get to that).
How to use it: Be consistently awesome. Tired of answering the same question 100 different ways? Concerned that everytime you answer, you may be diminishing your appeal by using a lesser wording or uneven tone? Create a snippet to answer the most common questions, and you're done. Your messaging stays consistent and your time can be better used on other tasks.
16. Templates
What it does: HubSpot's templates tool is in the same family as the snippets tool. It can create premade, personalizable emails tailored for a specific target or need. There's a massive library of templates to draw from as well as plenty of ways to customize it and tweak your messaging. You can use the snippets you've created, and you can find out which templates are most effective in any given context.
How to use it: Start 100 conversations. You're facing a mountain of introduction emails and you've got about a minute to send them all. Create a first-touch template that includes interchangeable parts depending on the kind of contact you're emailing, and room for personalization where you need it.
17. Web analytics
What it does: The web analytics feature offers direct insights into how your audience interacts with your website. HubSpot uses cookies to track visitor behavior and website interactions — such as page visits, browsing time, and visitor's location. It's a great way to find out what page your leads are coming from.
How to use it: Check a web page's effectiveness. Say you want to see how effectively a specific website page engages your target audience. The user data generated by the web analytics tool may show that most visitors are accessing your home page through mobile devices, but dropping off before continuing to any forms. But the website version of the home page is engaging your visitors right through to the CTA. Use the data to tweak your mobile home page and get more engagement.
Maximize the goodness
There's never been a question that HubSpot is a great platform with an incredible array of tools for businesses. It's a sales, marketing and customer service treasure trove that's packed with intuitive, well-designed features. In terms of gathering information on leads, customers, clients, and partners, it's unparalleled. But it's all in how you use it.
What we see is that many businesses want to roll up their sleeves and take advantage of HubSpot's superb toolstack and user-friendly approach, but they need a better roadmap, or a capable tour guide, or a hands-on HubSpot liaison and ally. Teams are busy enough.
Absolutely lean on posts like this one (and many more) all you want. If and when you need more active help, we're here. We're HubSpot platinum partners with a great team of certified experts at the ready. Just reach out: we'd be happy to do a free consultation.