How to Implement the Sandler Sales Methodology in HubSpot CRM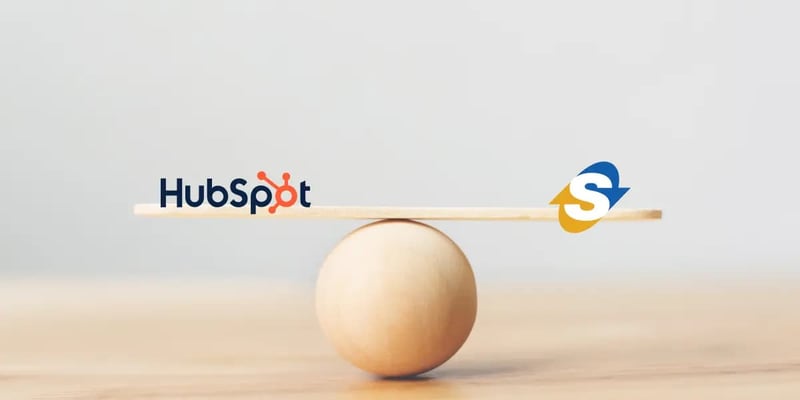 We're going to tell you a true story: A business we work with — let's call them Company G — came to us at a transformational stage after working with Topline Performance Solutions, Inc, a leading authorized Sandler training center in Woburn Ma. They identified Hubspot's sales and marketing platform as the best fit solution, but they needed to customize their sales hub to support their new Sandle's sales process.
Fast forward to today and their situation is altogether different. Sales leaders have full visibility into sales activities, can forecast accurately, and have the tools they need to spend more time selling.
What Company G needed to do was also upgrade their sales processes as well as their software stack. They needed to get out of their spreadsheets. And they needed a system that does it all together.
So that's what we did. As soon as they engaged us, we mapped out their sales process using the flexible and proven sales methodology from Sandler. We fit their sales process into Sandler's Phases 1 – 4 — which I promise, we'll get to in a moment. We got them on HubSpot CRM, the gold standard of software stacks.
And we provided training on how to leverage Sandler's methodology within HubSpot's customized CRM. What's the conclusion of this story? This company is acing it. They're winning. Their pipeline has skyrocketed.
Yes, it's a feel-good story. But it's also a modern fable with a clear message: there is no need to feel your way in the dark when it comes to selling. It's not going to work. While you're piecing together emails and spreadsheets, your competitor is out there humming along. Combining Sandler's sales methodology with HubSpot is the essential pairing. There's no reason to not do it, and every reason to.
We've been configuring HubSpot CRM systems to use the Sandler selling methodology for years. The foundational setup is essential for driving scalable and measurable growth. So here's a crash course on the basics.
Why HubSpot CRM
At the end of the day, you know why your organization needs a CRM. You don't want to live out of your inbox or spreadsheets, and neither does your team.
So when it comes to choosing a CRM, especially in the B2B space, we love HubSpot for the following 6 specific reasons:
1. Agility vs. Speed
Just like choosing any piece of software, there are a spectrum of options in the marketplace for CRM. There are CRMs that are extremely fast to set up, but way too rigid for the needs of a scaling organization. And then there are extremely customizable solutions that allow you to change literally anything, but have an enormous learning curve and can come at steep setup costs.
HubSpot CRM strikes a delicate balance between these two extremes. Its tools provide just enough out-of-the-box features and guardrails to get your organization running fast, without bogging it down with exhaustive configuration settings. A great example is the HubSpot deal board: you can get up and running in a few short hours by using the default deal stages and pre-configured pipeline reports.
2. Customization
HubSpot CRM is very easy to customize. Almost every aspect of the system can be customized, including fields (what HubSpot calls properties), associations between fields, deal stages, records, and more.
3. Integration
After customizing your CRM, there are plenty of ways to get data into and out of HubSpot. If you need to get record data in HubSpot, there's an easy way to import it. HubSpot CRM also has an open API and out of the box integrations with major software services – we've yet to find an integration our clients needed that were not readily available or could not be solved by using a no-code data automation tool like Zapier.
4. Automation
HubSpot CRM has powerful automation tools which help streamline our clients processes by removing loads of manual administration. Examples include: keeping CRM contact, list and deal data up to date data, syncing with 3rd party softwares and scaling personal marketing and sales messages (lead nurturing, smart CTAs).
5. Visibility
For sales leaders, knowing how your team is tracking against their targets is essential for making informed strategic decisions. From a easy-to-use opportunity board, to automated tracking of sales activities like calls and emails, our clients regularly tell us how they appreciate having the data they need to double down on what is working and cut out what is not.
6. Sales Tools
HubSpot's sales tools save salespeople precious time by:
seamlessly recording inbox communications to the CRM record
Tracking email & document open activity
Record and host call recordings
Help prospects book meetings on your calendar without the back and forth friction
Craft emails faster by leveraging templates
Ok – so clearly we are HubSpot CRM super fans for the reasons stated above but HubSpot is at the end of the day a SAAS company. Leading organizations complement the platform with strong sales process and sales team training.
When it comes to sales process and training, there is no brand that is more synonymous than Sandler Sales (world leader with 250 locations across 30+ countries). We're big fans and have invested heavily in our team's sales and leadership development with a premier Sandler training team (Topline Performance Solutions).
How to implement the Sandler Sales Methodology — the basics
Sandler Sales Methodology can be incorporated into HubSpot's CRM by following the following 3 steps.
1. Define Lead Qualification Criteria and Lead Lifecycle Stages
The first step in aligning HubSpot CRM with your Sandler Sales Methodology is to internally document/agree on lead lifecycle stage definitions. Unlike the buyer's journey, lifecycle stages are an internal categorization system that enables your company to track how your contacts move forward in your prospecting process.
Having a standardized list of definitions will help your organization better understand the expectations for hand-offs, the context behind a contact's journey, and the next steps in the prospecting process. Once your team operationalizes this process, you'll reap the benefits by being able to forecast lead generation efforts and success via funnel projections in HubSpot.
2. Configure Your Pipeline Stages in HubSpot CRM
Every organization will have different requirements they need to follow as part of their sales process. When the sales team believes there is a true opportunity, we recommend organizations configure their Sandler sales pipelines in HubSpot CRM using the 4 stages below. If you work with Tom Massie, at Topline Performance Solutions, Inc, he uses the P1-P4 sales stage methodology. One word of caution: expecting your sales team to remember each of the requirements outlined below may be unrealistic.
We find it to be far more effective to implement deal-stage requirements into HubSpot — and this is an important step. This will prevent a deal from moving forward unless certain criteria is met, such as properties being filled out or checked off. Predictable pipeline reporting may be achievable after all!
Phase 1
Gather preliminary information about the potential commercial opportunity, using BANT as a rule of thumb:
Budget: Does the prospect have the appropriate budget?
Authority: Can he/she sign off on a deal or know who can? Do you understand the decision-making process?
Need: Is there a true need for your products/services? Do they understand your value proposition? Do you understand their pain points?
Timeline: Reconfirm if there is a commercial opportunity in the near future.
Phase 2
Gain a deeper understanding of the commercial opportunity by confirming and reconfirming:
Reconfirm there's strong interest in your products/services
Discuss directly with the decision maker
Reconfirm the budget
Confirm the decision timeline
Phase 3
Present the prospect(s) with your understanding of a scope for your products/services, and have them participate in that discussion. They need to own part of this process to help ensure the accuracy of the solution, as well as, to justify their investment.
Present a scope of work to them (without pricing)
Re-confirm budget, timeline, and why you can help them
To move to the final stage, confirm that your work together is a top priority for them
Phase 4
Submit your final scope of work and supporting documentation to your prospect. The biggest pitfall now is submitting your proposal and waiting for a reply — that's how deals die. Your team needs to ensure they have, once again, reconfirmed decision dates and likelihoods of winning so you can probably forecast when opportunities will close.
3. Measuring with Custom Reports
Assuming your organization is taking full advantage of HubSpot's lead qualification and pipeline tools, you need to ensure that your teams have full visibility on the impactful metrics that HubSpot can provide. As part of your HubSpot setup, we recommend implementing these:
Marketing Reports
Funnels allow full visibility into your marketing and sales funnels.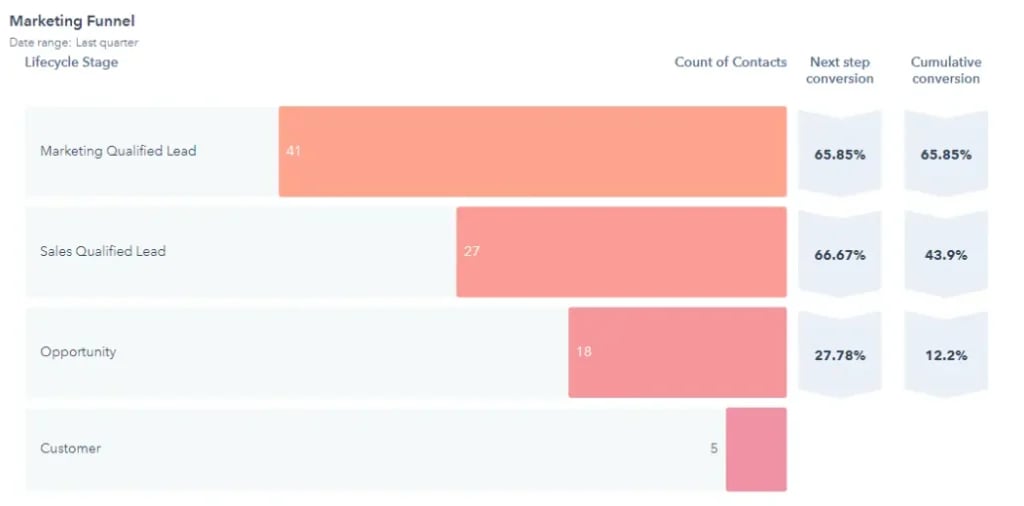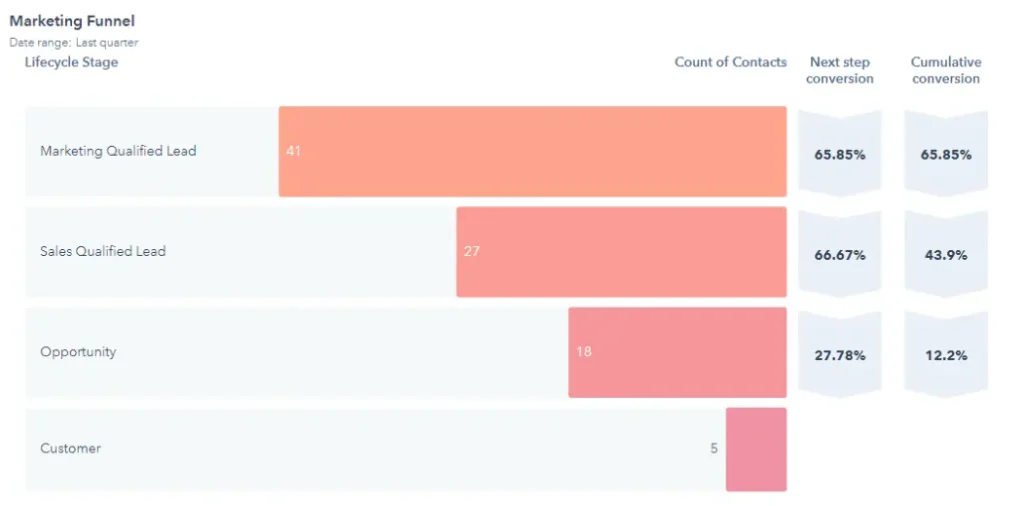 Contact sources let your teams know what channels your leads are coming from.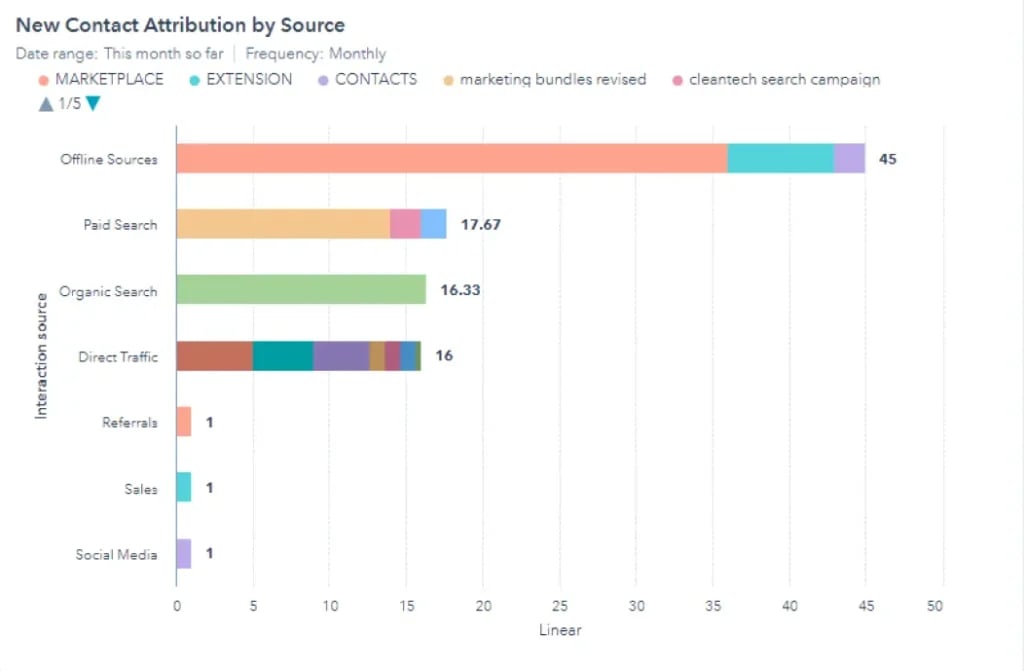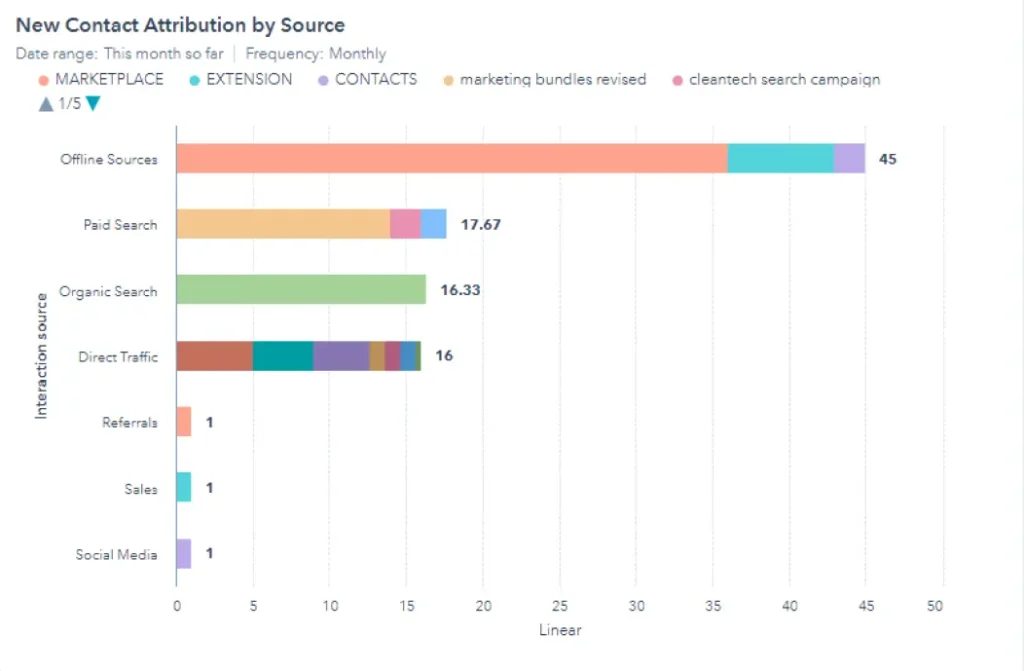 Channel-specific shed light on each of those channels.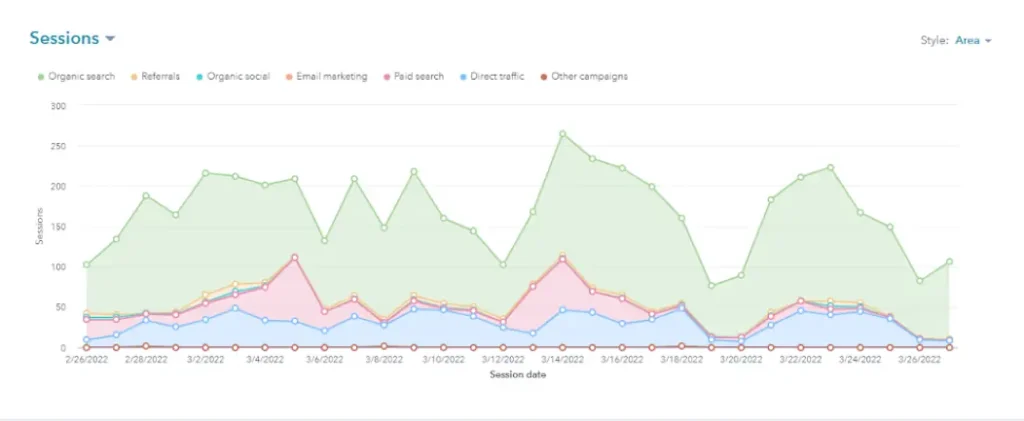 Lifecycle stage velocity give you a sense of how long it takes to qualify a prospect.


Sales Reports
Sales activities show what types of sales activities are generating ROI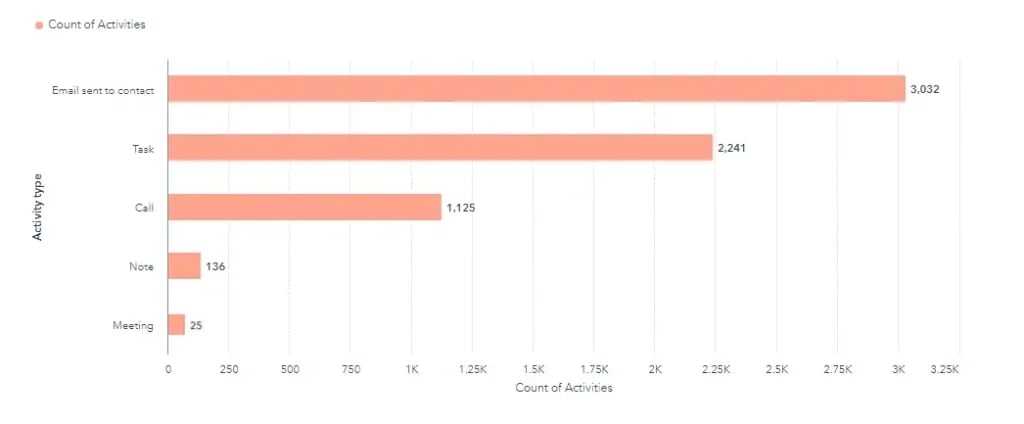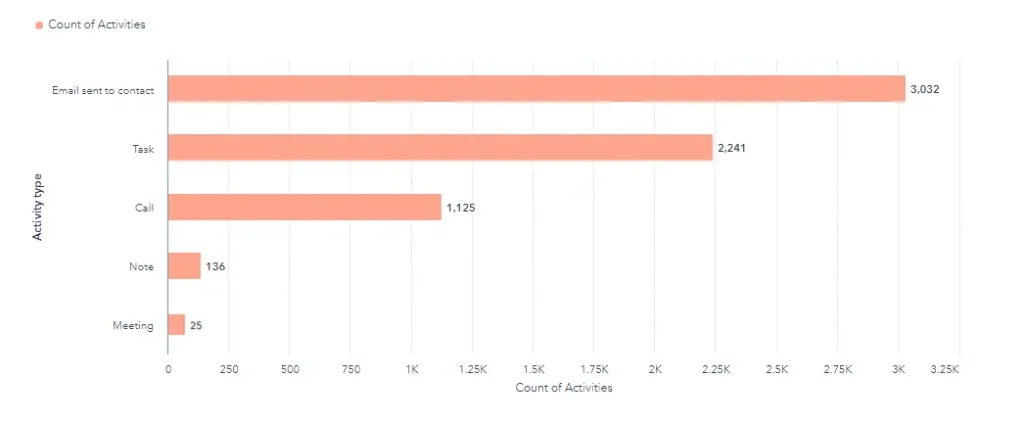 Booking commitment reports give your team visibility on pipeline goals vs actuals.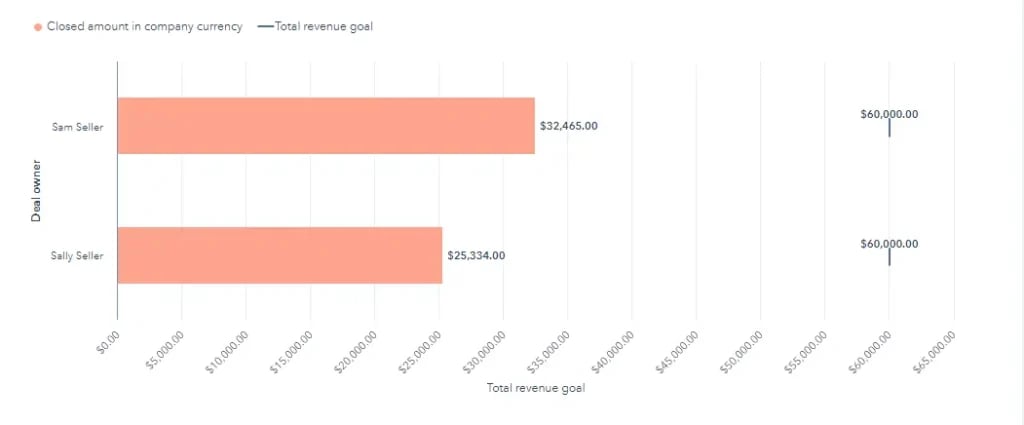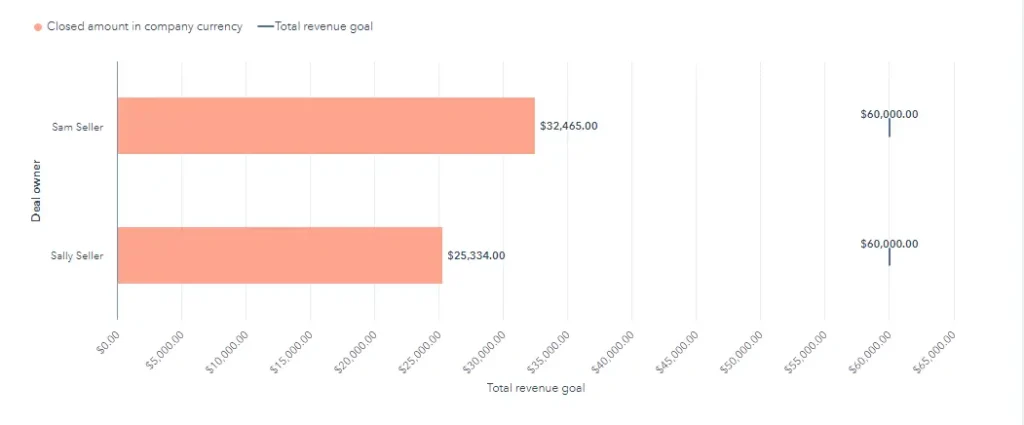 Pipeline value show the overall value of opportunities in your pipeline.


Deals won/closed keep your teams focused on the outcomes that matter


Deal sources track what channels your opportunities are coming from

Sandler Sales Methodology and HubSpot CRM – A Perfect Fit
At the end of the day, customizing HubSpot CRM in order to take full advantage of your team's investment in Sandler Sales Training is a smart move. We've seen the impact its made on our own internal revenue operations and also for a half dozen of our growth minded clients.
We've consistently seen significant increased pipeline values, decreased sales cycles, deal win rates and average contract values.
If you're looking to drive rapid growth for your organization, this is the way to go.
But remember, you don't have to do this alone. We can help. As a sales leader, you can't get stuck in the tactical without taking away from the strategic-level decisions only you can do. That's where we can come in.
Lets kickstart your revenue operations with a HubSpot CRM + Sandler Sales Process conversation.