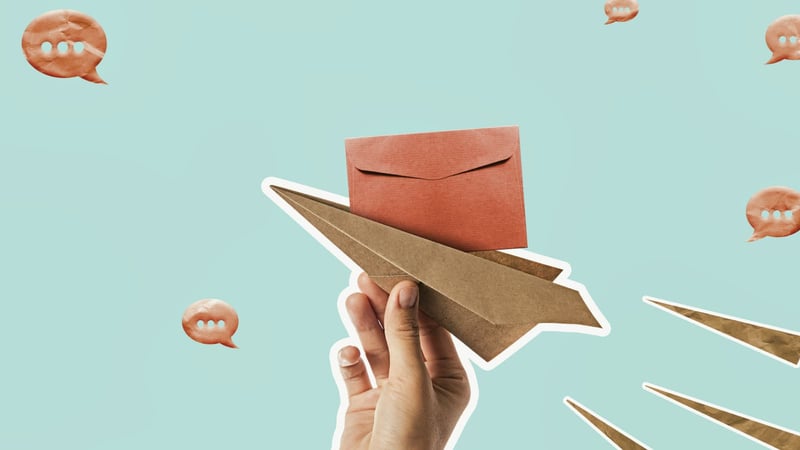 Email has been with us for almost 60 years, ever since it was created as an internal messaging system for the staff at MIT in 1965. Since then? Some 347.3 billion emails will be sent per day around the world in 2023. By 2025, that number is projected to reach 376.4 billion.
As one of our most popular forms of communication, email is often considered a marketing must-do. 89% of marketers use email as their primary channel for generating leads. But does it work?
Getting beyond the spam filter
Consider the recipients of all those business prospecting emails, dealing with all that incoming. Of all the emails sent in a day, up to 85% are spam and 36% are advertising messages. So using email as part of your marketing mix needs to be done carefully, or you'll wind up in a junk folder.
The good news: email marketing can be extremely effective, with emails that matter to their target audience. There are proven strategies to improve open and engagement rates. Before you send out your latest email campaign, review these best practices, compare them to your process, and look for ways to improve — and boost success.
9 Best Practices for Email Outreach in 2023
1. Know and segment your audience
Before you send out your first email, know who you are trying to reach. Your email outreach could slow down or speed up your sales cycle depending on how well you know your target audience. That includes knowing how many of these kinds of prospects are available to your business, and how they want to be reached.
Dig deep to identify new target audiences as well and find out how best to engage with them. There may be several buyer personas you need to market to, each requiring a different messaging strategy — it's a given that not every prospect on your list will respond to the same kind of email. Segment your audience, and A/B test your messaging and content to drive higher open rates and engagement.
2. Clean up your data
Most companies have a pretty good sense of who their best prospects are: they're all in their CRM, right? Maybe not. Prospects move on, companies change their business focus, and external events can alter the course of a business model. It's estimated that databases degrade by some 25% a year.
As you manage new leads from different channels (i.e., LinkedIn), make sure the contact info is right, and your database is clean. If it isn't, take that person off your CRM. If the company is truly of interest, find viable contacts who do work there and add those to the list.
3. Time it right
Another critical action to take before launching any email marketing activities: time your outreach. Map your email activity to the cadences and opportunities inherent in your industry's business cycles. If everyone takes the whole summer off, don't waste your time with outreach. If you're dealing with countries where no one works in August, consider pausing the campaign until they're back.
Find out the fiscal year/s of your clients and determine the optimal times to reach out for next year's planning cycle. Every company approaches strategic planning differently: knowing when a contact is potentially open to discussing new approaches for the upcoming year can make all the difference.
4. Use automation thoughtfully
Automated campaign technologies are a proven and increasingly popular way to reach more prospects, but may alienate them too. This time-saving technology also opens the door for some strategic errors. So think through your timing and content strategy.
Always defer to quality over quantity and remember why you're doing this: The intention of an email marketing campaign shouldn't be to download endless ads or material. It's to generate interest in what your company has to offer; show the audience you empathize with their needs and frustrations; and open up a conversation. Before you present your company's solution, make sure it's clear you understand the pain points first. A perceived lack of empathy for their situation may prompt recipients to tune you out.
5. Smarten up your content strategy
Content takes effort, energy, time and people power. Don't waste it. Be honest about what kind of content your business needs to get out into the market to succeed in building business. It needs to map to your different buyer personas, and be delivered with the right motivational messaging to the right target audience at the right time.
A content strategy should be supported by a great library: a trove of contact that's helpful, insightful, and appealing to your target audience. As for creating that content internally, or using an outside resource, it depends. But don't limit yourself just because you don't have the bandwidth in-house, and don't try to cut corners too deeply or your content will suffer for it. A great (and competitive) content strategy has variety as well as quality, with white papers, industry insights, and newsletters. All can be effective at engaging prospects and sparking communication.
6. Go short
Email marketing campaigns are great for sharing top-line information about your company, establishing your credentials, getting on a prospect's radar screen, and hopefully progressing to a call or a meeting. Going too long in an email and exhausting your audience's attention could derail that entire process.
Be precise, hit the right notes (your research will tell you what those notes are) and then get to the call to action or link to industry insights you hope will interest the recipient. In exchange for their time and attention, your prospects should be rewarded with brevity and relevant, valuable material and/or business insights. Follow the credo 'Always be helping' and the sales will follow.
7. Consider UGC
User generated content (UGC) is a great way to break the mold, engage your customers, and build credibility. Inviting your customer base to share their own compelling, objective stories about your company, products and services can create effective third-party endorsements of what you do and how you do it.
Existing client success stories — generated by them, not you — can build a sense of trust among prospects. It can also lead to some great initial conversations as prospects find their own perspectives and needs echoed in a piece of UGC. Just make sure, like everything else, the content is brief, to the point, and leads to curiosity and questions, not reader exhaustion.
8. Mind the header
In 2022, an average of 3.9 million emails went out, globally, every second. The average office worker's email account received some 121 emails a day. We expect emails, and more often than not, we want emails.
Keeping the email header short, clear, relevant, readable, and engaging will increase your chances of your email being opened. Don't get lost in a sea of messages. Use that email header to stand out.
9. Measure Your Performance
If you want to know how or if an email campaign is working, don't leave it to guesswork. Creating campaign performance metrics should be part of your email outreach strategy, along with investing in the software or platform that measures open rates and prospect engagement levels. If you don't hit the marks with the kind of results you want, take the time to regroup, put a pause on your emails, and find out why.
Assemble your internal team and do a deep dive. Ask trusted outsiders to give you their objective feedback. You may even want to field a survey or two, asking what people want to see. Do the hard work and you'll be further along in achieving your lead generation goals.
Being a resource is what counts
What we sometimes see is a gap open up between the original intent of an email outreach and the result of not thinking about what's being sent. Remember how sales are made: they happen because a prospect becomes convinced that you can do something for them that no one else can. They want a means to overcome a challenge, and they want to know you can provide it.
What your prospects don't want: an endless run-on about your company. Undoubtedly, they will conduct their own research into your business and offerings as you edge towards a deal. Use your email outreach to position yourself as the resource they need.
A great partner can accelerate your email marketing results
When your emails reach their targeted audience effectively, it helps you grow your business. If you've got the team and the bandwidth to manage this evolution yourself, terrific. But more often, companies are already spread thin. New Perspective has been helping companies better market themselves in a B2B environment for more than 20 years, and we know how to be efficient and effective.
If you'd like to discuss how to best make your email outreach in 2023, reach out. We'd love to help.