How to Choose the Right Manufacturing Digital Marketing Tactics

This blog was originally published on July 27, 2018. It has been updated for relevance and accuracy.
Taking your first steps into manufacturing digital marketing can be a bumpy road; with endless information available on marketing tactics that all seem essential, it's easy to get lost in all the noise. In fact, less than one in four (21%) manufacturing businesses has a written marketing strategy, a crucial indicator of digital marketing success.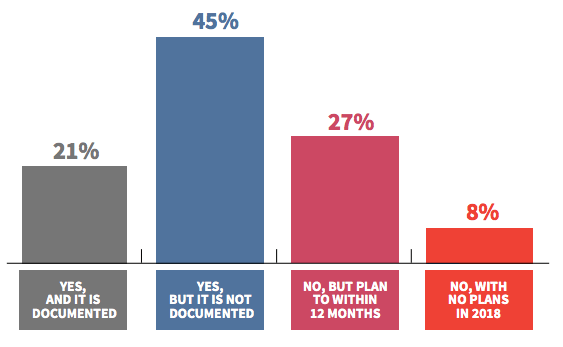 Focusing on too many marketing tactics and channels is a sure way to fail at all of them. That's why 35% of manufacturing marketers last year discontinued specific marketing activities they've found to be ineffective so they could concentrate on those that yield the best results.
So how do you choose the right manufacturing digital marketing tactics for your business? Focusing on the wrong mix of blogs, YouTube, email marketing, and social networks limits your ability to reach your audience. Luckily, there are specific steps you can take to analyze your audience and your market to determine the best marketing channels for your particular brand.
Note: All statistics referenced in this blog are taken from Content Marketing Institute's 2019 Manufacturing Content Marketing Report.
Analyze Your Audience
Your marketing should always be driven by your audience—but only 51% of manufacturing marketers prioritize their audience's informational needs over their sales message! Before determining your marketing strategy, make sure you understand your audience by going through these steps.
Create Buyer Personas: Determine 2-3 of your ideal buyers and create profiles—also known as buyer personas—that list everything you know about them. Where do they live and what is their education level? What are their main concerns, and why would they need your product? Be as specific as possible.
Learn How Your Audience Gets Information: Once you know your ideal buyer personas, take the time to investigate how they get information and engage online. Use customer surveys, social media demographics, and study industry publications to learn what formats your audience is most likely to consume and where they go for answers to questions. Your ideal audience may Google their questions, turn to YouTube for how-to videos, or send out questions on Facebook. Knowing where your buyers turn to for information will help ensure that you're there to answer their questions!
Set Marketing Goals
What do you want to get out of your digital marketing efforts? 54% of manufacturing companies in 2019 say they are somewhat proficient at aligning metrics with their marketing, compared to 34% last year. The most common manufacturing digital marketing goals are:
Brand Awareness: For 79% of manufacturing marketers, the goal is to promote awareness around their brand, making it more familiar to their target audience.
Educate Audiences: 69% of manufacturing marketers plan on engaging their audience by providing informative, useful content that could benefit them.
Generate Leads: 66% of manufacturing marketers say they aim to build a list of potential clients that could convert into sales.
Build Credibility And Trust: 60% of marketers are looking to establish their brand as an authority in their industry to gain the trust of their target audience.
Build Loyalty With Existing Clients/Customers: Building loyalty among customers gives brands a high return on time invested in their marketing, and is the fifth most common goal among manufacturing marketers.
The biggest mistake most manufacturing marketers make is to say yes to all five of these goals. The next error is to set a goal but not set any clear metrics for measuring the success of that goal.
Choose one specific goal and set SMART metrics to help you tie the accomplishment of that goal with your new digital marketing tactics.
Identify Resources and Determine Budget
Spreading your marketing across too many tactics and channels can divide your focus. On top of that, it will stretch your available budget and resources to their limits. Before choosing which digital marketing tactics your business will focus on, determine what resources you have available to you.
Your marketing resources will include three things:
Digital Marketing Budget
Existing Marketing Materials
Marketing Talent
When you start, the percent of your overall marketing budget devoted to digital marketing will probably be relatively low, and the marketing materials you have available to leverage may be few. For example, if your existing Marketing Talent is more experienced in traditional marketing tactics, you may need to hire additional talent or look towards a digital marketing agency to help you set a marketing strategy and execute.
Choose Manufacturing Digital Marketing Tactics
Once you have a better idea of what your audience wants, what your business needs, and what your budget will allow, you can choose which digital marketing tactics you'd like to start out with. On average, manufacturing marketers use five tactics for distributing marketing content—but this depends on the individual business.
The following are examples of useful digital marketing tactics for manufacturers. Before you invest in any of these, be sure to take the tips listed above into account: your audience, goals, resources, and budget. Knowing these factors will help you decide which of these tactics will be suited to your business.
Content Marketing
Creating blogs, videos, guides, and other content can be a great way to establish brand awareness for your company and generate leads. As an organization grows in content marketing maturity, its success is likely to increase; only 28/% of manufacturers rated their content marketing as mature or sophisticated, but of those companies, 41% said they were very successful with content marketing.
For example, GoPro is a manufacturer of action cameras that dominates when it comes to content marketing. They post videos of people using their products in action, recording space jumps, helicopter rides, the flight of birds—anything you can dream of! As of July 2019, their YouTube channel has more than 7 million subscribers.
Their content instantly goes viral, as it gives people the opportunity to live through the videos and experience things they normally would never do.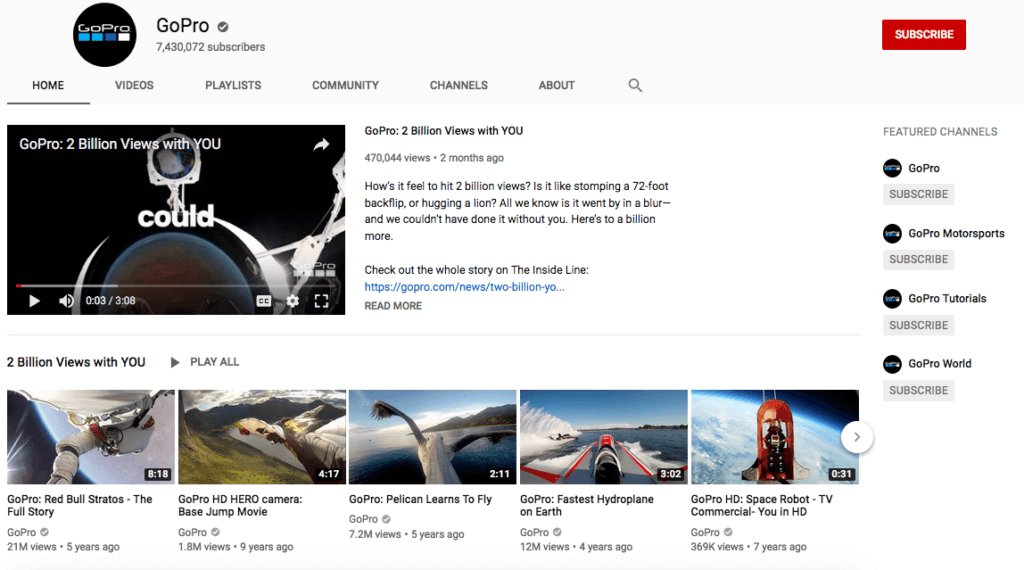 Paid Search Advertising
71% of manufacturing marketers report using search engine marketing, making it the top paid method in the industry. If your audience primarily uses Google or other search engines when researching their problems, pay-per-click advertising can be a good strategy for specifically targeting your buyer personas and showing up in the right searches.
Email Marketing
How you use email marketing will ultimately depend on your goals. Outreach emails, for example, can help build awareness and drive sales, while lead nurturing and customer follow-up emails can help you engage with potential customers and deepen your existing customer relationships.
Social Media Marketing
Choose 1-2 social networks to focus on. These should be networks that your audience is actively using, which will allow you to engage with them and build brand awareness. Make sure you are using the right mix of helpful, promotional, and entertaining content. Need an example? General Electric is a B2B manufacturing brand known for its presence on social media. In this Instagram campaign, GE got 6 influencers and several fans to do the #GEInstaWalk. These influencers got to tour GE's manufacturing facilities while taking and uploading pictures on Instagram.
The result? GE generated 8 million views of their account and 3,000 new followers with no paid advertising.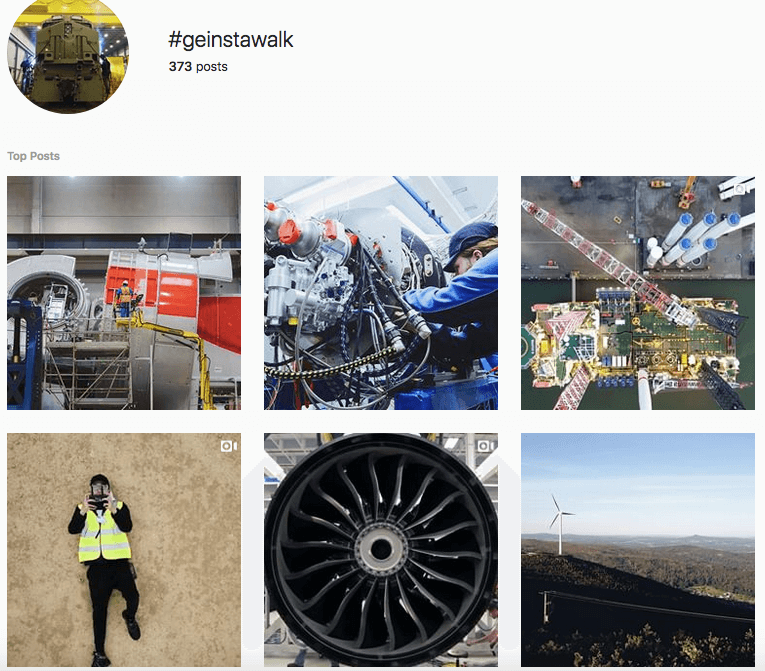 Local Optimization
If your business is focused on a local demographic, marketing specifically to that area through geotargeting, local online profiles, and other local optimization can be a great way to penetrate that specific market.
Measure and Modify
When you begin to choose your first 2-3 marketing tactics, you may feel like you're under a lot of pressure—but don't worry! The best part about digital marketing is that it is measurable and adaptable; you'll be able to consistently measure and monitor your tactics to see what's working and what needs to be changed.
Make sure to continually measure the success of your digital marketing tactics against the goals you set for your company to determine if you're seeing a positive ROI. Some of these tactics take time to see a return on, but if a digital marketing tactic is consistently showing a negative ROI, it is time to either revise or to consider focusing on a different way of engaging your audience.
No matter which manufacturing digital marketing tactics your business chooses, make sure you are continually returning to these points. Your audience's needs and tastes are always changing, as are your company's goals and resources. Take a deliberate approach to your digital marketing strategy, get started, and then continuously measure and modify.
Need help getting your marketing strategy started? Reach out to us! We at New Perspective have experience using these digital marketing tactics to get real results for our manufacturing clients—and we're ready to help you too! Contact us today to get started.