Location-Based Marketing: 4 Best Ways to Use It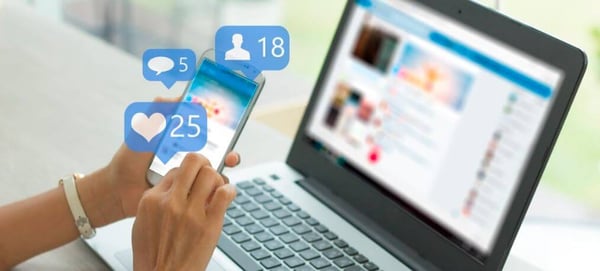 Marketing is a whole different animal than it was several years ago. Instead of sending one message to the masses, companies are now targeting their advertising to meet the interests of their audience. One excellent method to segment your audience is to use location-based marketing. Learn more about how your organization can take advantage of this technology trend.
Location-Based Marketing: Social Media
Social media has taken over the lives of almost every American Millennial, making them the perfect target for your next local advertising campaign. The majority of people who use social media spend most of their time online on their phones instead of at a desktop computer, making location-based marketing perfect to reach this crowd. There are dozens of ways to use social media to target people in a certain area, but some of our favorites include:
Check-ins: Do you run a local restaurant? Use social media apps such as Yelp or Foursquare to host special offers and sales to encourage foot traffic for your location. For example, diners who check-in will get $5 off their purchase.
Geotagging: This is an excellent way to interact with your community, curate user content, and possibly host a contest. Most social media applications allow users to tag their location, such as Facebook, Twitter, Instagram, and Snapchat. For example, a fitness studio can view comments about people's workouts on Twitter or check out gym selfies on Instagram. With the user's permission, the fitness studio can reshare the person's post on its own feed. Sure, people love the carefully calculated social media posts your feed usually consists of, but user-generated content will never cease to make your followers happy.
Branded Hashtags: While this doesn't necessarily have to be done in a particular location, having a branded hashtag for an event is a great way to bring people together and reach your audience. Consider using a branded hashtag in your event planning for your next hosted event, product launch, conference, or trade show.
Triggered Notifications
Probably the most common location-based marketing technique, triggered notifications are launched when a user is within a certain proximity of your business's location. One thing to keep in mind, however, is that users need to opt into this advertising. There's a variety of different ways the message can be triggered, such as through text message or app alert. Most often geofencing is used, and the message can be triggered in close proximity or even inside your store. For example, someone could be working out inside your gym and get a notification that protein shakes are half-off for the next hour. Or, someone could be in the neighborhood of your pizza store and get a notification for a free drink coupon.
Out-of-Home Marketing
Out-of-Home Marketing comes in a lot of shapes and sizes, such as billboards in an airport or the side of a bus. Our personal favorites are ones that blend traditional advertising with technology. For example, there are smart digital billboards that use information pulled from passerbyers and local data such as the weather to display a custom message. Even if someone walked by three of the same company's billboards on their bike ride to work, there's a high probability that each message would be different.
Location-Branded App
While not every company has the budget to build its own mobile app, it's an impressive goal to work towards. There are endless possibilities for location services within an app, from providing users with locations of your businesses, or businesses relevant to your company. For example, think of any banking or fast food app. Most apps allow you to do business or place an order, but many apps also give you the opportunity to find an ATM, bank, or restaurant nearby. The Starbucks app provides you with a list of the nearest stores.
Does your company manufacture a particular product? Charmin created the "SitOrSquat" App that used a person's location to share whether the closest clean bathrooms are. Users can interact with locations by leaving comments or voting on the cleanliness of the bathroom. This is a very unique and clever idea that ties in with what the brand stands for – a pleasant experience in the bathroom.
Digital traffic drives foot traffic. We specialize in generating the first. Schedule a free consultation to uncover solutions specific to your business.