How to Turn Your Blog Posts into Offers with Ease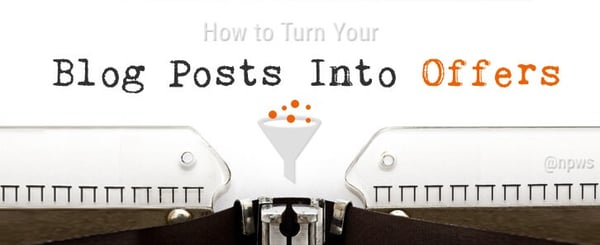 One of the keys to successful marketing is establishing your company as an industry thought leader. One of the best ways to accomplish this is by regularly posting helpful and insightful content to form relationships with consumers and others in your industry. Having a company blog is an obvious way to quickly and easily post content that will engage your audience. Writing a properly optimized blog post can take several hours and although you're educating the public, you also want to reap some benefits from your efforts. Today we're going to explain how to repurpose your blog's content into other valuable content offers, such as ebooks.
Why ebooks are essential to content strategy
Ebooks are the perfect tool to not only educate potential customers, but also establish your thought leadership in your industry. People will start associating your brand with providing quality information. Because ebooks provide a lot of value to consumers, and are full of helpful information, you should always put ebooks behind a form. When consumers fill out the form to download your ebook, they'll become leads in your sales funnel.
Decide on your topic
Ebook creation is a labor-intensive task, so it's crucial to select a topic that will compel your audience. There are two different methods you can use when using blog posts to compile the content of your ebook. One method is to use Google Analytics to see which topic you've blogged about is performing the best or which posts have the most interaction (comments, "likes", shares, etc.) Individual blog posts are not as much of an investment as an ebook, so if you would like to test out a topic, dip your toes in the water by posting a blog or two and see how it performs.
The second method is to decide on an ebook topic that is highly relevant to something your company does. If your company sells solar panels, for example, you may want to create an ebook about solar energy basics. Once you have your topic, you can then break the (typically large and broad) topic down into various sub-topics. (An outline is a great way to accomplish this.) You can create various blog posts that address each of the ebooks sub-topics. You then get an extra bang for your buck because you've created blog content and content that can be repurposed for a section of your ebook!
Create an outline
Organizing your blogs into an outline for a cohesive ebook is probably the most difficult task in the creation process. If you're stitching an ebook together from existing blog posts, this outline will help you discover where there are information gaps between your blogs, and what additional content will need to be created to bridge the various gaps.
Write an Introduction and Conclusion
The good news is that your readers are already interested in the content of your ebook because they downloaded it from your landing page. Writing an introduction will solidify why your ebook is valuable and worth their time to read it. Adding a conclusion solidifies your expertise in the area by discussing how your company fits into the topic at hand. You can provide additional informational resources your company offers and calls-to-action to tell them what to do next. Remember that ebooks are not sales pitches or catalogs, so mention of the services you offer should only appear at the end when the customer is ready to move further down the sales funnel.
Editing the copy
An offer is a piece of content that is locked behind a form, so make sure that you're providing content that you would be willing to give your personal information to download. Just because the majority of your ebook is comprised of previous blog posts, this does not mean that you get to copy and paste each post and call it a day. Do some research to fill in the gaps you found when creating an outline and add whatever copy will best help the topics flow. When reusing exact text, make sure that you remove time sensitive words such as "last year" and "yesterday" because they will have no meaning to the reader. Also, if repurposing older blogs, make sure that all of the information is up to date, which may require additional research.