Climate-Positive Businesses: 6 Sustainability Trailblazers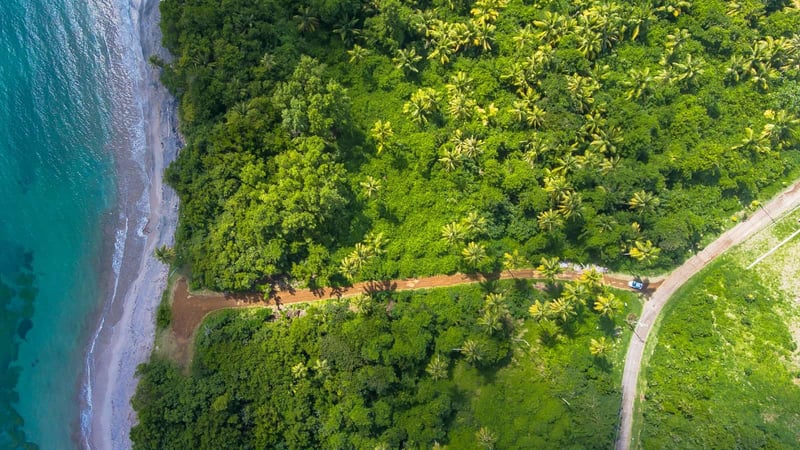 The release of the International Panel on Climate Change AR6, WWF in-depth reports, and the discussions at COPs have brought climate conversations to the fore and ignited a sense of urgency among both the private and public sector.
As we're hearing from the cleantech leaders and innovators we talk to on the Green New Perspective podcast, it's an exciting time. We thought we'd highlight what some of our podcast guests — as well as a company we partner with — are doing. From soil DNA sequencing to circular fabrics to water-saving roads and renewable construction materials, their solutions are transforming our approach to sustainability.
Soil's Role in Sustainable Agriculture
BiomeMakers was founded in 2015 by microbiologist Alberto Acedo and economist Adrián Ferrero in Silicon Valley. Their focus: providing soil microbiome data to enable informed decision-making in the agricultural sector. Advanced microbiome analysis helps farmers optimize crop production, minimize the environmental footprint and cultivate healthier soils.
The concept has gained plenty of traction — and created a thriving intersection between scientific and agricultural communities. The firm has support in over 40 countries and established over 200 industrial partnerships. Want to learn more? Head to our podcast conversation with Ferrero, who gave us the dirt on being a climate-forward CEO.
Running Circles Around Fast Fashion
Swedish cleantech company Renewcell is countering fast fashion's toll on the environment. Rapid production and consumption cycles play a key role in water scarcity, chemical pollution and landfills overwhelmed by textile waste. Renewcell's solution is Circulose®, made from discarded cotton and viscose. "We're producing raw material, but instead of farming cotton or cutting down trees, we use 100% textile waste," said Nora Eslander, Head of Communications and PR at Renewcell. The approach is a powerful disruptor of the "take-make-waste" model — instead it conserves resources, reduces waste, and shrinks the fashion industry's environmental footprint. Our discussion with Eslander on the podcast was fascinating, from the company's discoveries in R&D to what comes next.
Carbon Offsets with Impact
Despite the recent news that a certain mega offsetter isn't really helping, here's two who are. First, there's Handprint, on the forefront of naturetech. The company is moving beyond traditional offsets. It's a global "regeneration platform" enables individuals and organizations to offset carbon emissions and get involved in activities with a powerful environmental impact — from reforestation to gender equality to ocean health. By calculating and offsetting their carbon footprint, individuals can contribute to the fight against climate change and create a "handprint" of positive environmental actions. We brought Handprint's cofounder, Dr. Simon Schillebeeckx, to the podcast for a frank conversation about the victories and the obstacles, and it's worth tuning in.
Choose your allies wisely when it comes to sustainability — and that's why we chose to partner with offset innovation number two, Ecologi. They make reducing our impact on the environment easy, and we can see how we're doing on their user-friendly platform, where each user has their own profile. By working with Ecologi we've been able to support projects from a wind power project in Mexico to solar in Egypt.
A Concrete Plan for Managing Water
The combination of increasingly powerful storms and spreading urbanization is fraught with issues, from flooding to the loss of stormwater to runoff. Enter AquiPor, whose low-carbon, permeable concrete allows water to infiltrate through the surface, reducing runoff and replenishing groundwater reserves. This greentech innovator is also utilizing coal ash — a waste product from coal plants — in its cement. It's a triple advantage of low carbon, permeable cement, and finding a way to use harmful waste that can keep cities safer from the impacts of climate change. We talked to AquiPor's cofounder Greg Johnson on the podcast, and it's a conversation that will give you hope — and a whole lot of eye-opening information.
Low-Carbon Construction
Traditional construction materials have a carbon footprint that's anything but environmentally friendly. Idaho-based Hempitecture developed a sustainable alternative, Hempcrete — a bio-composite material made from hemp fibers and a lime-based binder. It's renewable, biodegradable, requires minimal energy to produce, and offers superior insulation. Cultivating the hemp used is a boon for soil health that reduces the use of pesticides, herbicides, and water. We talked to Hempitecture's Growth Operations Specialist, Jonnie Pedersen, about how the company is redefining the construction industry and building (literally) a better future.
Company by Company for Global Good
The takeaways in our podcast series aren't bound by a business's own parameters. What we hear again and again is that it's not just about product or service — it's about a whole lot more than that. The excitement within cleantech and greentech right now is about the promise of solving a global crisis. But leaders know it's going to take more than technology. It's going to take systemic change. Everyone needs to play a part and commit to environmental stewardship and sustainable practices, no matter how small they might seem. Together, we really can change the world.
Subscribe to the Green New Perspective podcast to keep up to date on the latest happenings in cleantech.