Cleantech Marketing Toolkit: What We Use and Why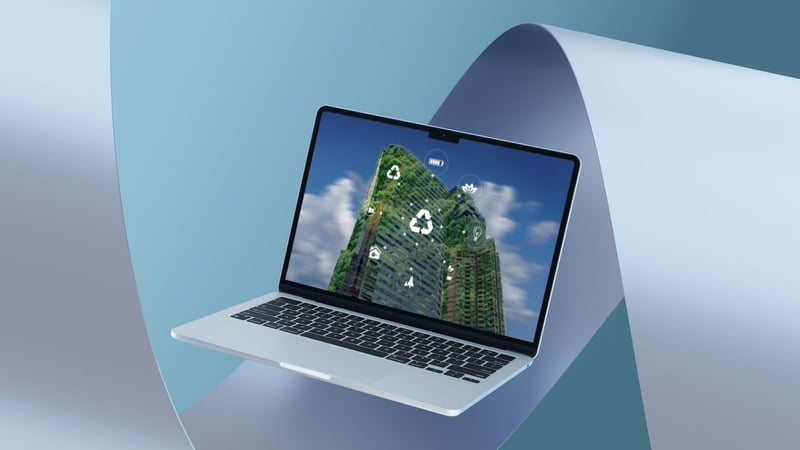 In any industry and any trade, if you're going to do the job right, you need the right tools. In the case of cleantech, your product or service is of particular importance. Getting it into the right hands and finding the right clients to work with is important not only for them, but for the greater good. As a cleantech marketer, your toolstack needs to be sharp and efficient — from creating assets to managing your clients.
The toolkit we'll cover here isn't just for cleantech, but it's definitely advantageous. They not only saves us time in every department, it helps us standardize the quality of our work — so every one of our clients gets maximum value out of their engagement. As you continue to develop your own internal processes to blow your clients away, these are tools well worth considering.
HubSpot for marketing automation
HubSpot is a champion when it comes to marketing automation. One platform offers a wide range of capabilities across sales, marketing and production, making processes far more efficient.
Its robust CRM empowers the sales team to manage and track contacts all the way through the sales cycle — from lead to prospect to customer. Hubspot's CMS and marketing platform allows you to effectively manage your online presence, run specialized marketing campaigns from end to end and track your performance so you can amp up your lead generation.
Our favorite features and benefits of HubSpot include:
Drag and drop website and landing page builder means you can create and update web content in a flash without needing a developer's help. With its template library, you can start with a professional design.
Lead nurturing capabilities and custom workflows ensure you deliver the right message at the right time to the right people. Build and track targeted email and campaigns that are fully integrated with specialized workflows.
Search Engine Optimization provides automated tips and helps you learn how to boost your content performance in SERPs (search engine results pages).
Personalization capabilities mean you can improve your conversion rate by tailoring your content for your specific audience and customizing it for each stage of the buyer's journey.
The best part about HubSpot is that the different branches of the platform (the CRM, CMS and Marketing Suite) all work together smoothly, each supporting the other. A clean, well-maintained CRM will support effective, and personalized marketing efforts.
Successful marketing efforts and custom, insightful reporting supports designers and developers on building website and marketing assets that work best for your specific audience. The HubSpot-enabled coordination and collaboration across the different departments in your organization means that when one succeeds, you all succeed.
Figma and Canva for visual design
When it comes to visual design there are two browser-based tools we lean on time and again: Figma and Canva. Both offer an array of features to help create the design assets you need for web projects and marketing campaigns. Each serves a unique purpose and has its own individual benefits.
Figma
Figma is a collaborative prototyping tool that gives users a totally blank slate to work from. Designs are mocked up using 'frames' — which essentially act as containers for all the elements used in individual prototypes for a project.
You can start from preset dimensions with all the common specifications for desktop, mobile and print. With each project being its own blank slate, you can have multiple frames and prototypes making it a dream for UI (user interface) and UX (user experience) design. No more juggling multiple files.
Figma allows you to work through the different screen sizes of your design in the same window. There are so many things we like about this Figma, and it continues to increase its capabilities. To highlight a few:
Collaboration capabilities mean you can share your designs with your team and they can jump in and make their own edits. Figma also has whiteboard capabilities so your team can collaborate in real time — fantastic for brainstorming meetings.
Extensive library of templates, components, and plugins helps accelerate the design process — and keep a cohesive visual identity — with professionally created assets and elements for your projects. You can also build libraries of your own with your brand's colors, fonts and styles.

Inspect tab enable

s you to easily exchange design values and codes with your development team. From variants and colors to shadows, attributes, contents, typographies, and borders, all these elements can be effortlessly referenced by team members to speed up production.
Canva
Canva is a game-changer, empowering even the most inexperienced users to create stunning visuals and graphics. The user-friendly interface makes designing easy for everyone from novice to pro.
With a vast library of design elements, Canva provides all the resources you need to spark creativity and make visually captivating designs. It also offers seamless integration with popular social media platforms, so sharing your new designs is easy. Among our favorite benefits and features:
Extensive template library with tons of options for professionally designed graphics in a wide range of applications, including social media, advertising, cover images and profiles. There are even templates for more complex assets like eBooks, websites, print, and more.
Brand hubs in Canva allow you to create a central 'hub' for your brand by uploading and selecting dedicated imagery, logo variations, fonts, and colors. You can access all of your brand hubs from the project editing window, making it easy to create designs that are brand-compliant.
Video and animation tools including templates and in-app features allow you to create dynamic assets like videos and animated gifs. As this functionality continues to expand and evolve it's getting easier and easier to wow your clients with motion.
Photo editor enables you to remove backgrounds with a single click, erase part of a photo, and apply filters and effects.
Agorapulse for social media managment and post scheduling
Agorapulse is a managing and scheduling tool that can play a crucial role in your social media strategy. Streamline your marketing efforts across social platforms with features like scheduled posting, advanced analytics, and centralized account management.
Agorapulse can help your team to maintain a strong, consistent social presence, save time, increase engagement, and improve brand visibility — which ultimately helps your bottom line. Here's a list of some of its key features:
Organized, centralized inbox

is the hub of the platform, providing a clear, top-level view of each of your social accounts and your activity including comments, mentions and messages. Use the Inbox Assistant to set rules that maintain and organize your accounts automatically.
Advanced post scheduling saves time and effort by planning and organizing your content calendar ahead of time. Automating the posting process means you can focus on more impactful tasks, such as strategic development and building relationships with your audience.

Enhanced analytics

with a Social Media ROI feature empowers your marketing team to make data-driven decisions to finetune your strategy and get the most out of your investment. You can easily set up and track customer's engagement levels and behavior patterns across devices with powerful GA4 (Google Analytics 4) integration.
Basecamp for project management and alignment
Basecamp enhances transparency, accountability and alignment across a project. It's a must have for any company looking to elevate its project management effectiveness. It's simple to use and people tend to pick it up fast. It will keep your day-to-day organized; keep eyes on dedicated projects (just invite the relevant internal team and clients); and has an updatable dashboard view that makes it easy to prioritize the tools your team needs. To be honest, we swear by it. Some of our favorite features include:
Progress tracking tools offer simplified to-do lists and shared scheduling to keep track of your priorities and progress.
Organizational tools help you communicate more effectively through threaded messages, and keep all of your documents organized in a central location.
Staying in touch tools such as the pings function for individual team members and the campfires function for groups make it easy to reach out and discuss whenever you need to.
Google Analytics 4 for data-driven insights and tracking
GA4 — or Google Analytics 4 — is a powerful new version of Google's popular platform that allows you to monitor and gain valuable insights from your website's traffic patterns, user behavior, and campaign performance data. Every organization should be leveraging data to make more informed decision-making and enhancing the audience's user experience. Improving marketing strategies, and achieving a healthy ROI are certainly important in the fast-moving cleantech arena. Among the major benefits of GA4:
Enhanced tracking and measurement

helps you improve your tracking capabilities and measure traffic and user engagement across different websites and apps, gaining a deeper understanding of user behavior and interaction.

AI-powered insights

apply machine learning and predictive analytics to help you make educated decisions and sharpen your campaign strategy.

Deep analysis and customization

enables you to run custom analysis on your data, free from the limitations of pre-defined reports. You can access deeper insights and create custom reports tailored to your specific needs.
SEMrush for SEO and content marketing strategies
SEMrush is an impressive platform with powerful features — 55+ in all — for improving SEO and strengthening content marketing strategies. It generates valuable insights into your competitors' various strategies and behaviors including keyword research, social media, advertising and traffic analytics, allowing you to stay competitive. Really, it should have everything you need to get started on improving your visibility and performance on search engines. Some of our favorite features and benefits are:
Powerful keyword analysis

to give you a detailed look at the keywords your competitors are targeting, their cost and effectiveness. These insights can help you optimize your website content with high-performing, proven, relevant keywords that increase your search visibility.

Comprehensive site audits

enable your marketing team to help identify technical SEO issues in your site and opportunities for improvement.

Competitor insights

help you identify your competitors and learn their strategies — such as their choice of target keywords and cost, as well as their performance across social media platforms.
Staying ahead of the pack
Cleantech marketing needs to be strategic and smart — and these tools give you the kinds of data, competitive insights and wisdom you need to stay ahead in such a fast-evolving space. We encourage you to explore and implement these tools into your own strategies. If used correctly, this is a toolkit that brings clear value to your bottom line by empowering your team to:
Simplify your content creation, marketing and project management processes.
Create visually captivating assets and site content that resonates with your audience.
Make educated decisions based on data-driven insights, into your competition, social media, paid advertising performance rankings and so much more.
Looking for an expert option?
Our team is passionate about sustainability and the cleantech marketing space. We have helped a number of our clients elevate their marketing and get the results they are looking for. Together, we can make a meaningful impact in the world of digital marketing and beyond.