French Power Solutions Company Electrifies US Market Presence
SOCOMEC
Founded in 1922, Socomec is an industrial group with a workforce of 3100 people. Their core business – the availability, control and safety of low voltage electrical networks with increased focus on their customers' power performance.
INDUSTRIES
Electronics, Manufacturing, Electrical Equimpment Manufacturing.
COMPANY SIZE
1001 – 5000
HEADQUARTERS
Benfeld, Alsace, France
SERVICES WE PROVIDED
Inbound Marketing, New Website, Alignment of Marketing and Sales teams, Content Strategy.
A NEW PERSPECTIVE SUCCESS STORY
Energy Solutions
For The
Future
Socomec is a family-owned electrical equipment design and manufacturing company based in France that specializes in low voltage energy performance products. They have a rich 100-year reputation for excellence in their home market.
In the USA, not so much.
Designers of innovative power solutions which consistently deliver for customers in terms of safety, service continuity, quality and energy efficiency Socomec are world-renowned for the design and engineering excellence of their wide range of products.
Socomec decided it was time to break into the highly competitive North American market by staking a claim for the brand.
How could they best translate a well-known French corporate brand for a US audience?
"With New Perspective's 'problem solver' approach and continuous support, we were able to launch a beautiful website and create an entire inbound marketing strategy from scratch to help us increase our brand awareness and generate leads. I would recommend New Perspective without hesitation!"
The Challenge
Socomec had three primary goals when they reached out to New Perspective. The mission was to:
Improve The Quality and Quantity of SIte Traffic
The biggest obstacle to Socomec's success was its digital presence and visibility in search. The website wasn't generating the leads and revenue it needed to grow.
Improve Conversion Rates
"We were barely getting any online visibility for the most relevant search phrases. Our user experience needed work, and few of our visitors were converting into prospects," said Cragan.
Target the right US audience with Inbound Marketing
"Socomec's marketing approach was also a major roadblock. "We were completely unfamiliar with inbound marketing," explained Cragan. "Our website lacked strategy, and we didn't know how to address our modern buyer's needs."

What our partnership delivered:
New Perspective completely redesigned Socomec's website to improve its brand messaging. Downloadable offers such as ebooks and white papers were added to encourage conversion.
"The redesigned website is a big improvement over the old site," said Cragan. "It is mobile responsive, user-friendly, attractive, has conversion points, and our traffic has increased dramatically."
In order to help them hit their company goals for the year, we:
LAUNCHED A FULLY REDESIGNED AND MODERNIZED WEBSITE.
CREATED A CONTENT STRATEGY TO SPEAK TO THEIR MULTIPLE BUYER PERSONAS.
DEVELOPED A PLAN TO ALIGN MARKETING AND SALES.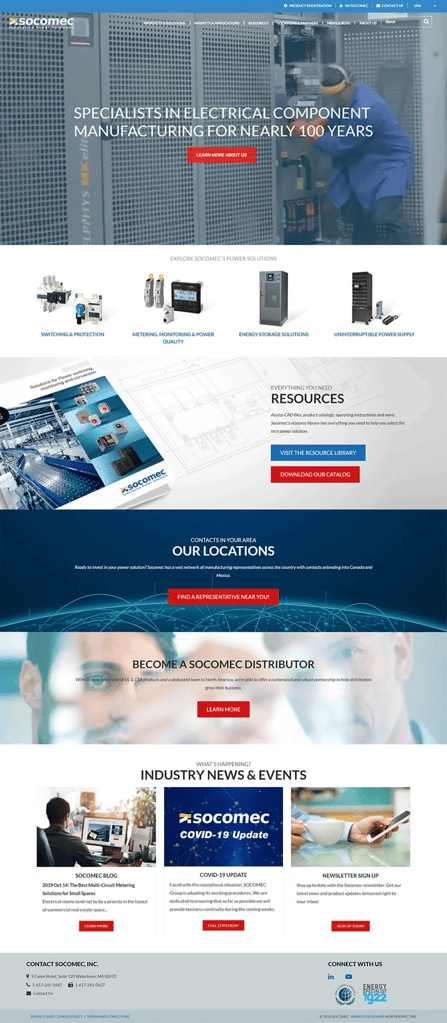 For the first time, Socomec implemented blogging as part of their strategy. We created various types of blogs that would address the issues faced by their ideal partners. Socomec went from never publishing content to publishing multiple audience-targeted blogs per month!
In just over two years, Socomec's online presence in the US drastically transformed. And the numbers don't lie:
341%
INCREASE IN LEAD GENERATION
(Year-over-Year)
174%
INCREASE IN CONVERSION RATE
(Year-over-Year)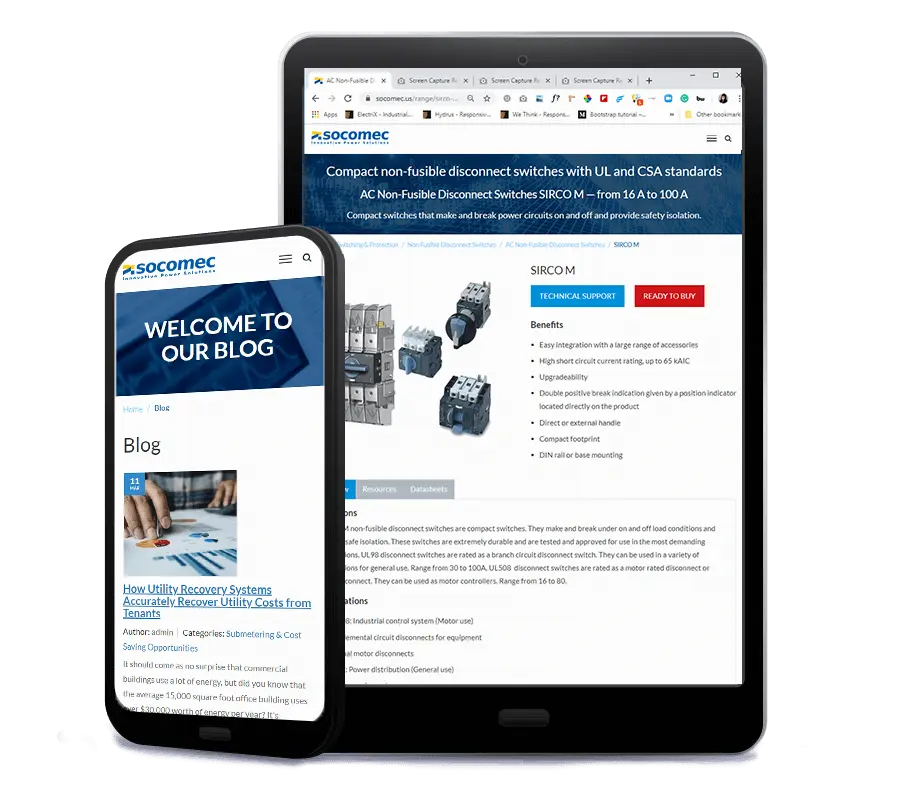 Digital transformation of your business starts now