Agriculture tech company sees 297% increase in conversion rate
Living Greens Farm
Revolutionary Indoor-Grown technology. Grounded in Midwest farming tradition.
INDUSTRY
Agriculture, Agri Tech, Indoor Farming
COMPANY SIZE
11-50
SERVICES WE PROVIDED
Content Engine, Video Content, Social Media Management, Sales & Marketing Alignment

The Living Greens Farm Story
Living Greens Farm is an indoor Aeroponic farm enterprise straight out of a Matt Damon film. The company leverages cutting edge technology to grow leafy greens without pesticides or herbicides. Anywhere.
Compared to traditional farming, the process uses 95% less water, requires a fraction of the land, and emits 95% less CO2—a corporate commitment to sustainability that adds up to a big green win for the environment
How can we build brand awareness and drive revenue growth for the tastiest and most nutritious greens on this—or any—planet?
The Challenge
As a new, venture capital-funded company, Living Greens Farm needed to achieve a number of business objectives in a short timeframe while managing the expectations of investors, retail partners, and consumers. They had two distinct goals:
1) Increase Qualified Traffic to Website for B2B and B2C Traction
Living Greens Farm needed to find qualified businesses to license the company's vertical farming technology around the world. They also needed to drive consumer demand; by letting buyers know where to find retailers carrying their products, they could increase sales and turn these buyers into loyal brand advocates.
2) Increase Brand Awareness
In addition to bringing qualified traffic to their website, it was important to Living Greens that their brand made an impact with potential buyers. They wanted to expand their audience and keep the Living Greens brand top of mind with consumers visiting the produce section. The benefit of increased brand awareness was twofold: consumers who were interested in the brand would go out of their way to purchase it at their local stores—and the increased demand for their product would help them close business relationships with additional grocery stores.
What Our Partnership Delivered
Living Greens wanted to establish the brand as a preferred choice for fresh, sustainably produced greens within the highly competitive supermarket produce section. Further, they wanted to leverage enthusiastic word of mouth and consumer demand to drive new retail partnerships. New Perspective was ready to make it happen.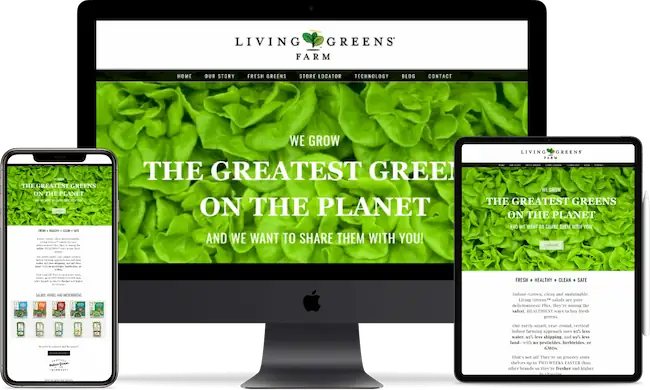 Content Engine
We created a tactically-driven cadence of Thought Leadership and educational content, including vlogs, blogs, and webinars, to help consumers understand what makes Living Greens product the healthiest, safest, most nutritious and eco-friendly choice they can make in the produce section.
Video Content
We created a highly impactful brand video for Living Greens which introduced the concept and benefits of aeroponics to consumers. The video generated conversation amongst viewers and drove interest for the brand.
Social Media Management
Driving brand awareness was a must, and social media was a big part of that. We managed several highly successful social campaigns that drove targeted traffic to their website and helped drive new leads.
Sales & Marketing Alignment
Working with the Living Greens Farm team, we developed a plan to align sales and marketing activities. Together, we created impactful content that captured their personas' interest, which the sales team was then able to use to nurture leads and close sales.
The Results
BEST. SALES. YEAR. EVER.
– SOUNDS LIKE SUCCESS TO US.
With the launch of the Living Greens Farm website and integrated marketing strategies including targeted inbound marketing tactics, thousands of leads were converted into loyal customers who, in turn, promoted the Living Greens brand to friends and family. We'll let these numbers speak for themselves:
158%
Increase in Lead Generation
(Year-Over-Year)
297%
Increase in Conversion Rate
(Year-Over-Year)
8246
Clicks to Store Locator Page
874
Shares of Video Content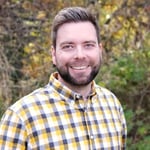 NATE KLINGLER
VP of Business Development
Living Greens Farm
★★★★★
"From Day One, New Perspective asked a lot of questions and did a lot of research. The team had a strong desire to immerse themselves in our company and the industry in order to add maximum value to our efforts. They consistently come to the table with relevant solutions to help meet our goals. Their natural curiosity and the professional and experienced nature of the team is why we chose to partner with New Perspective."
Digital transformation of your business starts now