Planning a Website Redesign? 10 Vital Questions to Ask First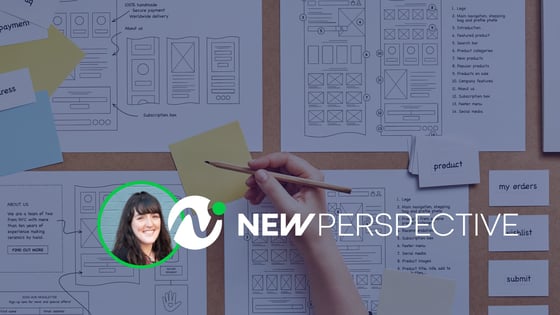 Your website is a 24-7 representation of your business and your brand. It can be a very useful tool to perpetuate sales and streamline growth and it's an integral part of any holistic marketing strategy.
But websites aren't static objects. There's always room for improvement. It's a good practice to periodically revamp, redesign or refresh your site. Just tackle the project with purpose, planning and a solid strategy for the best results.
We went to our senior designer Caitlin Tupper, to get her take on the critical questions she wished everyone asked going into a redesign. Caitlin's got tons of experience steering website projects to a great outcome, so we thought she'd be a good one to ask.
The questions she shares out here cover the goals, the roles, the content, the audience, the guardrails, the team, and a lot more. As Caitlin said, "Go into a revamp or a redesign knowing what you're doing, where you're going, and why. With so many moving parts, you need to stay focused on the big picture."
10 key website redesign questions to ask before getting started
1. What is our budget and timeline?
Caitlin Tupper: Might as well start with the basics. Before you dive in, how much are you willing and able to allocate to the project? Limitations may determine whether you opt for an in-depth, time-consuming revamp or a less complex redesign — though the latter can be more expensive than you might think.
At New Perspective, we take a growth-driven approach to our redesign projects, which can be helpful when working with a limited budget or timeline. We prioritize strategy, and work closely with our clients to identify who the target audience is and what their primary goals are. We tackle the pages and elements most vital to the success of their journey first. Additional pages, content or features that don't have as much of an impact are put onto a wishlist for the future. We follow the 80/20 rule of prioritization: we focus on the 20% of collective activities that will drive 80% of the value to your customers for the initial redesign of your website.
2. What are our goals for this website?
CT: This is another fundamental question. If you don't know what your destination is, how will you know when you have reached it? Consider whether the primary goal of your website is sales-related, or focused on building your brand image through a digital presence.
Then focus on the specific key phrases you want to show up in search results, as well as the overall impression you want to convey. Do you want to greet visitors with an impressive high-tech display or something more traditional?
3. How will we define success?
CT: This isn't as abstract as it sounds. In fact it's pretty concrete, based on clear metrics. Establish the key performance indicators (KPIs) you'll need to measure success. Once you know these, you can start evaluating how the revamped site is working, starting on the day you launch and continuing to check and recheck over time.
4. Who is our target audience?
CT: I wish everyone knew how essential this question is. When you speak to everyone, you speak to no one. Your website needs to cater to who you want to do business with. So: Who do you want to do business with?
Everything on your site — from words to headlines to content to logo to visual elements to navigation — will influence a purchase decision one way or the other. Take the time to work this out and do the research before you embark on a redesign. Determine who it is you're talking to, what their demographics are, what their job position is, and what primary challenges your company can help them overcome. The strategist on our team takes pride in leading our customers through this during the planning phase. It's always gratifying to see how much it pays off.
5. What resources do we have and what resources do we need?
CT: By resources, I mean content. It's important to determine what content needs to be on your site. It's always a good idea to audit your existing content and determine what should be more accessible to your audience. This could be anything from imagery to brochures to product sheets.
Whatever company resources you have that could be valuable to your potential buyer can be adapted and included on the site. In other words, don't separate those assets: you need present, available content to help people along the sales journey. I've also seen companies that don't really have all the resources they need, and the website project is what prompts them to create those missing components.
6. Does our visual brand represent us in the best possible way?
CT: On your website, it is important that your brand is recognizable and well represented on every single page. You convey that visual brand through your logo, color scheme, fonts, imagery, and associated graphic style. If you haven't fleshed this out before bringing a new website to life, consider doing this as a first step. It's a great exercise in clarifying the brand you want to present to the world (and not just on a website).
More questions to ask:
When was the last time you redesigned your logo? Does it feel outdated? Is it strong and recognizable?
What about your brand: Have you built a strong set of brand guidelines that support your logo and graphic content? Hint: brand guidelines are invaluable from our point of view.
Consider the images you've got on hand: Do you have a bank of high quality images of your products, services and your people?
All of these brand assets work together to establish a modern and cohesive web presence. They will serve you well in other areas too.
6. Should we go for a full revamp or a redesign?
CT: Look at your existing website in terms of what value it brings your business now. It's a good idea to audit its performance to find out what's working and what isn't.
For instance:
What pages are already performing well in terms of keyword, ranking and conversion?
Are we currently getting enough leads?
Does the site serve a function that's on par with our present business goals?
Does our website help or hinder our teams? Ask the people who need the website to work for them. Find out what they wish was better. When it comes to due diligence, the shortest distance between two points (being direct) is usually the best.
Does our website reflect our present identity? Here's for-instance: Your website no longer reflects your new direction as a rapidly growing company with new products and projects hitting global markets. The website is still focused on pilots and testing. Doing a spot revision won't cut it. You'll need a revamp.
Is our website hard to maintain and update? Consider the upfront cost of a revamp and the costs saved over time versus opting for small changes that don't replace an out of date content management system. Technology around website development and maintenance is constantly evolving, and using antiquated methods is going to lose you visitors and potential leads. Even something as simple as loading time has a huge impact.
Does our website have the right content? If your website functions well, but each page is loaded with text you want to streamline, consider a redesign that builds off of the existing bones and framework of your current site.
Does our website have a good CRM? Looking into a more robust CRM to integrate with your new website to save your sales team hours of work, improve the quality of your pipeline, and bring in more revenue year-over-year.
7. What features does our website need?
CT: There are many things your website could do, but do you need (or want) every bell and whistle? Consider what you need your website to do for your team and for your customers, then use that information to decide what features your website should have.
The best news is that you don't have to start from scratch — we actually recommend not doing that. Instead, use a theme that provides different modules and a library you can draw from as you grow. Check out our theme on the HubSpot CMS (we call it B2B Engine Pro) and the modules offered there.
8. What websites do we like — and why?
CT: One of my favorite phases in a website project is looking at other sites together. It's an exercise that can be quite revealing: you find out what you like and what you don't. Avoid sticking only to your niche — look beyond competitors to brands outside your market. Think about the websites you like using and the ones you find frustrating. We encourage clients to take notes while browsing, and be objective and specific.
Each website has a different goal, to be sure. But knowing what yours is for your website opens up the opportunity for discovering a valuable feature you may not have known about.
9. What team members should be directly involved in the project?
CT: Websites can create interesting blind spots across an organization: you need to make sure the people who rely on it are included in the conversation. They may be too busy to participate on the regular, but you need their insights. They will know how products and services are being presented and know how information and content is landing with customers. They'll know if leads are falling between the cracks and probably have some inkling as to why. Others who should be involved include anyone who updates, publishes content or manages some aspect of the site now.
Invite their feedback and take the time to get a full picture of their needs and observations (and complaints). But here's where it can get messy: you need to make sure there is one point of contact responsible for all decision making and approvals. It is really hard to redo a website via ad hoc committee. Particularly if you're working with an agency, you need one person on your team to have clear authority, so review cycles and changes can happen smoothly.
10. Should we redesign the site ourselves or work with an agency?
CT: I saved this question for last, but of course it's related to the entire process and requires serious consideration. From experience, I can say that embarking on a website redesign internally can work, but it's not always optimal. It may be tempting to execute a website redesign internally to save yourself the cost of working with an agency. But consider all the time, resources and people power to get it done: Will that be taking up valuable bandwidth your team needs to do their jobs and be productive?
Another factor: the experience and skills available. An agency brings a level of expertise across numerous areas that you likely don't have within your own ranks. When it comes to something as critical and front-facing as a website, what you put into it has a direct impact on its success. An agency can help to drive the project strategically from a knowledgeable seat, working with your team to ensure your message is delivered effectively. The project becomes a partnership; the agency becomes an ally; and the website is a winner.
Our team would love to talk about your website needs and how we can help you achieve your goals
Reach out and schedule a free consultation today.