Five Rules for Successful Cleantech Marketing Strategy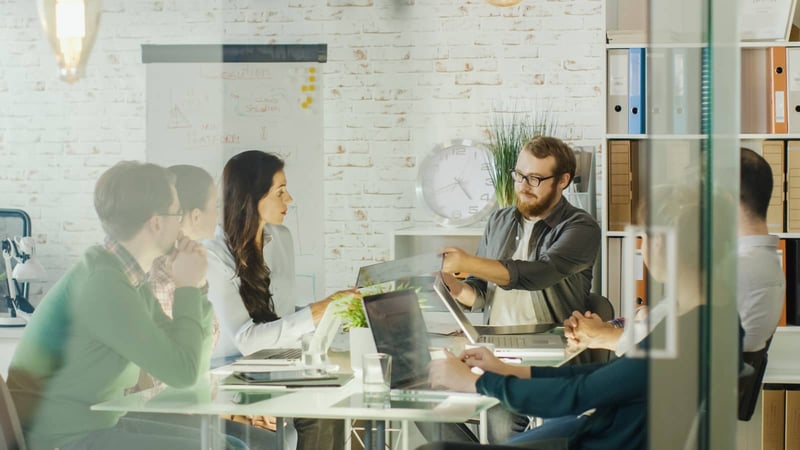 As we approach a critical climate threshold, it's vital to change the way we go about our day-to-day lives. That includes how we do business. If you're a key player in a cleantech company, it's likely you already understand the urgency. It's also critical to get your message out there about what you offer as an organization, so you can make a real contribution to change.
But cleantech is also a fast-growing, ever-shifting industry. To expand your presence and rise above the noise requires being creative and strategic. We tapped into our own experience helping our cleantech clients get out their messages and came up with five critical new rules for effective marketing. It's all about getting the right message to the right people at the right time.
Rule 1: Align sales and marketing teams
This is a universal, yes: The most effective marketing approaches involve everyone working in tandem towards a common goal. For cleantech, your sales and marketing teams need to align to provide the best experience for prospects, new business and customers. Bridge the gap between sales and marketing teams to help increase revenue, gain efficiency and streamline your business operations.
Need proof? Businesses that successfully align their sales and marketing teams are:
To get sales and marketing aligned:
Develop a shared understanding of the target audience. Have your sales and marketing teams work together to create a detailed persona that represents the people you want to reach. Include core challenges, pain points, and the unique solutions your company provides to overcome them.
Set common goals and KPIs (Key Performance Indicators). All of your subject matter experts should be working towards a shared objective. A single set of success metrics around revenue targets, lead generation and customer acquisition will give your team tangible benchmarks to track their progress.
Encourage clear and open communication. Make time for your team to have regular check-ins, aligning on shared goals and exchanging feedback. This will help build a company culture that prioritizes transparency and collaboration.
Rule 2: Scale demand generation
Demand generation as a marketing strategy focuses your efforts on getting people excited about your product or service — without trying to directly sell to them. Create and regularly offer educational content around your solutions. It should empathize with your audience and their challenges, and show that you share the same sense of the bigger picture when it comes to the environment and sustainability.
As far as content, it's important to understand how your customers tend to learn. Creating a diverse array of content will help expand your reach and attract a wider audience, giving them information in the form they prefer. We recommend:
Blog posts
Videos and webinars
Podcasts
Infographics
As you scale up your content creation efforts, pay close attention to what kind of content works best for your goals. This will help you stand out from your competition as a trusted industry thought leader, and may further revenue growth from new businesses and attract funding from larger investors.
Rule 3: Distinguish your brand
The global cleantech and sustainability market is huge: In 2022 it was valued at $13.76B, was projected to grow another $2.74B by 2023, and is predicted to reach an estimated value of $61.92B by 2030.
As the number of players rapidly increases, differentiate yourself from your competitors by scaling up your content engine. Consider these two other approaches to help you stand out even further:
Show the human behind the message. We're in the midst of a meteoric rise of AI-driven content. But it's still true that we prefer to do business with people we trust, not just machines. Make sure it's clear your message and content come from people, not algorithms and bots. How? Be authentic with your audience. Include bios of your team. Give everyone on your team the opportunity to offer their own diverse perspective and act as subject matter experts.
Don't be afraid to speak about the bigger picture or speak from your heart. At the end of the day, cleantech is about healing our planet and having a liveable future. Don't lose the meaning behind your messaging.
Strengthen your visual brand. The look and feel of your brand are far more than a superficial concern. Your visual brand needs to reflect your company's values and mission — and set you apart as well. Are your logo, colors, and branded graphics truly unique? Are your visual elements consistent across different channels, formats and kinds of content?
Visual consistency builds brand recognition, and that builds trust. Having worked with cleantech clients on creating brand books that solidify their visual presence, we know it's a highly effective strategy. Learn more about creating an overall brand book for your company.
Rule 4: Leverage marketing automation and technology
Scaling up your demand generation programs and creating diverse content takes time and resources. What helps: leaning into automation whenever you can, and using tech that integrates with existing platforms, like Gmail, Outlook, Office 365 and Google Workspace.
Marketing automation has been proven to drive an increase in productivity of sales up to 14.5% and reduce marketing overhead by 12.2%. 80% of marketing automation users saw the number of leads increase after using automation software, and had an increase of conversion by 77%.
Look for a reliable tech stack that includes the tools to cover repetitive tasks, such as HubSpot's CRM and CMS. With HubSpot's powerful automation capabilities, you can:
Use lead scoring to maintain momentum and prioritize high-quality leads.
Create sequences and automated responses for common questions (chatbots can help with this).
Tap into the data in your CRM contact records to personalize automated messages, eliminating the busywork but maintaining a personal touch.
Create email drip campaigns and intuitive workflows for every stage of the buyer's journey.
Rule 5: Focus on sustainability and social impact
Keeping sight of the overall mission is so important in the cleantech space. Every one of us is affected by climate change, and we have to work together to reduce it now. Becoming an active part of the larger community not only helps you expand your reach, but it shows that you're walking the walk.
Here are some quick tips for how your company can get involved:
Partner with local sustainability organizations and cross promote their renewable solutions.
Get out of the office and volunteer. Take part in social activities like local cleanups to meet people that share the same vision.
Collaborate with other sustainability thought leaders on diverse content that showcases their unique understanding and expertise. For one example of this, follow our podcast, Green New Perspective.
New goals, new rules
The cleantech space is on the forefront of creating a better future — and being in the field means being highly visible to a growing audience. All eyes are on you to promote sustainable innovations and earth-friendly solutions. In the case of cleantech, success matters more than ever.
If you're on the hunt for more tips, templates and tools to get you going, we've developed a free Cleantech+ bundle which includes ten marketing templates to kickstart your strategy and planning. Get your copy here.