Best Sustainability Podcasts: Cleantech, Climate Change, Innovation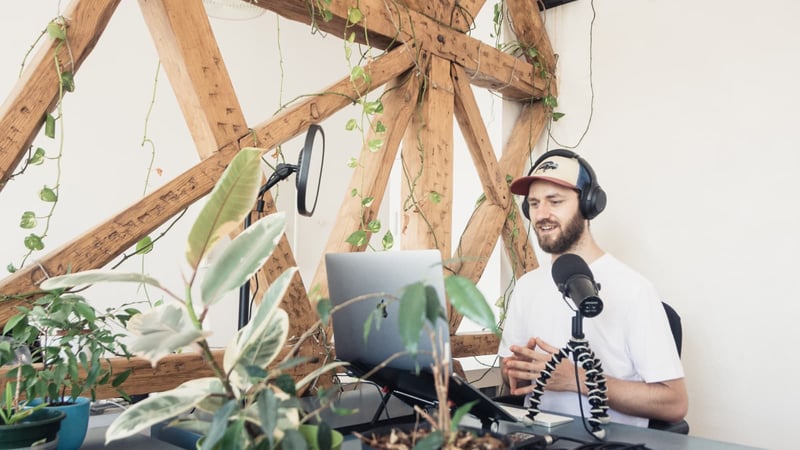 In today's digital landscape, podcasting has become a game-changer for sharing information and sparking meaningful conversations. For the cleantech industry, it's an ideal platform. Podcasts give B2B marketing a space to connect with a wide audience, spill the beans on insider wisdom and insights, and showcase groundbreaking solutions.
If you're focused on sustainability and environmental awareness, having a podcast gets you seen (and heard) seen as a valuable thought leader with credibility. Building that kind of trust and brand authority can attract clients, partners, and investors who share your passion for a more sustainable world.
Podcasts also tap into the power of inspiration and positive change. Sharing success stories, spotlighting innovative solutions, and diving into the latest advancements aren't just educational. It's a way to catalyze interest and contribute to the ongoing conversation. That's a recipe for increased brand exposure, word-of-mouth recommendations, and expanding your network of like-minded leaders in the industry.
List of best sustainability podcasts
If you're thinking of getting into podcasting or expanding your own streaming library, here's a list of the shows we recommend.
We'll kick things off by sharing our own:
Full disclosure: I host this show, and am thrilled to introduce it. We wanted to raise awareness and foster collaboration within the cleantech and sustainability sphere — and provide a platform for innovators.
Our guests come from the climatetech, naturetech, and biotech space, and include everyone from CEOs and founders to sustainability strategists and researchers focused on climate change issues. We talk about solutions, their business journeys, and what strategies have brought them the most success when it comes to development, investment, and marketing.
Some recent highlights: Adrián Ferrero, cofounder, and CEO of Biomemakers, on how the company uses its innovative technology to decode soil biology and improve soil health. We talked to Jonnie Pedersen, Growth Operations Specialist at Hempitecture on their leading role in hemp-based construction materials.
We look at the present and future of sustainability and how businesses can embrace sustainable practices to contribute to a greener tomorrow. The discussions are always fast-moving and thought-provoking.
CleanTechnica is a U.S. website for business news in cleantech, sustainable energy, and electric vehicles. Its weekly podcast dives into theory and practice.
Host Zachary Shahan, CleanTechnica's director, skillfully navigates complex topics and tends to lead highly engaging conversations, from news to analyses.
His guests include top investment experts, researchers, business leaders, and climate activists. If you're following advancements in clean energy, circular economy solutions, and sustainable transportation, this is a podcast well worth your time.
This weekly podcast cohosted by Joel Makower, cofounder and Chairman of GreenBiz Group, and Heather Clancy, the company's VP, and Editor-at-Large, delves into stories of the remarkable people and companies driving sustainable business and cleantech.
It covers a broad spectrum of topics — from renewable energy and sustainable agriculture to smart cities, circular economy initiatives, and the most pressing issues we face.
Weekly discussions cover current trends and policies in energy, cleantech, renewables, and the environment. Presented by Wood Mackenzie, it's hosted by journalist Stephen Lacey, policy expert Katherine Hamilton, and entrepreneur-turned-investor Jigar Shah, offers analysis, insights, and engaging conversations: Will Tesla successfully market solar roof tiles? Are electric airplanes really a thing?
This is the podcast to tune into and find out. It's been running for nearly five years and has over a hundred episodes out — as well as a devoted following of cleantech enthusiasts, called #EnergyGangsters.
Powerhouse, and Greentech Media, an Oakland-based coworking space and seed fund for solar software startups, produce this monthly, interview-based show on clean energy entrepreneurship. Guests tend to be clean energy entrepreneurs, providing their insider's perspective on the path to success.
Host Shayle Kann, senior advisor at Greentech Media, kicks things off; Powerhouse CEO Emily Kirsch leads the conversation. It's currently distributed through The Interchange feed: a subscription to that show includes this one. Plus, if you happen to be in the Bay Area, grab a ticket and attend a live taping.
Hoste Dawn Van Zant, founder and editor of Investordeas.com and a financial markets pioneer, focuses on the renewable energy sector. She offers a comprehensive overview of stock and investing news with a particular emphasis on cleantech and climate change.
The show explores trends, market developments, and emerging opportunities and has a good deal of credibility. Investorideas.com is a trusted platform for big investing ideas and has a reputation as a reliable news source in financial markets.
If you're an investor or individual interested in the intersection of climate change, cleantech, and financial markets, this show's for you.
Every Thursday, hosts Christiana Figueres and Tom Rivett-Carnac, who oversaw the landmark Paris Agreement on climate change, and CDP founder Paul Dickinson delve into the latest news from science, business, finance, politics, and culture and bring on guests who share both outrage and optimism — hence the title.
This is a must-listen for anyone seeking to expand their understanding of the climate crisis and find the inspiration to take action.
Start your own podcast
If you're considering starting your own podcast in the B2B space, we've got you covered. Check out our comprehensive Podcasting Guide for the essentials, from how to make compelling content that resonates with your target audience to how to run engaging interviews. Hop on board and join the conversation.