The Attendee's Guide to INBOUND 2022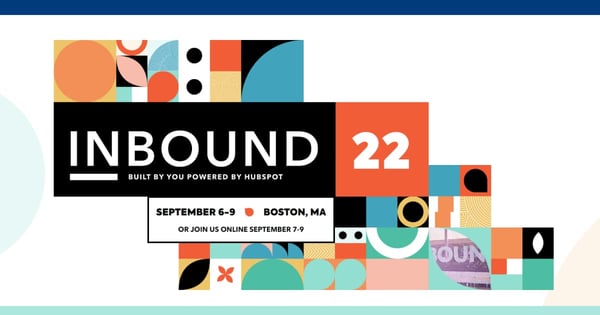 Ready for INBOUND 2022? It's coming right up. This year HubSpot's annual blockbuster conference runs September 6-9 and September 7-9 for virtual attendees. This is the first time it's a hybrid event, so if you can't make it to Boston, you can still make it — and should.
For anyone in marketing, sales, or customer experience, this is a can't miss. We've been attending INBOUND for quite a few years and each time we come away inspired, rejuvenated, slightly exhausted, and feeling like it's completely worth it. So we put together some key tips to help you make the most of a very good thing.
The Who
To call this conference packed is an understatement. The 14 featured speakers this year include headliner President Barack Obama, Viola Davis, Jane Goodall, and leaders from HubSpot, Twitter NTWRK, Good American, and The Hustle. There are 95+ breakout speakers as well. Dive in here to see the roundup.
As far as attendees, there are simply no other events like this in the world for marketing professionals — and INBOUND continues to grow. 15,000 attended in 2019. 60,000+ from 179 countries attended in 2021. This year? Well before the event some 161 countries were represented, and the hybrid set-up means more people can attend than ever.
The Where
INBOUND takes place in the Boston Convention and Exhibition Center (BCEC) in downtown Boston as well as an online multiverse of livestreams and virtual participation. BCEC is cavernous: 516,0000 square feet, 82 meeting rooms, a 40,000 square foot ballroom — but the energy and friendliness of INBOUND make it feel like the village square.
One amazing phenomenon we've noticed is that by the end of the 3 days you feel surrounded by your new closest friends, and new familiar faces are everywhere. There will be 10 different stages going and endless ways to join in virtually as well. But being in Boston is a plus — yes, we live nearby, so we're biased, but the city is a mecca for great food, drink, culture, and minds.
The Why
Everyone has their own reason for attending, but there are four elements this industry can never get enough of: education, ideas, community and connection. INBOUND is intentionally designed to provide plenty of all:
Education
Culture and best practices shift lightning fast these days — that's a given. Staying ahead of the changes and on top of the trends is a huge part of conducting business now. INBOUND is packed with educational events along different tracks.
Ideas
Whether you're an agency owner, tech maven, marketing pro, in customer success, sales or revenue ops, this is a rare chance to get a megadose of the best content, tactics and perspectives out there. At a time when we're often trying to cover all the bases at once — purpose, CRM, business, apps and integrations, the workplace, the workforce — this is a central hub of wisdom and inspiration that really delivers.
Community
The very theme of this year's event is community — how we build it, how we find it. (President Obama's Friday afternoon conversation is all about tapping into community, for instance.) And this is a global gathering of ambitious professionals who all share the same obsession: inbound marketing. I predict we're all going to be moved by discussions on how we find and solidify our communities and the central and seamless role technology plays. It's going to bring us all closer.
Connection
INBOUND is Ground Zero for finding allies and making partnerships. My team and I have witnessed some superb matchmaking take place. With a big part of this, even introverts can find a way to tap on their shoulders.
Your next collaborator / superstar / tech solution / marketing revelation could be in that virtual chat, sitting next to you in the keynote, or standing in line for the same food truck (yes, there will be amazing food trucks here). If you're already a member of the HubSpot community, this will likely be a great way to expand your network and your circles.
The How
The challenge is how to get selective and curate an overall experience that offers maximum value for your time (and your company's dime). There's way too much to cover. But the speakers and presenters bring their A-game to this one, so you can't go wrong.
Here are 6 essentials:
Have a purpose
Know why you're going and what you hope to get out of the event. Could be business goals, marketing strategies, a stronger network, intensive education (we're big on that here). If your company is struggling with something, INBOUND may have solutions. Then map your goals to the events and stay focused on them. The event can be overwhelming. It's good to have a North Star. Look for the sessions addressing your pain points.
Get registered
If you want to attend the hot sessions and you haven't yet, register right now if you haven't already. (Deep Dives and Meetups require reservations, but plenty of other events don't.) The clock is ticking and some tiers are sold out. And use the best tool at hand: get on the INBOUND app to make it easy to choose events, save them, and set up your schedule. Avoid the purgatory of waiting in the standby line if you can: while you're there, you're missing some other great event, undoubtedly. The last thing you want to do here is waste time.
Be open
Counter-intuitive, maybe, but leave some room for out of the box education. Don't just stay in your wheelhouse — stretch your mindset. Yes: learn the latest and best on HubSpot CRM. But why not dig into the mindset of disruptive startups and check out the zeitgeisty The Hustle event? Our firm has seen the power of connecting the dots like that: it's refreshing and eye-opening, and it often translates into a better perspective on getting and keeping business.
Ramp up on social media
FOMO (fear of missing out) cuts deep in the marketing world, that we know. Social media is a super effective way to see and be seen. Well before the event, #INBOUND22 already has over 25K followers on Twitter, with companies, agencies, and people already using the hashtag and getting seen. Surf the thread, get noticed, boost awareness, start connecting, and keep it going during and after. It's also a great way to get a play-by-play of sessions you have to miss.
Don't pitch
While in the thick of it, you want to get the most out of networking opportunities. So do your homework, get there early, and know who you want to talk to but talk to everyone (including the people right next to you). Then, talk to people but save the pitches for follow-up (nothing kills initial conversations like being pitched). Take names, take notes, and get contact info so you can follow up when the event is over. Establish relationships first. Then pitch.
Have fun
INBOUND is so much more than breakout sessions, pitches (more on that in a moment), demos and speakers. If you're there in person, be there in person. Fight that urge to hide in your AirBnB or hotel room and stay in the fray. There are great HubSpot and sponsor after-parties — often at some of Boston's best restaurants.
Loosen up on a round of caipirinha flights or small-batch bourbon and start making friends. Virtual attendees have plenty of ways to hang as well. And don't miss the entertainment: Crazy Rich Asians' Jimmy O. Yang brings his hilarious standup to INBOUND at Night on Thursday.
It's no secret that we ❤️ HubSpot. Its take on marketing is unparalleled: expansive, growth-oriented, and effective. We're always looking for the best solutions and innovations, and we're made the HubSpot ecosystem a big part of that ethos — because it works. And HubSpot has brought that same approach to INBOUND. The 2022 iterations promises to be full of inspiration, surprises, and connections.
Come find us at INBOUND 2022
That said, we'd love to connect with you during the event. This is a perfect opportunity to discuss your marketing goals and how we can help you reach them. Whether you're there in person or virtually, come find us. Reach out and schedule a time to meet. We'd love to see you there!