Why You Should Design Your Website for a Big, Dumb Seal

What is the Big, Dumb Seal Theory?
Whether you're designing a website or a landing page that you'd like a user to take action on, imagine that on the other side of the screen is a big, dumb seal.
We're not suggesting that your visitors are unintelligent aquatic animals, but hear us out.
A big, dumb seal is many things, and patient is not one of them. He's easily confused – like the reader – and has commitment issues. You need to simplify your design as much as possible to appeal to his need for instant gratification. The big, dumb seals wants to visit your website, find what he wants, grab his big flipper and hit one big button that says, "Gimme."
Our test seal, Sir-Clicks-A-Lot, often runs into many of the following problems on your site. Here's how you can fix them and make them more seal- (and user-) friendly.
Sir-Clicks-A-Lot demonstrating the Big, Dumb Seal Theory:
When there's more than one call-to-action on the page:
Sir-Clicks-A-Lot is a busy seal and doesn't have time to think. Make his life easier – and boost your conversion rate – by using only one call-to-action (CTA) per page. If you must have two, make one CTA your main one. How do you do that? Simple. Sir-Clicks-A-Lot loves big buttons and he cannot lie. With just a glance at your page, he'll know where he's supposed to go and what he's supposed to do in mere seconds.
When designing your page, keep in mind: "Pop, Lock, and Drop It". Make your CTA "pop" with an eye-grabbing color (e.g. orange). "Lock" his attention with an interesting and informative call-to-action. He's more likely to click a button that says "Download Free Guide" instead of "Enter" because he knows what he's getting himself into. Now that you have a strong message and visual, he won't hesitate to "drop" his flipper like it's hot on the button.
When your page is full of distractions:
Have you ever walked into a room and then forgotten why you entered? Don't let this happen when users land on your page. It's your job to guide them from Point A to Point B. Forbes.com has an excellent blog post that highlights ten landing page designs for your reference.
Pay special attention to the point that discusses keeping your links to a minimum. While internal linking is a neat SEO trick and shares relevant information with your user, save that for your "Thank You" page.
When your page isn't mobile-friendly: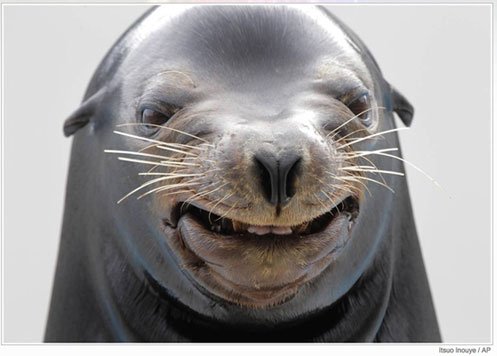 via Isuo Inouye
With widespread use of smart phones and other mobile devices, it should come as no surprise that the majority of people do most of their web browsing on a device other than a desktop computer. eMarketer found that the average user spends 3 hours, 17 minutes of their time on a mobile device each day.
That being said, you should make sure that your page is mobile-friendly with responsive design. The beauty of responsive design is the layout automatically adjusts depending on what device you're using. So if Sir-Clicks-A-Lot is in line waiting for a bucket of chum, he can easily browse your page and fill out the forms, instead of struggling to use his flipper to make the page readable.
When your copy isn't user-friendly: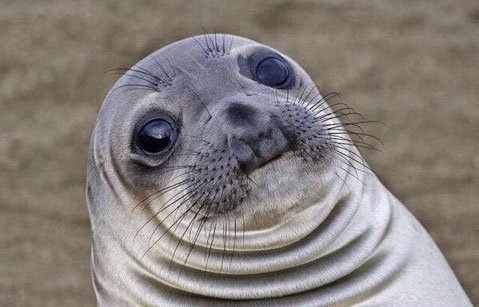 via Danaditomaso's Tumblr
Like many other users on the Internet, Sir-Clicks-A-Lot stopped listening in 7th grade. Craft your copy with his reading level in mind. While you should avoid difficult words, be sure not to over-simplify your text so that the reader feels like you're talking down to them.
Remember that he's a busy seal and doesn't have time to read a copy-heavy page. Try breaking up content into bullet points and bolding important words and phrases. White space is your friend. Also, don't assume that he takes the time to read every word. When in doubt, say it twice.
When your page is too complicated and Sir-Clicks-A-Lot gives up:
If it takes him longer than 3 seconds to figure out what the page is about and what to do next, Sir-Clicks-A-Lot is going to bounce back into the sea with the other seals. Decrease the bounce rate on your landing pages with these tips:
Make the inbound link relevant.

For example, if a user is coming to the page from a search ad, make sure that the page has something to do with the keyword the user originally typed in.

Make the main point of the page obvious.

Creating a visual hierarchy is one of our favorite methods. The most important phrases are the largest at the top of the page, and as the importance decreases, so does the size.

Place the CTA above the fold.

Sir-Clicks-A-Lot is lazy. There's a strong chance he's not going to scroll to find the CTA. Place it near the top of the page.

Load pages faster.

People (and seals) are impatient and are more likely to close a window than wait for it to slowly load. One study found that pages have the highest conversion rate when the page has a 1- to 2-second load time. An easy way to increase load time is to have smaller image files.
When your website passes the Big, Dumb Seal test
* The New Perspective team does not discriminate. We appreciate and respect all living creatures, especially seals and sea lions.