How to Align Budgeting and Strategic Planning: 4 Key Tips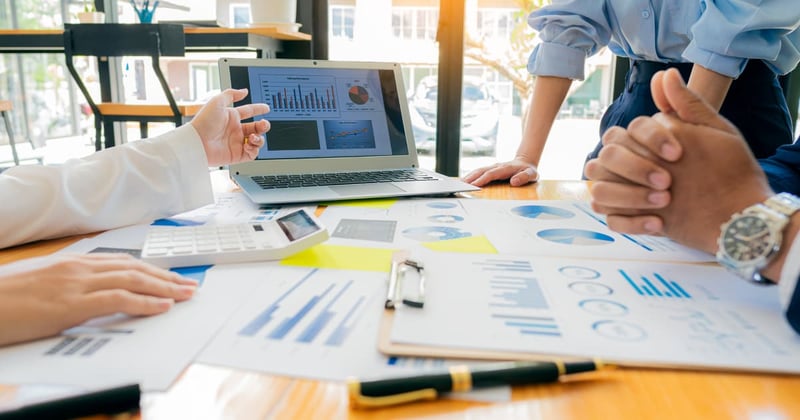 Which came first, the budget or the strategic plan? Budgeting and strategic planning are inherently connected, but many businesses require a stronger connection to help them achieve their goals. Unfortunately, these two discussions should be better aligned, as two completely separate groups of people often conduct them.
Unless your marketing strategy and budget are aligned, you will not have a good idea of how to best allocate your spending and make the most of your marketing investments.
How can you align your 2023 revenue goals with the marketing budget? Here are a few best practices to help guide you through the process.
Setting your 2023 revenue goals and aligning budgeting and strategic planning
We've talked in the past about setting SMART goals for your marketing. Your revenue and growth goals for your business will directly influence the marketing strategies you choose and the budget you decide to allocate to achieving these goals.
While it sounds great to set the goal of doubling your revenue, this goal isn't attainable if you aren't willing to allocate enough of your budget towards making it a reality.
How are you going to meet your goals? Decide on the specific marketing tactics you'll use to achieve your marketing goals based on what has delivered a positive ROI in the past and which new strategies you believe will work in the future.
All of these strategies may not fit into your plan once your budget comes into play, but it is important to have an idea of which strategies you believe will give you the best chance of success. For any initiatives that didn't make the cut, make sure you keep a backlog of those items for future reference.
Budgeting and strategic planning allocation questions to ask
Budget allocation will depend on the tactics you use as part of your overall strategy. Once you have prioritized the tactics you'd like to use, there are a number of questions to ask to determine the budget necessary to include each of these tactics in your overall marketing strategy.
The answers to these questions will also help determine the overall budget necessary to accomplish your goals:
What is the impact of each of these tactics?
While each individual tactic should fit into your overall marketing strategy, it must also be able to prove its ROI on its own. How will each tactic contribute to your revenue growth or other marketing goals?
How will you measure them?
Set clear KPIs for measuring your marketing tactics. If you struggle to quantify their success, you'll struggle to justify their place in your marketing budget.
How much time will they require?
This question pertains not only to how many employee hours you'll need to dedicate to see them deliver a positive ROI. You should also consider whether this project will take longer than your typical budget cycle to produce real results. If this is the case, it doesn't disqualify it, but you must include this consideration when allocating your marketing spend to it.
What is the estimated cost of these activities?
How much of your budget must be allocated to be successful? Some tactics, such as marketing automation software, have a fixed fee you must budget for. Others, like content marketing and social media, may see more success the more budget you devote to them (up to a certain point).
Once you have answered these questions, you can begin to prioritize what percentage of your budget should be devoted towards fixed expenses, such as software and employees, and to determine how you should allocate the rest.
This second part should have some flexibility to be tweaked as some strategies show more promise and others don't deliver the ROI you expected. However, don't pull the budget from tactics too soon. Most marketing strategies take time to see real results.
Adjusting your approach on the go
It's essential to ensure that you set well-defined expectations regarding budgeting and planning. But, it's relatively easy to get ahead by setting tricky targets sometimes. This common mistake can happen for several reasons, for example, the ever-changing market conditions.
One of the safest ways to alleviate this issue is by reviewing your budgeting and strategy planning every quarter. Even though you should have a yearly plan, tweaking your goals every few months is a bulletproof way of solving newfound issues. Revisiting your designs also ensures that the discovered problems don't get a chance to develop.
The main advantages of budget and strategy alignment
Aligning your budget and strategic planning is undeniably compelling. This is especially true because no matter how successful a company is, the resources will always be limited.
A bridge between budgeting and strategy will help you make informed decisions on significant spending and cuts. However, this alignment can also indicate which new initiatives deserve your support and investment. Therefore, this arrangement is ideal for making decisions based on factual information and clear objectives.
Another crucial aspect of combining these two factors is that the finance department will better understand strategic operations, resulting in superior handling of company resources. The alignment of budget and strategy can prevent excess spending across multiple projects, making it a priority for businesses of all sizes.
Making the case for your 2023 marketing budget
Often, you will need to fight for your marketing budget every year. This is especially true when you are fighting to increase your budget, which most marketing departments are.
Consider what your goals are and what the success of those goals will mean for the company as you make decisions on the overall marketing budget for 2023.
As you embark on the process of budgeting and strategic planning for 2023, the important thing to remember is that these two considerations should always be made together. Your budget should help determine which strategies are viable for the coming year and your strategic plan should help make the case for your budget needs and allocation.
Looking for more best practices on aligning your budgeting and strategic planning? Check out our free Strategic Marketing Plan Starter Kit, which includes templates for putting together a powerful marketing plan for the coming year.