The Power of Thought Leadership in B2B Marketing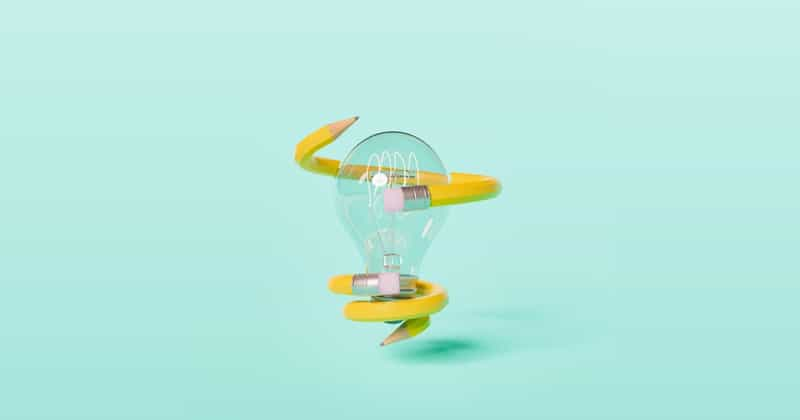 If you're an expert, a leader of a company or a department, an entrepreneur, an innovator, or all of the above, you really should be a thought leader. Otherwise you're missing an incredible opportunity to give yourself, your company and your brand vital exposure, grow a bigger audience, and attract the kind of authentic leads that generate actual sales — just by putting yourself out there.
A thought leader is someone with enough passion and perspective on the subject of their expertise to be able to guide and shape a better conversation about it — with a clear voice and a keen sense of their audience. Thought leaders provide those insights and real-life stories that shed much-needed light on key questions. By speaking up, thought leaders change the game.
Thought leadership as a strategy
In these days of intense digital content, thought leadership is magic — if it's done well. We're in an era when thought leadership is on the rise, there's more of it than we can digest. But it's not all worthy of our time and energy, and that's where strategy comes in.
LinkedIn's recent survey on the state of B2B thought leadership found that the pandemic has resulted in a sharp uptick in thought leadership out there. But 4 out of 10 of the 3,600 B2B decision makers polled say there's more out there than they can digest — so they do what we all do with digital content, which is to head for what we're interested in, and separate the wheat from the chaff.
Getting in the conversation
If you can provide great content that stands out, you can represent your company in a far more subtle but effective way than logos and branding. A well-considered thought leadership post can build interest, trust, and more, making people want to learn more about your company as well as your leadership of it.
Even better, it may engage your services, or buy your products. Despite being overwhelmed, 54% of the B2B decision-makers in the LinkedIn survey — and even more importantly, 48% of the C-Suite — report spending more than 1 hour per week reading and reviewing thought leadership.
For any industry, being a thought leader is a way of becoming part of the community. It's democratizing expertise, which can give you a competitive edge. Even if you can't compete in terms of scale or volume — if you have a small, new, relatively unknown company, for instance — you can get noticed and rise to the top by joining — and shaping — the conversation.
Your specific expertise and experience add up to something no one else has. What do you find important, and what is important to those in your industry and audience?
A win for SEO
We'll be transparent about this: Businesses are struggling to be found amid the cacophony of brands, products, media and voices out there. Thought leadership isn't just a goal in itself. It's great for promoting your expertise and your company, but it's also an incredibly clever and effective tool for winning the race to rank and be found in digital searches.
A great program of thought leadership content increases the likelihood that you will be found when someone searches your topic. And thought leadership pieces can pack a lot of SEO punch by appearing across a wide range of channels and venues. But one caveat: you can't wait for someone to come to you. You and your marketing team need to get your own voice out there.
Does thought leadership really matter in B2B?
In a word, yes. LinkedIn's B2B thought leadership study found that "engaging with a piece of thought leadership" definitely influenced decision-makers:
42% invited the organization to bid on a project (when that firm was not in their original consideration set).
48% awarded business to the organization responsible for the thought leadership.
53% decided to increase the amount of business they did with the organization.
54% purchased a new product or service from the organization that they had not previously considered buying.
Becoming a thought leader
Thought leadership can range from a tweet to a long article to a webcast to a roundtable. But we're going to do a deep-ish download into the how, why and what of written thought leadership in this post, since it's a staple of a great content strategy that we find many want to know more about.
Have a point of view
Granted not everyone is wired to easily become a thought leader. But sometimes that's better, since thought leadership is often misunderstood — which results in content that's a turnoff, not a turn on. This is not a format for spouting opinions.
To engage and attract an audience, you've got to speak to genuine industry needs and challenges. You've got to understand the pain points of your colleagues, your market, your people. And you've got to have a point of view.
The challenge for many leaders is how to identify your expertise — not just in your industry but the part of the industry, or business, that you're passionate about. In other words, what's your wheelhouse? Then it's about identifying your point of view, which is a combination of your unique perspective, experience, lessons learned, insights, and stories.
Work with a team to make it happen
One of the biggest challenges we find with leaders is that many are so busy leading there's little time to sit back, think, and reflect on what you do, what works, how, and why. The irony of thought leadership is that the strongest, most successful examples — those voices we consider a singular, credible source of truth — are certainly not doing it alone.
"Creating" thought leadership is not a one-person show; nor is keeping it going over the duration. You need a team to make that happen — with the skills, bandwidth, or acumen to polish up your thought leadership content, get it out in the world, promote it, get people wanting more, and keep the cycle going.
As a leader, chances are you've learned to delegate across a range of functions. Thought leadership is no different. Roles on a typical thought leadership support team may include:
Content strategy — to help you pinpoint your audience and determine the optimal cadence, topics, and venues for sharing your thought leadership.
Marketing — to help you craft your thought leadership persona, including your own unique voice, and align with in-company initiatives and developments.
Media contacts — to help connect your thought leadership with the best venues.
Editorial — to help you pick and refine ideas, brainstorm, and handle the process of getting it ready to publish.
Copywriting — to work with your rough prose and turn it into a well-crafted piece that reflects your voice and tone.
SEO — to make sure your content is rich with search terms and gets you (and your business) found.
Scheduling — to keep the cadence and calendar of content going so you're out there on a regular basis.
Social media — to promote your content strategically and add your voice to industry conversations (someone has to respond to those comments!).
Analytics — to assess how your content is doing and what needs to be improved.
Three pitfalls
There's a huge disconnect between expectations and reality when it comes to creating strong thought leadership. Keep these three pitfalls in mind, and you'll be ahead of the game:
1. Don't try to run the show yourself
We get it: leaders and entrepreneurs usually have an extra dose of self-determination and do-it-yourself spirit. You likely have jumped into the driver's seat throughout your career, even in unfamiliar territory. In this case? Don't.
Even for startups — actually, especially for startups, where everyone is maxing out their efforts — handling your own thought leadership is a mistake. You may be hit with inspiration for your first big post, but how long can you sustain that?
With help and support, take whatever limited time you have to expound on some salient, current topics, leaning on your team's expertise when needed. Then pass the baton to your team.
2. Be cautious with content farms
In this gig economy, outsourcing is a reality. There are right ways and wrong ways to do this.
Going to a content farm — literally a stable of freelance writers that churn out endless amounts of content — is a mistake. Most of these services are built on the economics of quantity-over quality, which can mean something that isn't really writing. It's existing material that's been stitched together to match your topic in a general way.
That will not present you as a thought leader. It will, however, present you as someone desperate to have their name out there but unwilling to put any of yourself or your ideas into it. That is what we call an anti-thought leader, and it can lose you credibility in a click.
3. Control your own voice
Whoever you work with, bear in mind that your ultimate value proposition is your voice — and all your ideas, guidance, wisdom, and stories.
If you need to have a writer take over and bring your very rough draft or even your napkin outline to life, make sure you see what they do before it goes out with your name on it.
We do approve of having professional writers assist in taking thought leadership from draft to polished reality. But the writer needs to understand who you are and what your voice is (it's not their voice, for one thing, it's yours). One way to find the perfect match is to have a conversation with a prospective writer and then have them turn what you said into prose. You'll find out soon enough if they get you.
What kind of (written) content to put out
For the purposes of this article, we're focusing on written thought leadership content. But a truly well-rounded thought leadership strategy will also include webcasts, podcasts, video interviews, webinars, and explainer videos. (Which is our transparent way of saying stay tuned for the companion article to this one, which will be all about how to get your face and your voice seen and heard. And, to learn more about how all of these parts work together and can catalyze successful sales and marketing, we recommend reading about the culture of content in your spare time.)
Written thought leadership content should include:
Bylined articles: Otherwise known as blogposts or guest posts with your name on them. Your team may lead you through a brainstorming session, or you may come up with topics on your own, or something may suddenly spark a flash of inspiration you want to turn into an article. What you want to do: make it structured. Make it cover one topic, not everything under the sun. Be written in a tone of voice that suits you without being obnoxious or over clever. Speak to your reader without speaking down to them.
Quick tip: Readers love quick tips. Seriously, section your content into digestible chunks as well as actionable strategies and practical advice with headers that help readers mark where they are. Include, whenever possible, serviceable, actionable, practical bullet points that readers can use. Today's limited attention spans and mobile format don't thrive on and endless, long-form narrative with no sections.
Recommended length: We like our content digestible, but we like it long. HubSpot reported that the most effective length of SEO-friendly articles online in 2021 was 2,100-2,400 words. But they also noted that 16 out of 50 of their best-read posts were under 1,500 words. And if your blog needs 3,000 words to tell the whole story, go for it. It's not just word count that matters, it's what's in there. But stay above 1,000 words to rank in search.
Newsletters. Newsletters combine a thought leader's voice and point of view with a curated roundup of links and notable news or ideas. What makes a great newsletter is a strong editorial editorial focus that presents highly relevant, thought-provoking content in digestible morsels. Make them personable and provide ways to subscribe, and you've got a lead generation machine.
Quick tip: Short surveys are a great way to engage and build a regular audience. If you create a newsletter in a format like Mailchimp, you can include a one-question survey with multiple choice answers. Post the survey results in the next issue and use it as a talking point with your community.
Recommended length: We recommend 800 words or less, in small sections.
Interviews. We love to learn someone else's story — and that's why the business leader interview has become so popular. There are plenty of industry and entrepreneurial channels with prescribed interview formats. Find one that suits your industry and audience, download their questions and follow their rules, and submit as instructed. Or, create your own interview with a colleague or a noted star in the field and turn it into a candid conversation.
Not-so-quick tip: Self-promotion is a common affliction of thought leadership interviews. We don't recommend publishing an interview with yourself on your own company's blog pages. Steer clear of transparently self-serving questions, too, like, "How did you become the immense success you are?" Instead, go deep on the topics that matter to your audience.
Ebooks and whitepapers. This next-level form of content falls directly into the "don't do this yourself" category. But it can be well worth the effort and the team you need to do it. Providing a well-crafted, well-written, well-designed eBook on a highly relevant and timely topic in your industry is a home run that can have incredible longevity. In many industries, nothing is more effective at establishing your credibility. It's also a powerful tool for lead generation, since it's usually proprietary, gated content that requires contact information to gain access.
Quick tip: Know the difference between an eBook and a whitepaper: eBooks are informative, extended, deep-dive guides into a topic that's highly relevant to your target audience, and can be informal in tone (often with fun graphics). Whitepapers tend to explore a problem and offer a resolution based on research and case studies, and are often academic in tone. Think about your audience and what they need. We tend to opt for eBooks.
Recommended length: B2B eBooks should range from 2,500 to 5,000 words. Whitepapers, more academic and research heavy, could go longer. But weigh the investment against the payoff.
Recycling — not just one and done
The staple of written thought leadership content is often an article with a byline. But it's smart to recycle your content into different forms. In this era of relentless content cycles, people expect to encounter and experience thought leadership in different ways. Use social media posts and infographics to showcase snippets, quotes and stats, for instance. Do a Cliff Notes version of a recent article in your newsletter. Keep your voice out there.
8 ways to stay relevant
As a thought leader you can't just make a splash with a couple of posts and then leave. You need to stay relevant. Attention is fickle, industries evolve faster than ever, and digital content has to adapt not only to trends but to changes in how content is found and ranked in searches. Again, this is where having a team of handlers and creatives is vital. To stay relevant as a thought leader is to stay a thought leader; anything else is pointless.
So here are our top 8 strategies for being a thought leader:
1. Define your audience and personas within that audience. Know them and their pain points. How can your perspective help them?
2. Have a point of view. Your specific expertise and experience add up to something no one else has. What do you find important, and what is important to those in your industry and audience?
3. Be human. Present yourself as a person, not a brand. If you're writing in first person, be candid about your experiences – the setbacks, the discoveries, lessons learned, great people along the way. Share your wisdom.
4. Stay curious about your own industry and market. We've worked with leaders who say "I can't think of anything to say." The moment they think about what's happening in their spheres, they're brimming with ideas. People will want to know your take on what's happening. That means paying attention to what's happening.
5. Don't spout opinions in a vacuum. Don't spout opinions in a vacuum. Don't spout opinions in a vacuum.
6. Get into conversations. Get into the social back and forth on twitter and other channels. Again, this is where a great team can help.
7. Maintain a cadence and stick to it. Once you've started putting your thought leadership content out there, people are going to start expecting it. If it's monthly, biweekly, or whatever schedule you're on, stick to it. If you overestimated what you can do, pull back, but keep your appearances as regular as you can.
8. Find out what's working. Have a trusted SEO team dig into the stats on how your posts are performing. Find out what's hitting a sweet spot. Staying relevant is also about being aware of the changes and currents, and sensing what your audience needs to hear.
More than a business benefit
We know this is a deep dive. But so is committing to being a thought leader. It's not an activity to take lightly, but it is more important than ever in this era on nonstop digital content.
There's no other form of content that can do this much heavy lifting or have so many benefits — for your business, your professional credibility, and for you as well. Becoming a thought leader gives you an unprecedented chance to get to know yourself, to take a breath and reflect, and to give a voice to your passion.
If you're interested in learning more about how to become a thought leader and use it to further your business goals, talk to us.