Location-Based Marketing: Use Geotagging & Geofencing To Land Clients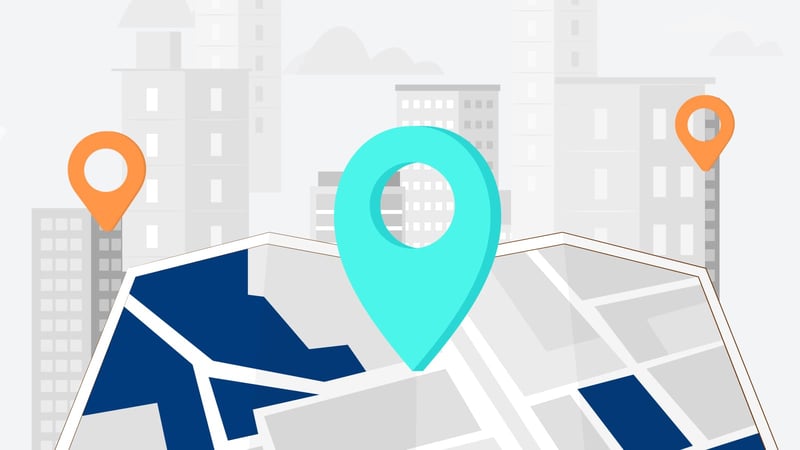 Account-based marketing (ABM) is one of the best tools you can use as a B2B business. ABM focuses on targeting high-value accounts to land big deals. It's personal, focused, and leads to more significant revenue and growth for your company.
One recent hot trend in ABM is location-based marketing. According to reports:
90% of marketers said location-based marketing had a positive impact on sales.
In 2020, marketers expect to spend $31.1 billion on the tactics like geofencing or geotagging.
This is an opportunity you surely don't want to miss out on.
What is location-based marketing?
Location-based marketing matches location data from smartphones with points of interest, creating targeted audiences for advertising and content.
Different types of location-based marketing tactics include:
Geotagging: The method consists of targeting a user based on their location. This includes country, state, city, zip code and IP address.
Geofencing: Consists of drawing a "fence" around a location. Once the user either enters or exits the "fence", they can receive an alert on their phone for a promotion or coupon.
Beacons: Beacons tell you when attendees are inside your business location or event. Once they get close to your area, you can offer them access to custom content.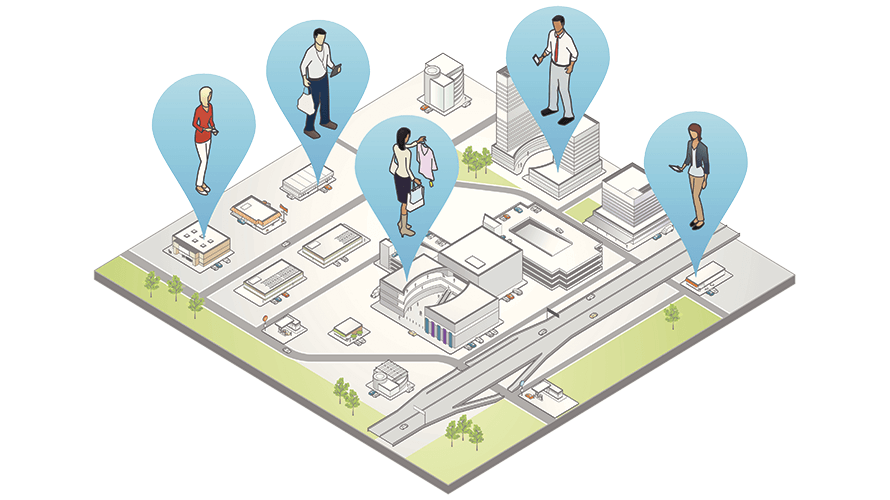 Location-based marketing is not just for B2C businesses
This couldn't be farther from the truth.
There's untapped potential for B2B companies and location-based services like geofencing. You can use it at trade shows or other location-based events to stand out from the crowd and land high-quality clients.
It's an easy way to promote your business, website, and build brand awareness. However, it's true that it may not be right for every business. Location-based marketing may not be for you if:
Your location lacks foot traffic: Not all areas scale the same. If your business location or event has few passersby, then location-based services might not be for you. The tactic works best in high-traffic zones, such as shopping malls or trade shows.
Your company handles sensitive data: Many regulations are in place to protect user privacy. Companies that handle delicate data should avoid location-based marketing.
Your products are available everywhere: Products that are accessible all over the place may not benefit from location-based tactics. The idea is to promote unique, valuable services or products within a certain area.
While the tactic isn't for everyone, B2B businesses across a vast array of industries can find success with location-based marketing. Take a look at some of our best tips for making location work for you.
Tips and Tricks for Location-based Marketing
What makes location-based marketing so effective?
First, it's easy and affordable to use.
Second, notifications tap into the client's need for instant gratification. It quickly makes them aware of your business.
To help you get started, be sure to:
Verify your company on Google Business and Bing Places to make your location easier to find.
Use Location-based marketing during holidays or events, such as Halloween, Black Friday, etc.
Focus on how you can deliver value to the customer—the last thing they want is ads bombarding them.
Be aware of recent regulations that deal with user privacy—be careful not to misuse client data.
Stay on the lookout for upcoming events in your industry to meet potential clients.
Launch Your Campaign With Push and Pull Notifications
Here are the notifications types we recommend for location-based marketing campaigns:
Push Notifications: Push notifications alert users of events or sales once they're near your location. Examples include promotions or sending surveys/polls to attendees at events.
Pull Notifications: Pull notifications use geofencing technology to pull customers towards your location. For example, once a user is near your booth, you can send them a text about a special activity going on at your booth.
Example: B2B Acme Corp Supports Account-Based Marketing Campaign With Location-Based Marketing
Want to see location-based marketing in action? Here's an example:
Acme Corp is a medical device company that manufactures MRI, Ultrasound, and X-ray machines. They sell to hospitals that want to update their current technology.
They learn that an upcoming Health IT event is taking place in their city. Physicians and hospital managers from all over the US are expected to attend.
It's the perfect opportunity for Acme to promote their products and land new clients!
How are they going to carry out their location-based marketing campaign?
Step 1: Align Sales and Marketing
To be effective, Acme gets its sales and marketing teams to work together.
The first thing Acme does is ask sales to identify top target accounts. Their team goes through their whole database to filter out the best accounts to reach.
From there, their marketing team identifies the audience's pain points, which include:
Price: It can be expensive for hospitals to install the latest technology. On top of that, they're not sure of the ROI they will get out of it.
Resistance from doctors: Doctors have a busy schedule. They're hesitant to change because that would need to learn new skills.
Complex technology: New devices can be hard to navigate. Hospitals also fear that they can cause patient errors.
By working with sales, the marketing team can gain a better understanding of their prospects' needs, which allows them to address those pain points directly.
Step 2: Research the B2B Decision-Makers
As a B2B business, Acme should be targeting business decision-makers (BDMs).
Acme Corp identifies the following roles to target:
Physicians: They're not the main BDMs, but remain crucial prospects. Acme will have to show the doctors the real value of their products to close the deal.
Finance departments: Investing in new technology is a risky business. The finance department keeps track of payments and manages the hospital's money.
Hospital managers: Managers are looking out for what's best for their hospital, doctors, and patients. Convincing them is a crucial part of the sales cycle.
Step 3: Use Location-Based Tactics Like Geofencing to Target Potential Clients
Now's the time for Acme to take action.
After doing their research, they're ready to attend the event and launch their campaign. Here's what Acme can do:
Acme promotes its products to event attendees with targeted ads—they get sent to a landing page with content that hits all their pain points.
They have some of their staff attend the event and check in on social media.
Using beacon technology, Acme identifies people at their booth and gives them access to custom content.
With a strong location-based strategy, Acme can go into the trade show with confidence and attract those new leads!
Successful Brands Using Geotagging and Location-Based Marketing
Need to see some real-life brands doing location-based marketing right? Check out these examples:
Carrier
The AHR Expo is a yearly trade show that takes place for the HVACR industry. It allows professionals in the field to network and promote their business. Around 30,000 people joined the event this year in Atlanta.
Carrier manufactures and distributes heating, ventilating, and air conditioning systems. They also provide refrigeration and equipment for companies in the food industry.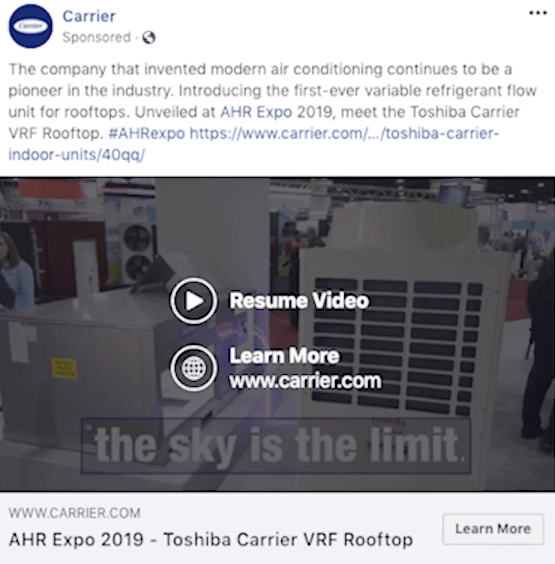 Veeam
Cisco Live is a global networking event that takes place each year. The conference is "designed to build the foundation for your digital future with education, connections, and inspiration."
Cloud management company Veeam decided to use the event as a way to generate new leads. The company sent out this mobile ad to attendees: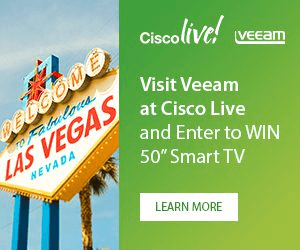 That's right—just by visiting their booth at Cisco live, attendees had the chance to win a 50" Smart TV for free!
It's a brilliant way to engage attendees and encourage them to visit Veeam's booth while at the same collecting leads they can target later.
It's Time to Work Location-Based Marketing Into Your Account-Based Marketing Strategy
Location-based marketing helps companies grow by targeting the right audience at the right time.
Now's the time for you to start using these tactics for your ABM campaigns.
Wondering whether ABM is right for your business? Take our free ABM assessment. It will help you determine whether a strong ABM strategy could benefit your business and help you capture more high-quality, good-fit leads.