Growing From Cub to Lioness: My Marketing Internship at New Perspective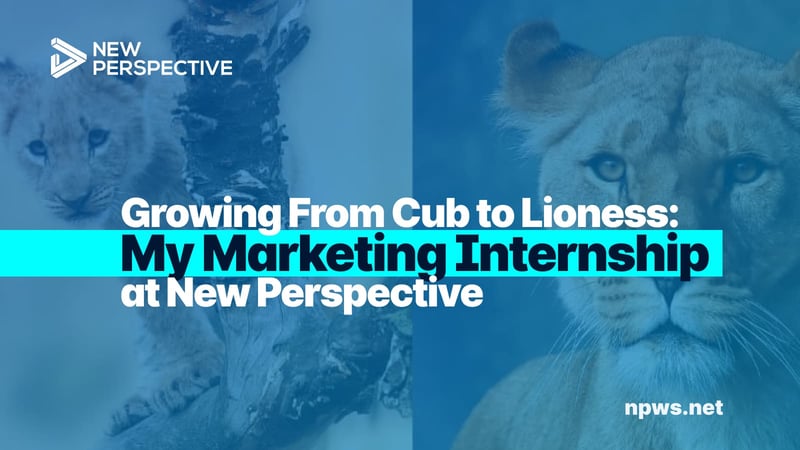 An Internship During COVID-19?
If you told me in March that I would have a summer internship with COVID-19 among us, I would have told you you were CRAZY! But yet, despite everything the world threw at us over the past few months, I was able to complete a marketing internship at New Perspective—and I'm so glad I did.
About Me
I am beginning my senior year at Syracuse University in the fall, majoring in Communications & Rhetorical Studies along with a Psychology minor. During the course of my college career, I have had two previous internships. The first was at a marketing solutions firm called Wellesley Information Services, a B2B company. Next, I was a marketing research intern at a startup company called ISlide, a B2C company. With these two internships under my belt, I knew I wanted to explore more of the marketing realm at a B2B company, as I am interested in marketing and advertising.
This past spring semester, I was studying abroad in London. I found myself constantly on LinkedIn and Handshake looking for internships in the marketing realm that struck my eye. As I continued searching and applying, I found New Perspective on LinkedIn and saw that they were looking for a marketing intern. I quickly applied, and later began talking with their leadership team—all while still in Europe!
I was lucky enough to be their top pick for the position, and they offered me the internship in February. I was so excited for the opportunity because New Perspective is all about digital marketing, and this is something I am interested in for a possible career. I was looking forward to a great summer!
The Impact of COVID-19
Just a few weeks later, COVID-19 became a worldwide pandemic. The Syracuse University London Program sent all of their students back home to the United States. At first, there was no reason to suspect that this might affect my summer. But then I found myself home for a month or two, and I started to think: What if my internship gets canceled? Many of my friends were also supposed to have internships that didn't work out, so I wasn't entirely sure what the future was going to hold for me.
Luckily, Nathan and New Perspective found a way to have me and I couldn't be more grateful to be one of the lucky few to still have a summer internship during COVID-19. I was able to work remotely from my home and still assist Nathan and his team on many different projects (more on those later!). My main goals for this internship were to gain more experience in marketing and to expand my skills to greater heights, and this marketing internship truly helped me do that.
3 Ways My Marketing Internship Helped Me Grow
1. Thinking More Strategically About Social
I'm part of Gen Z—I've grown up with technology and I consider myself advanced on the topic of social media. However, I have never had experience with the inside of business accounts on Instagram, LinkedIn, Twitter, and Facebook.
One of my projects during this summer internship was to look at New Perspective's social media accounts to analyze what they were currently doing and ways they could improve. I took a Social Media Mastery course from Digital Marketer that helped me understand every aspect and tool needed to optimize your business social media accounts. I also spent the time learning how to utilize HubSpot tools to measure what we were doing (and not doing).
With all of this information, I took the lead on a social media plan presentation, in which I presented to the entire company how we were doing and what we could do to improve. We needed everyone to be involved as a company in order to succeed. Making this presentation involved setting goals for each platform, measuring KPIs and how we could obtain them, and understanding our persona and what they are looking for from our social media platforms.
2. A New Appreciation for Effective Writing
Writing has always been one of my stronger skills, especially in school. But business writing is a completely different realm that I had never encountered before, so this was a big challenge for me during my marketing internship. Usually, if I'm writing any sort of paper, I construct a small outline then fire away and write write write! However, with business writing, I started to realize that my usual method wouldn't cut it. Business writing takes a lot more than a vague outline. It takes so much more time, consideration, and research. You have to consider your target audience and do keyword research to make sure your content reaches this audience effectively. When you're thinking about all of this, you have to be constantly planning and researching in order to compose effective content.
As I learned more about this type of writing, I was able to write my very first business blog: Promoting Your B2B Company Culture on Instagram Post-COVID—relevant, right? Writing this blog took me a lot longer than I thought it would, but I couldn't be happier with the outcome because I took the proper steps to get there. I am much more confident in my writing now than I was before because creating a proper outline, researching, and planning really helped me create an amazing piece of content that's relevant to our world today. Go check it out if you want to learn more!
3. Best Practices for Prospecting (Through HubSpot's Partner Pipeline Generation Bootcamp)
When I found out I was going to be a participant in the HubSpot Partner Pipeline Generation Bootcamp, I was a little nervous and didn't know what to expect. As an intern, I haven't even gotten a full jumpstart on my career. Before going in, I wasn't even really sure what "pipeline generation" meant, so I was interested to learn more about what it takes to get through the pipeline and the funnel. I was expecting bootcamp to be eight weeks full of marketing and sales basics, but boy was I wrong! We got into everything, from deep explorations of making sales calls to what it takes to put the best foot forward for you and your business.
At the first Zoom meeting, I quickly realized I was the youngest person participating in this bootcamp. In fact, at our last session, Dan Tyre let me know that I was the only intern he's ever had participate in bootcamp, which was honestly a pretty exciting thing for me! Besides myself, there were many CEOs and high-level executives attending the training. Frankly, this was intimidating for me as a college intern. However, having Dan Tyre as my instructor put me at ease. Dan is an early HubSpot employee and super sales coach. He's also a very energetic and friendly human being—especially since he was presenting at 6:30 AM from Arizona!
While participating in the HubSpot Pipeline Generation Boot Camp, I was exposed to many things I hadn't even heard of before, including (but not limited to) connect calling, prospecting videos, and exploratory calls. I was able to meet many fellow HubSpot lions from around the world that all had the same goal: generating more opportunities and closing deals. During every meeting, Dan had us roleplay with different people in our Cohort. This helped me a lot because I was able to practice with people who were going through the same thing I was, and I got to know some of them a little bit better as I was in rooms with them multiple times (shoutout to Simon from Canada and Matt from Florida!).
We used scripts in these roleplays. Having these scripts really allowed me to get more comfortable with speaking in a professional manner, but it also helped me understand all of the fundamentals and necessities that are needed to make a good call—help don't sell! I learned to take advantage of active listening with prospects as well as to look for connections with every prospect.
Dan covered so much in his bootcamp—things I never would have even considered. For example, I learned to stand while making a call and while creating a prospecting video. This simple action helps with your tone as well showing the prospect how excited you are to talk to them. Dan taught me to look at doing business from a different perspective, and I couldn't be more grateful for his time and dedication to this bootcamp.
Moving On
Overall, the opportunity to have this marketing internship has had a big effect on me. It has changed the way I think about marketing and has helped me advance forward in my career after graduation. I've realized that marketing is the path I want to be on and I couldn't be more excited for what my career will hold in the future.
This internship has challenged me in many ways and has allowed me to exceed my expectations in my own abilities. I am going to take away so many different skills and more knowledge on digital marketing than I could have imagined. Nathan really helped me challenge myself and made me more confident in everything I was doing while working for him, and this is probably my biggest takeaway, professionally and personally. This internship has helped me grow as a person and as a marketer, and I couldn't be more grateful for Nathan who allowed me to have this opportunity despite the circumstances of COVID-19.
Are you interested in joining the New Perspective team? Take a look at our About page to learn more about what it's like to work here—and explore open positions on our Careers page!