Modern Marketing Strategies: 4 Reasons You Need Inbound

If you're looking to skyrocket your marketing results, then you need to get serious about inbound marketing. Unlike traditional marketing methods (i.e. press releases, tv ads, billboards) that interrupt the prospect to get their attention, inbound modern marketing strategies are all about attracting qualified people to our content when they're already actively looking for answers. Essentially, this is the modern marketing strategy for getting customers to come to you rather than seeking them out.
According to HubSpot, inbound marketing can be divided into three stages:
Attract: The first step is to create awareness about your product or service. This is done through valuable content that addresses the common issues and questions potential clients may have.
Engage: Once you have created awareness, it's time to convert your potential clients into leads and sales. The next step is to get their contact information—their email address, phone number, or some other way to reach them. The next step is to work through an effective lead nurturing process, which consists of offering relevant content based on the lead's behavior on your website.
Delight: After closing a deal, your relationship with the customer isn't over yet. The goal during this stage is to provide a remarkable experience for your customers and leave them asking for more.
As Guy Kawasaki elegantly puts it:
"If you have more money than brains you should focus on outbound marketing. If you have more brains than money, you should focus on inbound marketing."
In this article, you'll learn 4 reasons why your business needs to implement inbound marketing now.
Let's get started with modern marketing strategies.
#1. Traditional Methods Don't Work On Millennials
Long gone are the days when cold calls, direct mail, and elevator pitches ruled the world of sales. The pushy, deceitful nature of ads has made this generation of millennials skeptical: 84% of millennials report not liking or trusting traditional advertising.
Considering that millennials form the largest population in the US, this is something that should concern marketers.
Here's why traditional marketing methods don't work on millennials:
Millennials watch less TV: According to research done by Google, millennials watch nearly 50% less TV than adults above the age of 35.
They don't read direct mail: Around 97% of millennials own a computer and 94% own a cell phone. They prefer digital means of communication, turning their physical mailbox into an ever-increasing pile of recycling.
Their response to ads differs from those of previous generations: Millennials are digital natives, meaning they grew up with the rise of the internet and social media. Walking around with their faces buried in their smartphones, they're accustomed to responsive media they can interact with, so they respond less to traditional ads.
Millennials expect more from brands: The negative press associated with companies in their adolescence (for example BP and Exxon) has made millennials very distrustful of brands, which includes their marketing and advertising departments. Millennials demand more from brands to gain their trust and want to see them stand up for causes that are dear to them.
#2. It's a Cost-Effective and Modern Marketing Strategy to Generate Leads
Adapting to today's buyer will require adapting modern marketing strategies. If you're looking to generate leads, you're going to need a diverse mix of tactics in your marketing playbook, including:
Content marketing: By providing useful and entertaining content to your audience, you attract quality visitors that already have an interest in your products and services, making it an easy task to generate conversions. Not only does content marketing cost 62% less than traditional marketing, but it also generates about 3 times as many leads.
Pay-per-click (PPC): PPC forms an integral part of inbound marketing, as it targets searchers looking for solutions that your business can provide. By using specific keywords, PPC gives businesses the ability to land top placement in search results, getting qualified leads to click on your ad. PPC advertisements drive approximately 50% more lead conversions than organic web traffic.
Social media marketing: With more than 3 billion people using social networks each month, social media marketing plays a huge part in creating brand awareness and attracting leads.
Search Engine Optimization (SEO): Having an optimized website for search engines is crucial to any inbound marketing campaign. SEO delivers free organic traffic to your website, which in return attracts customers and promotes your brand.
#3. Inbound Marketing Builds Trust
One pillar of successful marketing is building a relationship with your audience. This consists of getting to know who your buyers are, what they need, and what solutions you can offer to nurture them through the sales funnel. The next step is convincing your customers that your business is worth their trust.
However, customers are finding it hard to trust brands. According to a 2018 report done by Salesforce Research, 54% of customers don't believe companies have their best interests in mind. And according to a study done by HubSpot, marketers and salespeople are less trusted than lawyers and bankers!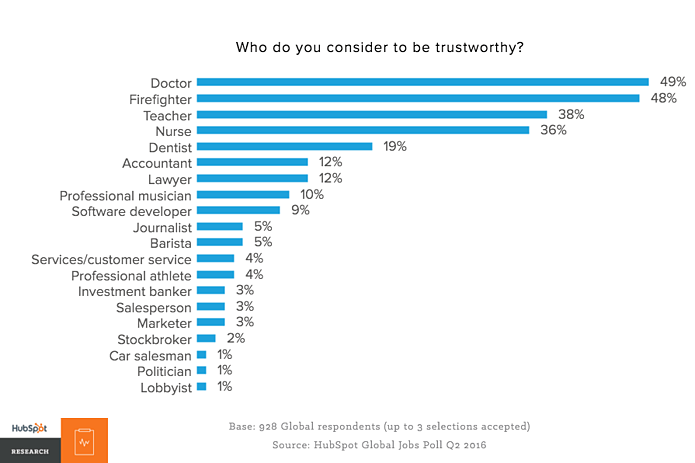 This is where inbound marketing comes in. Inbound tactics focus on building long-term relationships. They're fundamentally based on mutual communication. Inbound encourages brands to have an authentic dialogue with their audience, to answer any questions prospects may have, and to provide information about products and services when prospects are ready.
#4. It Offers the Highest ROI
According to HubSpot's State Of Inbound 2018, 53% of marketers report achieving a higher ROI with inbound marketing, compared to 16% who claim that outbound marketing is more effective. The rest of the marketers surveyed either could not measure their ROI (18%) or didn't know which was more effective (13%).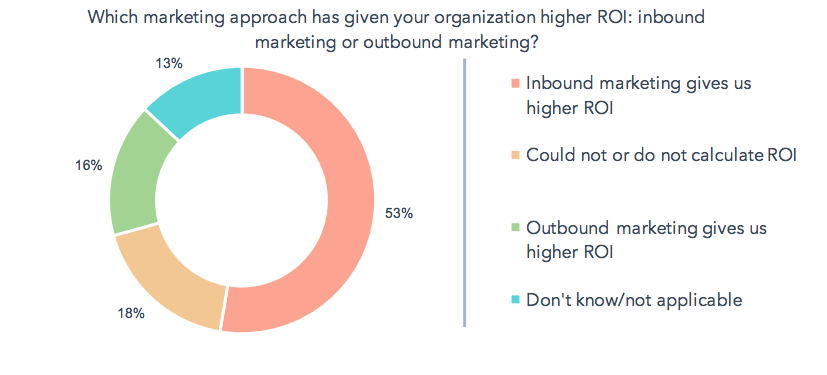 Adapting Your Business to Inbound
Is your marketing stuck in the past? If you're looking to invest in modern marketing strategies, then it's time to switch to inbound. From generating quality leads to improving ROI, inbound can give you the edge you need to win over your competition.
Is your business ready to take the next step toward inbound marketing? If you're wondering where to begin, we can help. New Perspective has a team of experienced inbound marketers ready to help you keep up with the ever-evolving world of marketing. We'll help you attract, engage, and delight all of your customers, from the beginning of the buying journey to the end.
Reach out to us to request your free marketing consultation to see how we can help transform your marketing strategy.