Continuous Improvement: The Path to a Better Website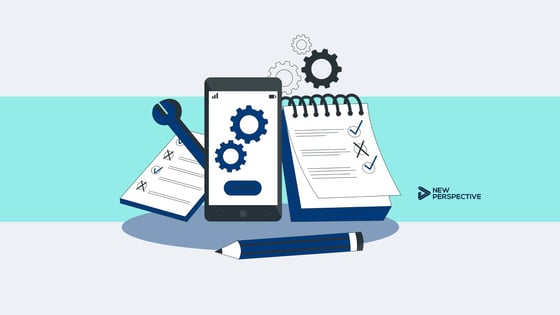 Racking your brain for ideas to improve your company's site? Today, we'll walk you through a few core web design methodologies that can help you achieve a better website.
To start, the ideal website needs a little zen – some "kai-zen."
Core Methodology #1: Kaizen
Kaizen is a Sino-Japanese word that means 'change for the better' or 'improvement'. The history of the term dates back to post World War II when Toyota introduced 'quality circles' to their production process; they were designated team members who came together to identify internal problems and implement solutions. With "all hands on deck," they introduced "small improvements" to help streamline business practices.
Today, Kaizen embodies the concept of "continuous improvement" and is globally recognized as a core principle of a competitive business strategy.
Core Methodology #2: Agile
Another business strategy born from kaizen is the agile methodology. Applied to inbound marketing, agile marketing is a holistic and strategic approach to marketing. Agile agency teams merge their efforts to prioritize high impact projects and collaborate to complete these tasks quickly and efficiently. The team measures their progress throughout the duration of the project and uses that data to incrementally improve future results.
Core Methodology #3: Growth-Driven Design
Agile has significantly improved the efficiency of the website design process. Over the past 10-20 years, a movement called Growth Driven Design, or GDD, has taken the web design industry by storm. The goal of GDD is to reduce the common risks of a traditional design process in the following ways:
The design strategy focuses on the user experience.
Users of the live website are the center of all design decisions.
Launching a new, testable product takes less time than with a traditional redesign.
The new site goes through iterative changes over time.
Real user data is the impetus for future design changes.
The Continuous Improvement Cycle
Whether you've had a new website built or are moving forward with your existing model, there are two things you can expect from the Growth-Driven Design process:
a user-centered strategy and
a continuous improvement plan.
By the end of the strategy phase, you will understand the customers you are trying to reach and know how to solve their problems. You will also collaborate with the creative team and develop a long, thoughtful list of the most valuable elements you'd like to incorporate into your new website environment. In the world of GDD, this is known as a "wishlist," a key tool your team will use to prioritize their efforts.
4 Steps for Your Website's Continuous Improvement Cycle
Wishlists are created with your company goals in mind. However, there are four steps in this cycle that ensure the process is consistent and repeatable:
Plan: All of the existing research from the previous month is analyzed. The results are compared to the existing performance goals. You and your team will take this information, use it to make any necessary edits to your wishlist, and establish the action plan for the current month.
Develop: All of the monthly to-dos and deliverables are built out and delegated to your team members. All of the necessary experiments are set up and run in the most efficient way possible.
Learn: Establish what you have learned from your users to date. All of the data is collected from the experiments, and your team reviews all of the completed items. Results are analyzed and recorded.
Transfer: Everything learned will be shared with the team. Everyone will create recommendations for moving forward and document any questions that will be taken to the next planning step, all measured against company goals.
And the Cycle Repeats
Continuous Improvement cycles will run until the preset goal is completed. That's the beauty of GDD; everyone is working toward a common goal. Growth-Driven Design aligns the shared goals of the design, marketing, and sales teams and encourages everyone to row in the same direction.
As John C. Maxwell once said, "Teamwork makes the dream work."
Want a New Website With No Crazy Upfront Fees That Is Future-Proof?
Does the mention of a website redesign make you break out into a cold sweat? Does it bring up bad memories of your last update? You know the one. That time when you paid a huge upfront fee and spent months on the new site…only to learn a few months later that your site was already outdated? While updating your site is a must, following this old process doesn't have to be. Imagine a partner that will help you rework your website sans huge project fees. Not to mention your site will stay up-to-date for years to come.
How can I eliminate upfront website design fees?
In the traditional model of website design, each upgrade is treated as a separate project. You pay a marketer and they go through the steps to create a website that meets the current standards. Once the project is complete, your website is left to its own devices until a it needs an upgrade. This meant big costs that were often difficult to predict; how can you know when a site is about to become obsolete? More importantly, why treat a website like a one-time project when you know that's not the case?
Many agencies are shifting from a project-by-project system to a retainer model. With this new system, a marketing agency would take over the care of your website for a monthly fee. Think of it as a gym membership. You pay every month to help you get closer to achieving your goals. The retainer model is predictable and much easier to budget. Meaning you'll know how much to allocate for marketing and there will be no unpleasant surprises!
So it's cheaper, but what makes it future-proof?
Okay, so it's easier to budget. But what about that frustrating cycle of going through a massive update only to have it become obsolete soon after? Well, what do you think you're paying an agency for? The retainer model ensures that someone is always paying attention to your website. Updates will come as needed, rather than all at once after months of neglect. Your website will always be up-to-date, and updates won't be disruptive or frustrating. No matter how unpredictable the internet becomes, your agency will be there to keep your website up and attracting visitors.
Build a website that will grow with your business
Growth-Driven Design allows you to keep your website up-to-date and ready to grow. Do you think your website could benefit from a coat of fresh paint? Share your idea with your team. Reach out to us below to get started!