7 Biggest Marketing Trends for 2023 and Beyond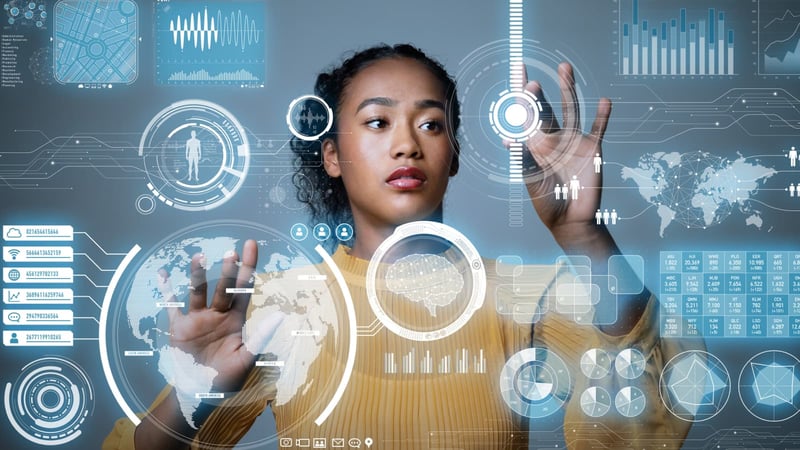 If there's any guarantee in marketing, it's that it never stays the same: from social currents to technology, there are always new approaches and new tools. But staying ahead of the marketing trends is a must if you want to see results. You need to keep up — discover the best channels to be found on, learn new ways to speak to your audience, harness new tools and features, make sure you're taking accurate, relevant measurements and get found by search engines.
So here are seven major digital marketing trends we think you need to know about as you head into 2023. Tap into these and leverage their newness as well as their effectiveness now — before it's time to face the next new frontier.
7 Biggest Marketing Trends for 2023
1. The continued growth of TikTok and short-format video
This is proving to be a historically bad year for the big tech companies. Meta's value dropped by a staggering 70%. No one really saw it coming, especially this fast. And for the first time ever, YouTube advertising revenue declined. For 2 years in a row, TikTok has been the highest grossing (non-game) app in the world. People now prefer short form video content and the amount of combined attention per user that TikTok has is unparalleled.
This marketing trend is set to continue in 2023, with more and more businesses using the platform to reach their audience. In addition to TikTok, YouTube Shorts and other short-format video platforms are also gaining traction, particularly among B2B companies. With the right marketing strategy, businesses can use these platforms to create engaging, shareable content that connects with their audience on a deeper level.
Examples of B2B content types on short-format video platforms include:
case studies
before/after reveals
how-to videos
behind-the-scenes looks into their business.
Mockumentary-style videos are also popular among B2B companies, offering a unique and humorous take on their business or their competitors.
2. Business podcasts and podcast advertising
This has huge potential. The number of new podcasts keeps growing, with networking opportunities, credible channels for direct promotion, and ways to build thought leadership, reach other business professionals, find investors, and showcase industry expertise.
In 2023 we can expect to see a rise in podcast advertising, with businesses using native ads, product placement, sponsored content, and paid expert interviews to reach their audience. Additionally, new technologies like streaming ad insertion and programmatic advertising (the fully automated selling and buying of online ads) will make it easier for businesses to target their ads to specific listeners.
eMarketer forecasts the programmatic video ad spending on podcasts will reach nearly $142 million by 2023. That's close to double the 2020 figure.
Source: https://www.resound.fm/blog/podcast-statistics
3. Emphasis on sustainability, social responsibility and reputation
As consumers continue to become more socially and environmentally conscious, we expect to see a greater emphasis on sustainability, social responsibility, and brand reputation in the world of marketing. Companies will need to focus on being transparent about their practices and policies, and will need to demonstrate their commitment to making a positive impact on the world. In 2023, we can expect to see more and more companies defining their sustainability plans and making the shift towards being carbon-positive.
Speaking of sustainability and podcasts, make sure to check out our in-house produced podcast called "Green New Perspective". Our host Dunja is joined bi-weekly by innovators and experts from around the globe, where they discuss sustainable business practices and innovation.
4. AI generated content
AI generation models have become more and more accurate. Investment in AI was over $114 billion in 2021 alone. There's enormous potential for marketing in both AI-generated text and images, though the text aspect is better used for some purposes than others. AI-generated images are a unique and compelling way to illustrate complex concepts and unique products: new models are generating incredible images.
5. Cookieless future and zero-party data
As privacy concerns continue to grow, the use of cookies for tracking and targeting users online is becoming increasingly scrutinized. This is leading many marketers to turn towards zero-party data, which is data that is willingly and explicitly shared by consumers, as a way to better understand and target their audiences.
Additionally, the rise of cookieless technology and the increasing use of privacy-centric browsers is making it more challenging for marketers to track users online, which is leading to a greater emphasis on first-party data and more direct forms of engagement with consumers.
6. B2B influencer marketing & user-generated content
As B2B companies continue to recognize the power of influencer marketing, we expect to see a rise in the use of influencers to promote products and services to other businesses. Additionally, user-generated content is becoming increasingly important as a way to build trust and credibility with potential customers.
By sharing real-life stories and experiences from satisfied customers, B2B companies can show the value of their products and services in a way that is relatable and authentic.
7. Rise of voice search and voice SEO
20% of all searches on Google are now voice searches, and 50% of U.S. consumers use voice search daily. As more and more people turn to voice assistants like Siri, Alexa, and Google Assistant, the importance of voice search and voice SEO is only going to continue to grow. Marketers will need to optimize their websites and content for voice search in order to ensure that their products and services are easily discoverable by these virtual assistants. This will require a shift in SEO strategies, as well as the creation of content that is easy to read aloud and understand.
Stay on top of marketing trends and partner with an experienced agency
As a business, one way to be noticed is to be on the leading edge — and knowing how to leverage the latest marketing trends is a great asset for capturing audience attention. If you know what the new currents are, you can deliver your messaging in the most engaging and effective forms. And at its essence, staying competitive means staying curious.
So keep your eye on what's trending now as well as what's on the horizon. Be ready for the next big things. Digital transformation has accelerated the pace of change in marketing just as much as in any other field. The difference may be that if you're behind, you won't get seen.
Another trend worth mentioning: ambitious organizations tend to look for expert partners when it comes to their marketing success. When it comes to optimizing your marketing power and staying ahead of the pack, we can help.