B2B Strategic Marketing Planning Kit: Free Download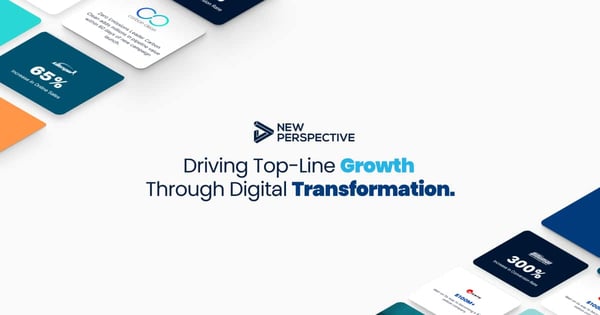 If you've read through our blog posts, you'll notice that we talk a lot about strategic marketing planning here at New Perspective. Why? Because we believe in it. Having a solid strategy isn't just a good way to market; it's the only way.
Too often we see companies marketing at random – implementing tactics because the powers that be say you need social media or a blog – only to find that they're not meeting their business goals. Sure, these are great marketing tools, but if they're not grounded in a strategy built for your business they're doomed to fail from the start.
We hate seeing companies struggle to create and implement a powerful marketing strategy, which is why we created a strategic marketing starter kit designed to help brands begin their strategic marketing planning process.
What is the Strategic Marketing Plan Starter Kit?
We want you to take the time to create a strong marketing strategy before you implement marketing tactics, so we created this kit to make the process easier. We've included templates and guides to help you create a strategy based on data about your company. The kit includes four templates that can be customized to fit your needs. Your kit comes with:
Strategic Marketing Planning Checklist
Strategic marketing is more than the tactics you use. It's based on real data about your company. What goals have you accomplished (or missed) in the past? Who is your target market, and what is your competition up to? Who are you as a company? Use this checklist to gather the information you'll need before you begin your strategy planning, as well as to keep track of your goals, tactics, and more throughout the planning process.
SMART Goals Template
When it comes to strategy planning, you must have goals. Without them, it's impossible to know whether or not your strategy works. Keep in mind that your goals must be meaningful and based on data. Remember the acronym SMART: your goals should be Specific, Measurable, Attainable, Relevant, and Timely. This template will help you to gather information from the past to create new SMART goals, which you can then use to plan your strategy.
Persona Template
Who are you marketing to? For that matter, who are you not marketing to? In order to market effectively, you must know who your target audience is (and no, the answer can't be "everyone"). You can use this template to create buyer personas that represent your ideal customers. Once you know who they are, what they want, and how your business can help them, you'll have an easier time creating a strategy that speaks to your target audience.
One Page Plan
Tell us if this sounds familiar: You do your research, create new goals and marketing strategies, pat yourself on the back, and promptly continue doing exactly what you were doing before. Don't let this happen again; a marketing strategy is only effective if it is carried out. This one page plan helps you outline your goals, benchmarks you need to hit, and strategies for getting there, so you can implement your strategy and find success with your marketing.
Who is it For?
The point of this kit is to provide a strong foundation for a company's marketing efforts. In short, marketing is changing, and if you're sticking with your old playbook (or implementing new tactics without thinking them through), you may find it hard to keep up.
Additionally, we find that many of our clients see an increasing friction between their sales and marketing departments. Sales sees marketing using all these new digital strategies, but they're not bringing in enough high quality leads.
Marketing is trying their hardest to bring in leads that sales can't convert. The result is frustration for everyone – and marketing strategies that just aren't cutting it.
That's who we created this kit for: teams who want a strong marketing strategy that generates quality leads and gets real results, as well as teams who are tired of friction and need to find a way to align. With this kit, your team can work together to create a strategy based on data and common goals.
Begin Your Strategic Marketing Planning Process
Marketing is not always easy; while many businesses will tell you that all you need is content marketing, social media, pay-per-click advertising, or some other tactic, the truth is that marketing tactics cannot be effective if they're not grounded in strategy.
We want to help you build a strategy that is perfect for your business. Once you know who you are, who your customers are, and what goals you want to hit, you can choose marketing tactics that align with your overall strategy.
Are you ready to start marketing strategically? Download your FREE strategic marketing planning kit now!